Artist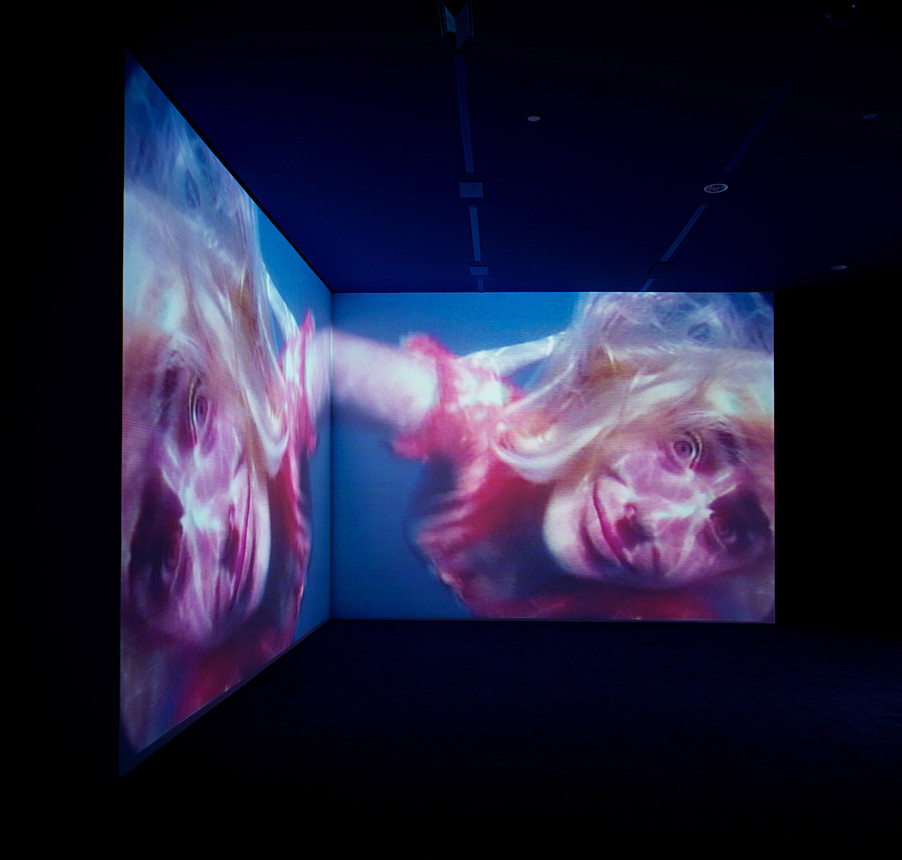 Pipilotti Rist
Sip My Ocean
Artist
Pipilotti Rist b. 1962, Rheintal, Switzerland
Title
Sip My Ocean
Date
Medium
Single-channel video installation, shown using two projectors, with sound, 8 min.
Dimensions
dimensions variable
Edition
edition 3/3
Credit Line
Solomon R. Guggenheim Museum, New York Purchased with funds contributed by Hugo Boss on the occasion of the Hugo Boss Prize 1998, the International Director's Council and Executive Committee Members: Edythe Broad, Elaine Terner Cooper, Linda Fischbach, Ronnie Heyman, J. Tomilson Hill, Dakis Joannou, Cindy Johnson, Barbara Lane, Linda Macklowe, Brian McIver, Peter Norton, Willem Peppler, Alain-Dominique Perrin, Rachel Rudin, David Teiger, Ginny Williams, and Elliot K. Wolk, 1998
Accession
98.5226
Copyright
Pipilotti Rist. Photo: Courtesy the artist, Luhring Augustine NY, and Hauser & Wirth
Artwork Type
Shortly before entering art school, Elizabeth Charlotte Rist took the name Pipilotti, combining her childhood nickname, Lotti, with Pippi Longstocking, the heroine of the Swedish children's book series. Rist's identification with the girl-adventurer—a playful yet fiercely independent orphan who possesses magical strength—points to several features of her work: her ready borrowing from popular culture, whimsical exploration of the fantastic, and unconventional approach to female subjectivity.

Since emerging in the mid-1980s, Rist has drawn as much from the language of the mass media as she has from first-generation video artists like Nam June Paik. In particular, the saturated colors, hallucinatory effects, and prominent sound tracks of her works have elicited comparisons to the language of music videos. While exploiting the sensuous qualities of the medium, however, Rist eschews popular conventions of narrative and spectatorship, especially in the way that she presents female subjects. Sip My Ocean, a video projected as two mirrored reflections on adjoining walls, offers a kaleidoscopic view of an idyllic underwater paradise, with a flowing sequence of dreamlike images, including intermittent close-ups of a bikini-clad woman floating and swimming through the waves along with views of various domestic objects sinking to the seabed. The implicit voyeurism and exaggerated hyperfeminity of such images are complicated by the accompanying sound track, in which the artist's rendition of Chris Isaac's melancholy pop song Wicked Game is punctuated by her repeated shrieking of the lyrics "I don't want to fall in love." Although she denies having an explicitly feminist agenda, Rist frequently merges eroticism and coquettishness with aggression and hysteria to produce provocative fantasies of female empowerment.

Rist's video installations since the mid-1990s have varied radically in scale and context, from a thumb-size monitor embedded in the floor to a billboard-size projection in New York's Times Square. Himalaya's Sister's Living Room is one of several room-size environments in which she has explored domestic space. The work beckons the viewer into a dimly lit interior cluttered with furniture and objects from different eras, some of which are uncannily animated by videos cast from hidden projectors: on a side table, the artist presses her face against a windowpane; a liquor bottle atop a 1950s-era bar glows with a soccer game. Rist has noted that the "moving picture itself is always a room within another room." Just as she employs video to explore the interiority of her female characters, here she uses projections to penetrate inanimate objects, uncovering the thoughts and memories embedded within the collective space of the household.