Artist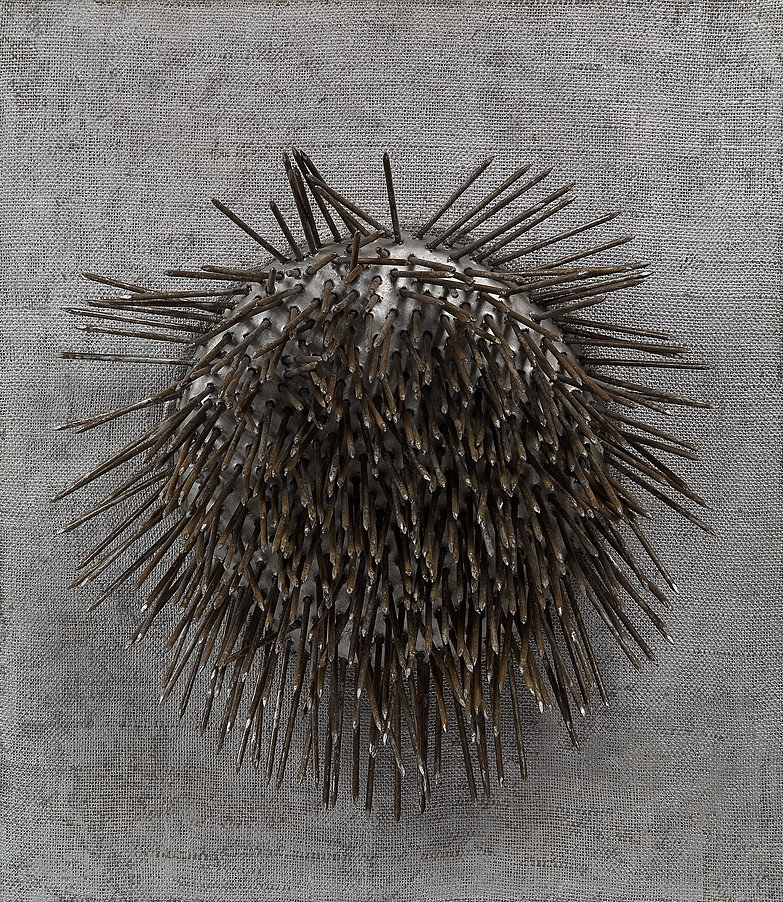 Günther Uecker
Tactile Rotating Structure (Taktile Struktur Rotierend)
Artist
Günther Uecker b. 1930, Wendorf, Germany
Title
Tactile Rotating Structure (Taktile Struktur Rotierend)
Date
Medium
Wood, burlap, aluminum, iron nails, and metallic paint
Dimensions
base: 24 x 20 3/4 inches (61 x 52.7 cm)
Credit Line
The Solomon R. Guggenheim Foundation Peggy Guggenheim Collection, Venice, 1976
Accession
76.2553.229
Copyright
2016 Günther Uecker / Artists Rights Society (ARS), New York / VG Bild-Kunst, Germany
Günther Uecker was born in Wendorf, in what was to become East Germany. As a young person he attended a series of technical colleges where he studied painting, commercial art, and applied arts, which prepared him for a brief career designing slogans and propagandistic paintings for window displays and political events. During an international youth festival in 1951, he crossed over to West Berlin and was inspired by his first encounter with abstract art. In 1953 he moved to the West German city, where he responded to an initial sense of isolation by studying various religious philosophies, including anthroposophy, Islam, Taoism, Buddhism, and Zen—modes of thinking that informed his later work.
In 1955 Uecker moved to Düsseldorf and enrolled at the Staatliche Kunstakademie. He explored existential philosophy as well as gestural abstract painting, which was then in vogue in Western Europe and known as Art Informel. He also made works dominated by bursts of dynamic lines suggestive of Italian Futurism. By 1958, after spending time with the French artist Yves Klein in the summer of 1957, Uecker had fused his interest in line and the tactility of paint with an exploration of the monochrome. Uecker's monochromes combined thickly applied oil paint with vertical or horizontal striations traced in the surface. In 1958 he displayed one of these works—a red canvas with the imprint of an irregular gridlike pattern—in Das rote Bild (The Red Picture), the seventh one-night exhibition held at the studios of Otto Piene and Heinz Mack, founders of the Gruppo Zero (Group Zero), which Uecker would join in 1961.
At this same time Uecker began to investigate the potential of nails as a material for his art. Initially, his experiments were an extension of his monochromes, as he embedded the nails into the surface of single-colored paintings and objects. Although he sometimes applied them in informal patterns across the picture plane, in many works the nails mapped a gridlike pattern, fusing the monochrome and the grid. Uecker has noted that he regarded nails "as structural elements," and was "trying . . . to create vibrations by using these materials in an ordered relationship to one another, one that disturbs the geometric order and may even irritate."¹
While he could elicit a sensation of vibration through the play of light across the nails—especially when he created circles with nails inserted at varying depths—he achieved even more effective results by setting his compositions in motion. Simple motors rendered some works kinetic, and others, such as Tactile Rotating Structure (Taktile Struktur Rotierend, 1961), required the viewer's manual activation. In this piece the viewer turns a nail-studded circular relief in the center of a silver burlap background. When at rest, the porcupine-like protrusion of nails seems at once comical and threatening; but once it is animated, the combination of light and motion generates a series of ever changing, dematerialized images that, according to Uecker, embody a spiritual potential.
1. Günther Uecker, "Die Schöenheit der Bewegung" (1961), in Günther Uecker, Schriften (St. Gallen, Switzerland: Erker, 1979), p. 105. In German.