Artist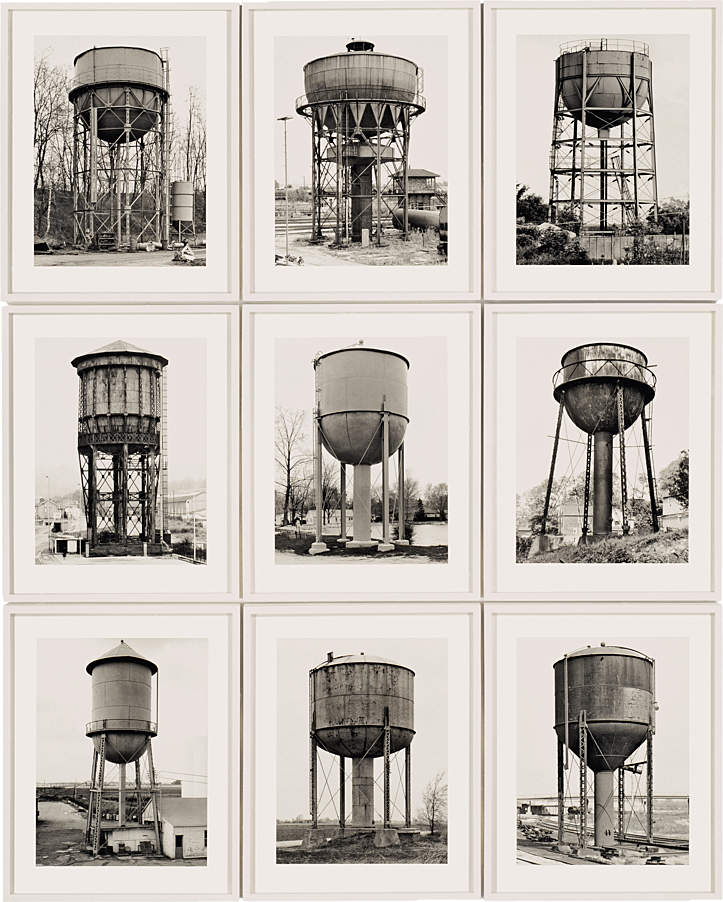 Bernd and Hilla Becher
Water Towers (Wassertürme)
Artist
Bernd and Hilla Becher Bernd Becher, b. 1931, Siegen district Germany; d. 2007, Rostock, Germany; Hilla Becher, b. 1934, Potsdam; d. 2015, Düsseldorf
Title
Water Towers (Wassertürme)
Date
Medium
Nine gelatin silver prints
Dimensions
approximately 61 1/4 x 49 1/4 inches (155.6 x 125.1 cm) overall
Edition
unique
Credit Line
Solomon R. Guggenheim Museum, New York Purchased with funds contributed by Mr. and Mrs. Donald Jonas, 1981
Accession
81.2793
Copyright
1980 Bernd and Hilla Becher
Artwork Type
Movement
In 1990 Bernd and Hilla Becher, a husband-and-wife team, received an award at the Venice Biennale. Although photography is their exclusive medium, the prize was granted in another category—sculpture. This ingenious gesture by the Biennale jury testifies to the artists' success in creating an art form that falls beyond existing aesthetic parameters.

Starting in 1957 the Bechers traveled throughout Europe and North America taking black-and-white photographs of industrial architecture: water towers, coal silos, blast furnaces, lime kilns, grain elevators, preparation plants, pithead gears, oil refineries, and the like. They organized their photographs into series based exclusively on functional typologies and arranged them into grids or rows. This served both to invoke and reinforce the sculptural properties of the architecture—they called the subjects of their photographs "anonymous sculptures"—the forms of which are primarily determined by function. Through this method the artists revealed the diverse structural and material variations found within specific kinds of edifices. The water towers comprising the sequence presented here, for example, are all constructed of metal, yet they differ vastly in form. Such differences are underscored by constants that prevail from series to series: the photographs are usually taken from the same angle, the light is evenly distributed, and the prints are identical in size.

The photographs, particularly those of now-demolished structures, refer to specific historical periods, particularly the late-19th-century shift to industry. When contemplated in our postindustrial society, these images can be interpreted as nostalgic ruminations on a lost era. But they do not lack a critical edge. The intense and obsessive nature of the Bechers' project mirrors and discloses the relentless order of industrial production, a phenomenon that has had monumental implications for the economy and the environment.

The serial repetition of the Bechers' work, coupled with its focus on industrialization, has inspired comparisons to Minimalism. The artists, who avoided any form of categorization, would not necessarily condone such an analogy. It is telling, however, that one of the finest appreciations of the Bechers to have been written is by Minimalist sculptor Carl Andre.