Artist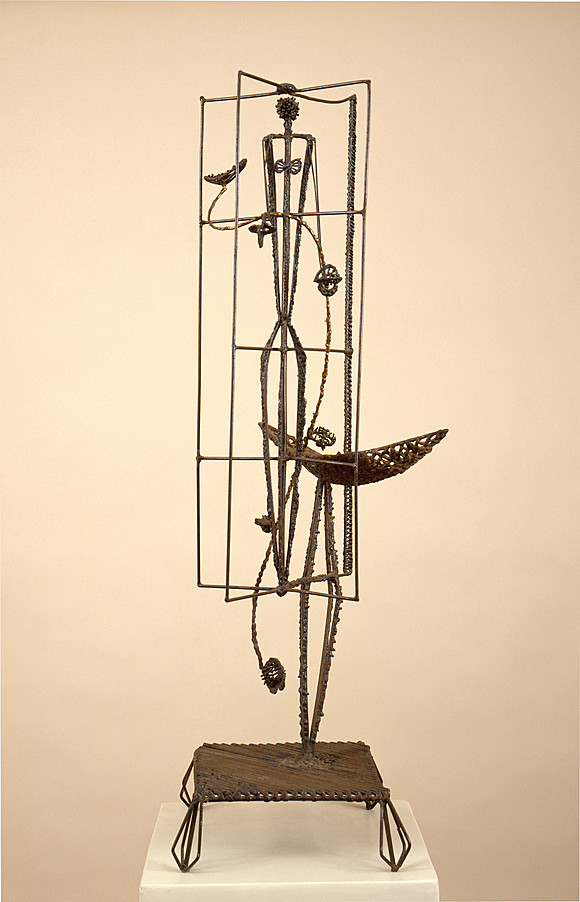 David Hare
Moon Cage
Artist
David Hare b. 1917, New York City; d. 1992, Jackson Hole, Wyoming
Title
Moon Cage
Date
Medium
Welded steel, brass spray
Dimensions
30 1/8 inches (76.5 cm) high
Credit Line
The Solomon R. Guggenheim Foundation Peggy Guggenheim Collection, Venice, 1976
Accession
76.2553.201
Copyright
David Hare. Photo: David Heald
Artwork Type
Moon Cage is, according to the artist, neither abstract nor representational. David Hare has stated that this sculpture "is not figurative literally. A combination of images is more interesting to me. Ambiguity is important; a confusion of images makes you more conscious of the image you are interested in." In approaching the work from any side, one encounters the ambiguity described by the artist in the powerful suggestions of a window, a moon, and a human figure.
The central configuration, which is literally drawn in space, is created by the union of four steel rods welded about a central rod. This form both supports and is pierced by two framing rectangles that intersect at right angles at its core. These frames are at once windows that open into space and the bars of a cage that enclose. The artist has said of this spatial dualism, "you are in a house and would like to get out, or you are out and would like to be in." The piece is contained within a square space defined by the welded pedestal, establishing a dialogue between the closed plane of the base and the open space of the construction above it. The configuration is held aloft by the stem of a crescent-shaped abstract form, which may be the moon referred to by the title. This form rhymes with a smaller crescent at the top of the sculpture, from which an arabesque line falls gracefully and dips into the space below the frame of the cage. This continuous arabesque unites the piece by mediating between the empty space at the base of the work and the complex, elongated structure over it.
Hare was an American heir to the Surrealist tradition brought to New York in the early 1940s by European emigré artists. During his stay in Paris between 1948 and 1953, Hare became friends with Alberto Giacometti. In its evocation of a female figure caged within an architectural setting, the present work recalls enigmatic sculptures by Giacometti such as Invisible Object (Hands Holding the Void) of 1934–35 (Collection Yale University Art Gallery, New Haven). But the elaborate, varied surfaces in Moon Cage link Hare to a generation of American sculptors—among them Ibram Lassaw, Seymour Lipton, and Theodore Roszak—who experimented with complicated molded, pitted, and encrusted surfaces of welded metal.
Elizabeth C. Childs