Artist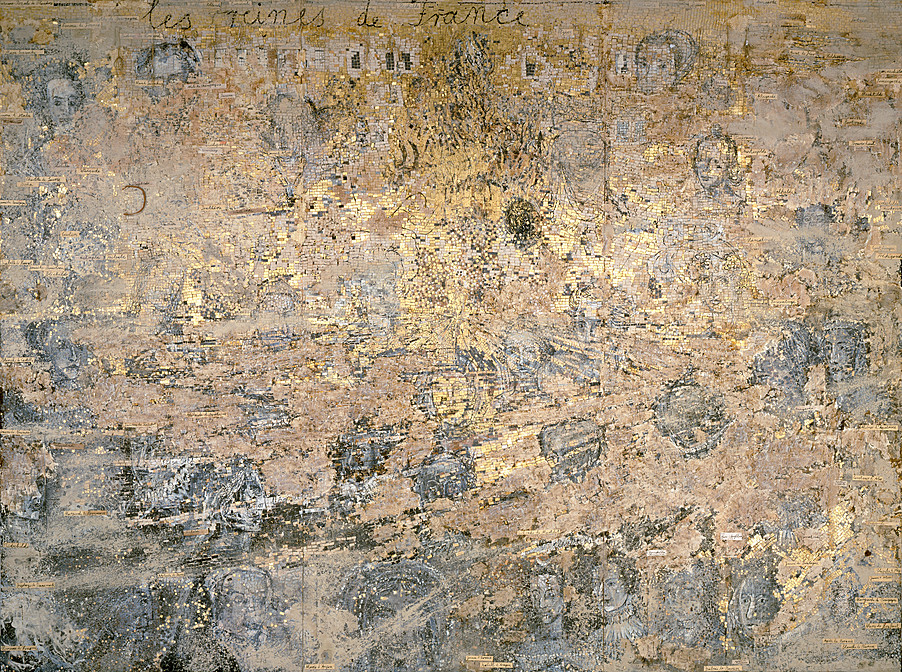 Anselm Kiefer
Les Reines de France
Artist
Anselm Kiefer b. 1945, Donaueschingen, Germany
Title
Les Reines de France
Date
Medium
Emulsion, acrylic, sunflower seeds, photographs, woodcut, goldleaf, and cardboard on canvas
Dimensions
three panels, 18 feet 4 1/2 inches x 24 feet 2 1/2 inches (560.1 x 737.9 cm) overall
Credit Line
Solomon R. Guggenheim Museum, New York Anonymous Gift, 1997
Accession
97.4558
Copyright
Anselm Kiefer
Artwork Type
Movement
Born in Germany just months before the final European battle of World War II, Anselm Kiefer grew up witnessing the results of modern warfare and the division of his homeland. He also experienced the rebuilding of a fragmented nation and its struggle for renewal. Kiefer devoted himself to investigating the interwoven patterns of German mythology and history and the way they contributed to the rise of Fascism. He confronted these issues by violating aesthetic taboos and resurrecting sublimated icons. For example, in his 1969 Occupations series, Kiefer photographed himself striking the "Sieg Heil" pose. Subsequent paintings—immense landscapes and architectural interiors, often encrusted with sand and straw—invoke Germany's literary and political heritage. References abound to the Nibel-ungen and Wagner, Albert Speer's architecture, and Adolf Hitler.
Seraphim is part of Kiefer's Angel series, which treats the theme of spiritual salvation by fire, an ancient belief perverted by the Nazis in their quest for an exclusively Aryan nation. In this painting, a ladder connects a landscape to the sky. At its base, a serpent—symbolizing a fallen angel—refers to the prevalence of evil on earth. According to the Doctrine of Celestial Hierarchy, a 5th-century text, the seraphim "purify through fire and burnt offering." Kiefer used fire to create the surface of Seraphim, and it is evident from this and many other works that he associates fire with the redemptive powers of art. This equivalence was suggested in the 1974 canvas Painting = Burning, in which the outline of a painter's palette is superimposed on a view of the war-torn earth. The actual burning of materials used in Seraphim suggests a more specific reading: the Latin word used to describe a sacrificial offering consumed by flames is "holocaust."
In 1991, the year of Germany's reunification, Kiefer left his homeland to travel the world; he eventually settled in the South of France. This change had a marked effect on the artist's style and themes, which ranged from the sunflowers of Arles to the queens of France. In a series of works devoted to French female royalty, Kiefer paid homage to the likes of Catherine de' Medici, Marie-Antoinette, and Anne d'Autriche. In Les Reines de France, the women are rendered like Byzantine icons against a background of distressed gold-leaf mosaic. This new iconography, while still engaged with the weight of history, indicates that Kiefer now approached his subject matter with admiration, even joy.
Nancy Spector