Artist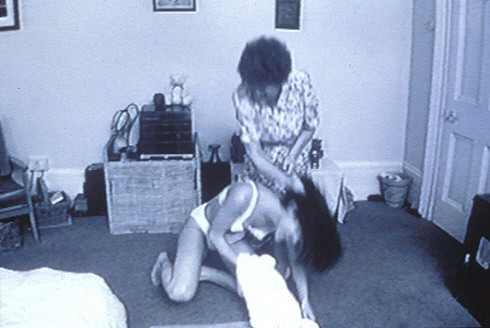 Gillian Wearing
Sacha and Mum
Artist
Gillian Wearing b. 1963 Birmingham, Warwickshire, UK
Title
Sacha and Mum
Date
Medium
Black-and-white video projection, with sound, approximately 4 min., 30 sec.
Dimensions
dimensions variable
Edition
edition 2/3
Credit Line
Solomon R. Guggenheim Museum, New York Purchased with funds contributed by the International Director's Council and Executive Committee Members: Eli Broad, Elaine Terner Cooper, Ronnie Heyman, J. Tomilson Hill, Dakis Joannou, Barbara Lane, Robert Mnuchin, Peter Norton, Thomas Walther, and Ginny Williams, 1997
Accession
97.4571
Copyright
Gillian Wearing
Artwork Type
Gillian Wearing has regularly explored the boundary between the public and the private in her video and photographic work. Influenced by the British documentary filmmaking tradition, Wearing has frequently used real-life individuals as her subjects. For the series that first brought her notice, Signs that say what you want to say and not signs that say what someone else wants you to say (1992–1993), she photographed strangers on the street holding handwritten placards that advertised their thoughts, feelings, and anxieties. In subsequent video works, she documented the intimate confessions of people who masked their identities through various means: in 10-16 (1997), adult actors lip-synch the prerecorded secrets of adolescents; in Trauma (2000), adults wearing plastic masks with generic children's faces divulge traumatic experiences from their youths.
Wearing has also examined the private sphere of the family. In her video Sacha and Mum (1996), she directed actors and manipulated the editing process to create a film that explores the complex, contradictory nature of a mother-daughter relationship. Sacha and her mother share an intimate moment as they smile and hug in a bedroom, yet their embrace slowly shifts into a tussle. As love and aggression blur, the mother begins to tug, pull, and otherwise physically dominate her daughter. Sacha's odd vulnerability and her mother's aggressive volatility are underscored by the speeded up video, which quickens their gestures, and the distored sound track that transforms their speech into anxious gibberish. By the film's end, it is unclear whether Sacha is a disturbed person whose mother is trying to calm her, or if the mother is a disturbed aggressor from whom Sacha is trying to free herself.