Artist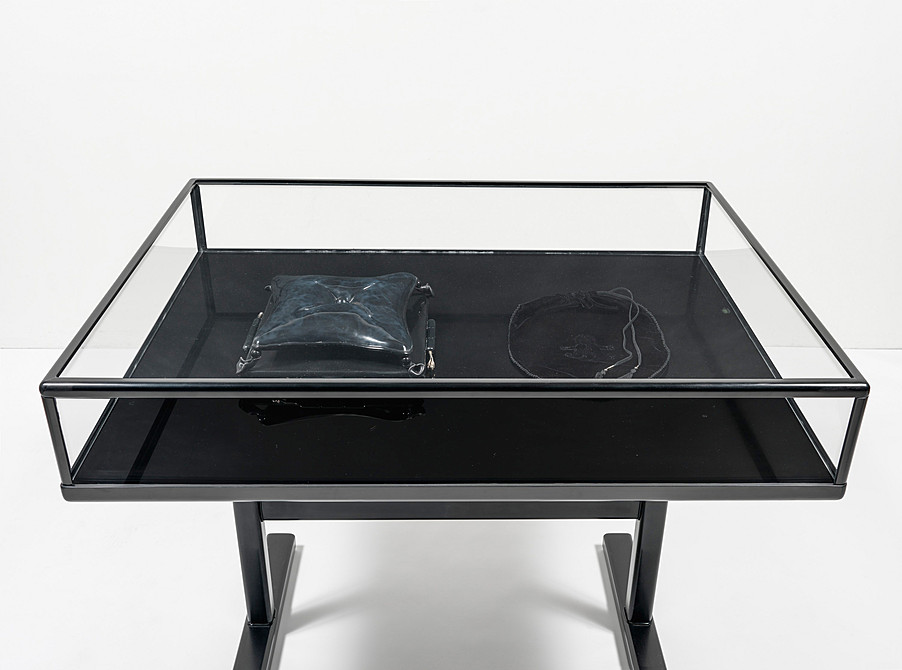 Matthew Barney
CREMASTER 5
Artist
Matthew Barney b. 1967, San Francisco
Title
CREMASTER 5
Date
Medium
Acrylic vitrine, silkscreened laser disc, polyester, acrylic, velvet, sterling silver, and color video, with sound, 54 min., 30 sec.
Dimensions
vitrine: 37 3/4 x 47 3/4 x 35 3/4 inches (95.9 x 121.3 x 90.8 cm)
Edition
edition 5/10
Credit Line
Solomon R. Guggenheim Museum, New York Purchased with funds contributed by the International Director's Council and Executive Committee Members: Eli Broad, Elaine Terner Cooper, Ronnie Heyman, J. Tomilson Hill, Dakis Joannou, Barbara Lane, Robert Mnuchin, Peter Norton, Thomas Walther, and Ginny Williams, 1997
Accession
97.4570
Copyright
Matthew Barney. Photo: Kris McKay © SRGF
Artwork Type
Movement
Matthew Barney's CREMASTER cycle (1994–2002) is a self-enclosed aesthetic system consisting of five feature-length films that explore processes of creation. The cycle unfolds not just cinematically but also through the photographs, drawings, sculptures, and installations the artist produces in conjunction with each episode. Its conceptual departure point is the male cremaster muscle, which controls testicular contractions in response to external stimuli. The project is rife with anatomical allusions to the position of the reproductive organs during the embryonic process of sexual differentiation: CREMASTER 1 (1995) represents the most "ascended" or undifferentiated state; CREMASTER 5 (1997), the most "descended" or differentiated. The cycle repeatedly returns to those moments during early sexual development in which the outcome of the process is still unknown—in Barney's metaphoric universe, these moments represent a condition of pure potentiality.
CREMASTER 1 takes place in the Bronco Stadium in Boise, Idaho. The film parodies the musical extravaganzas of Busby Berkeley as filtered through the lens of Leni Riefenstahl's Third Reich athletics. Chorus girls form outlines of reproductive organs on a football field, their movements determined from above by a starlet, who inhabits two blimps simultaneously and creates anatomical diagrams by lining up rows of grapes. CREMASTER 2 (1999) alternates between the Columbia Icefield in Canada and the Bonneville Salt Flats in Utah. It is a gothic Western premised loosely on the real-life story of Gary Gilmore, who was executed in Utah for murder. Gilmore's biography is conveyed through a series of fantastic sequences, including a séance to signify his conception and a prison rodeo staged in a cast-salt arena to represent his death by firing squad. CREMASTER 3 (2002) is part zombie thriller, part gangster film. As the final installment completed in the series, the film is a distillation of Barney's major themes, filtered through a symbolic matrix involving Freemasonry, Celtic lore, and coded references to the CREMASTER cycle itself. Set in New York's Chrysler Building, CREMASTER 3 also includes detours to the Guggenheim Museum, to the harness track in Saratoga Springs, and to Giant's Causeway in Northern Ireland. CREMASTER 4 (1994) is set on the Isle of Man, where a motorbike race traverses the landscape, a tap-dancing satyr writhes his way through an underwater canal, and three fairies picnic on a grassy knoll. Part vaudeville, part Victorian comedy of manners, and part road movie, this film portrays sheer drive in its struggle to surpass itself. Set in Budapest, CREMASTER 5 is performed as an opera complete with Jacobin pigeons, a lovelorn queen, and her tragic hero. The narrative flows from the Hungarian State Opera House to the Gellért Baths, which is inhabited by water sprites frolicking in a pool of pearls. As the cycle's concluding chapter, the film traces the story of final release, a physical transcendence that is misunderstood and mourned as loss.