Artist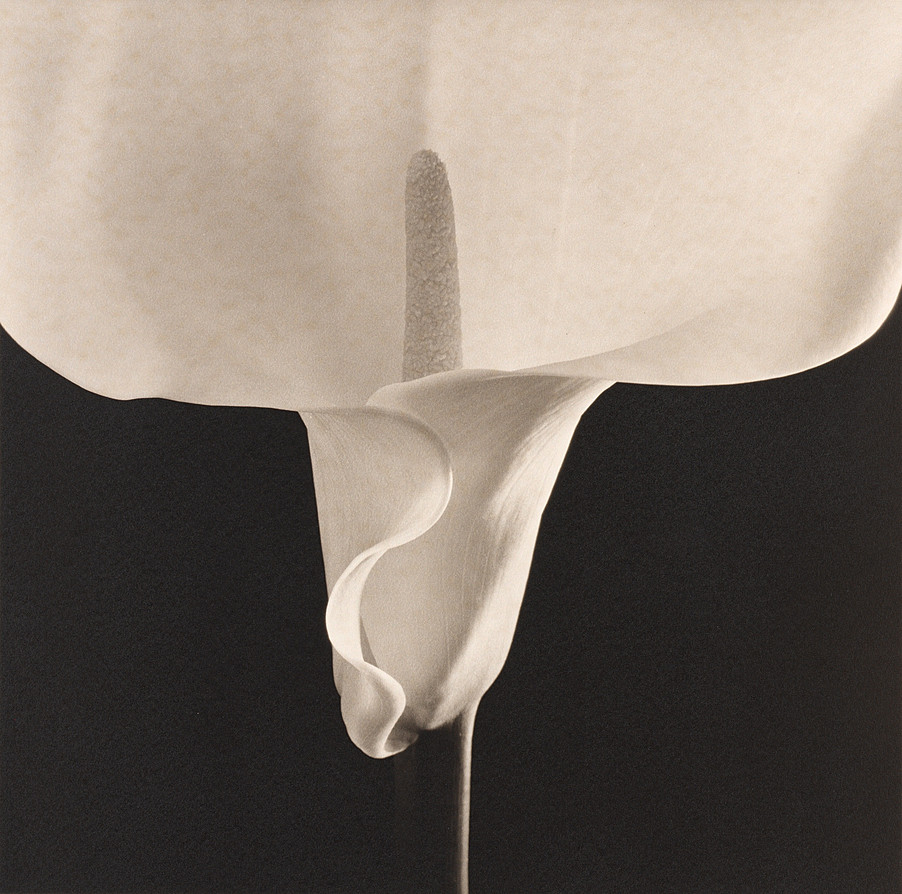 Robert Mapplethorpe
Calla Lily
Artist
Robert Mapplethorpe b. 1946, Floral Park, New York; d. 1989, Boston
Title
Calla Lily
Date
Medium
Platinum print
Dimensions
18 7/8 x 19 1/8 inches (47.9 x 48.6 cm)
Edition
A.P. 1/1
Credit Line
Solomon R. Guggenheim Museum, New York Gift, The Robert Mapplethorpe Foundation, 1996
Accession
96.4380
Copyright
The Estate of Robert Mapplethorpe
Artwork Type
Robert Mapplethorpe arrived in New York in the 1970s amid two simultaneous but disparate events: the rise of the market for photography as a fine art, and the explosion of punk and gay cultures. Originally trained in painting and sculpture, Mapplethorpe gravitated toward photography, first making erotic collages in 1969–70 with images cut from magazines, then creating his own images using a Polaroid camera. Within a few years he was exhibiting erotic male and female nudes, still lifes of flowers, and celebrity portraits, all made with a large-format camera. By the late 1970s his work had developed into a style that was at once classical and stylish yet retained the explicit homoerotic themes for which the artist is perhaps best known. Mapplethorpe's subject matter made his work a lightning rod for the contentious debates on public funding for the visual arts during the 1980s that would ultimately decimate the federal government's support for artists. However, this legacy of controversy tends to overshadow Mapplethorpe's aesthetic impact.
Although he occasionally worked with color, Mapplethorpe remained devoted to the minimal elegance of black-and-white photography, using the medium in part as an agent to explore certain paradoxes and binary relationships. In many of his works, for example, the distinction between male and female is problematized: in Ken and Tyler the male assumes the more traditionally femininized role of the nude, while Calla Lily takes an object used as a cipher of femininity and redeploys it as a male organ. The black male nude is often juxtaposed with an emphatically white object—a shroud, marble statuary, flowers, or, in the case of Ken and Tyler, another nude male.
Mapplethorpe's sustained investigation of black-and-white photography may seem nostalgic next to the preference for color demonstrated by most artists working with photography in the 1980s. But his restricted palette, which recalls that of the modern masters whose work he emulated (especially George Platt Lynes), proved most effective at conveying the poetic and often melancholic quality of his subjects. At the height of his career, Mapplethorpe was stricken with AIDS. In contrast to earlier self-portraits in which Mapplethorpe assumed various personae such as rocker, leather fetishist, cross-dresser, fashion plate, and so on, Self-Portrait, taken about a year before his death, has a more somber mood. The photograph serves as a haunting document of the artist's transitory existence.
—Matthew Drutt