Artist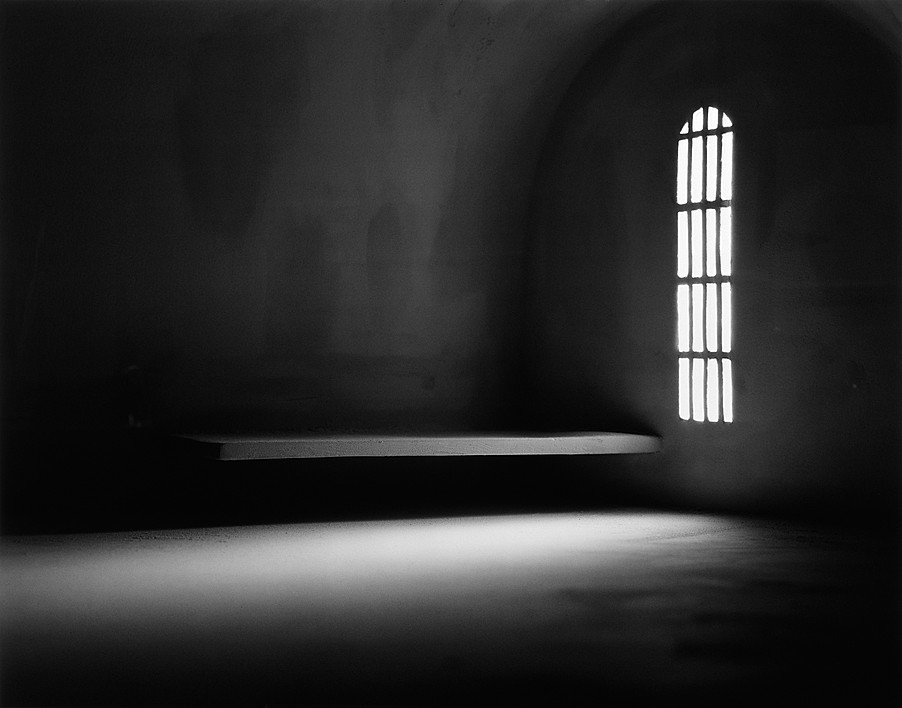 James Casebere
Asylum
Artist
James Casebere b. 1953, Lansing, Michigan
Title
Asylum
Date
Medium
Silver dye bleach print
Dimensions
47 1/2 x 59 1/2 inches (120.6 x 151.2 cm)
Edition
edition 5/5
Credit Line
Solomon R. Guggenheim Museum, New York Gift, Lois and Richard Plehn, 1997
Accession
97.4550
Copyright
1994 James Casebere
Artwork Type
James Casebere photographs the buildings that structure our social fabric, not during on-site visits to architectural structures, but rather from tabletop models he fabricates in his studio. These models, made from such featureless materials as Foamcore, museum board, plaster, and Styrofoam, remain empty of detail and human figures. It is only when Casebere casts highly nuanced light on their bland surfaces and spartan interiors that the models are transformed. Photographed in this way, his images suggest the psychologically charged spaces of the institutions that organize and control society.
During the 1970s Casebere was captivated by the social and cultural impact of film, television, and architecture. In particular, Robert Venturi's articulation of architecture as a system of signs evoked for Casebere the notion that a community is defined by its structures, both those that are highly visible, such as factories and churches, and those tucked out of sight, such as prisons and asylums. By the time he received his MFA from the California Institute of the Arts in 1979, he was staging his photographs to construct realities inspired by contemporary American visual culture. Like David Levinthal, Richard Prince, Cindy Sherman, Laurie Simmons, and others of their generation, Casebere challenged the commonly held perception of photography as a direct corollary to truth and reality.
Casebere is intent on blurring the line between fiction and fact, between myth and reality, in both his architectural models and his photographs of them. For example, in Asylum (1994) the space suggests the mechanism of photography itself: the prison cell is the box of the camera and the window acts as the aperture, letting in light. Casebere continually explores the mythologies that surround particular institutions, as well as the broader implications of dominant systems, such as commerce, labor, religion, health, and law. Here, he elicits ideas associated with asylums, ranging from the political to the spiritual; the room evokes a feeling of isolated incarceration as much as it does one of solitary transcendence, revealing the degree to which architecture and place exert their power on human behavior.