Artist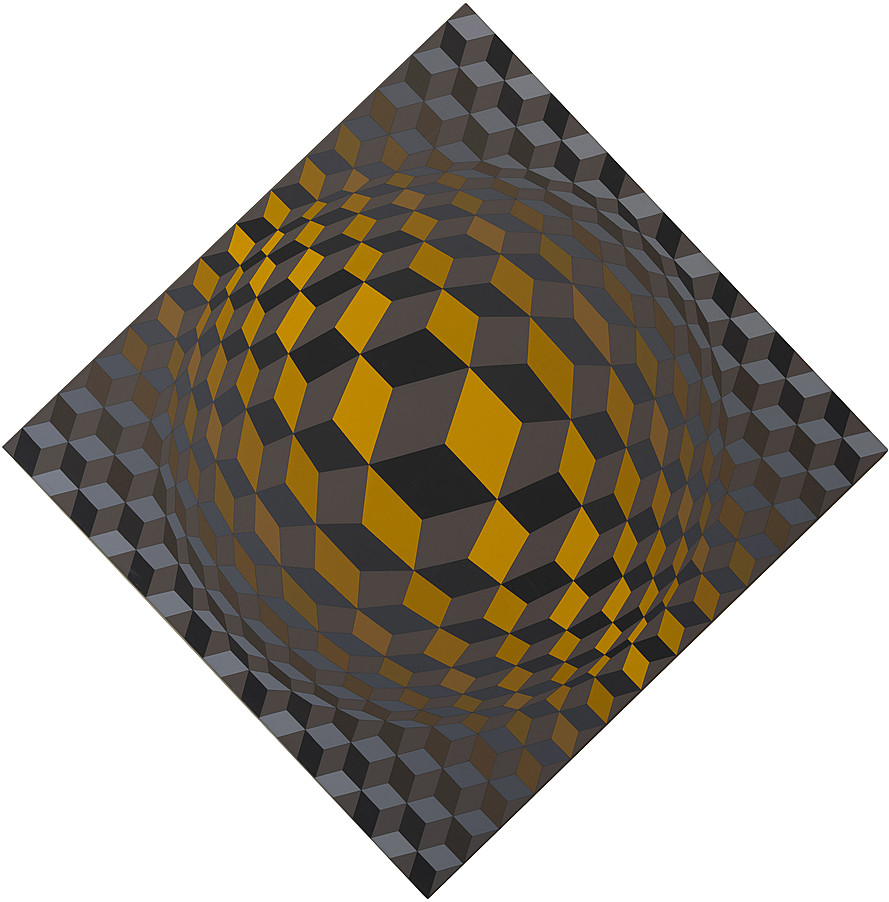 Victor Vasarely
Cheyt-M
Artist
Victor Vasarely b. 1908, Pécs, Hungary; d. 1997, Paris
Title
Cheyt-M
Date
Medium
Tempera on canvas
Dimensions
107 x 106 1/4 inches (271.8 x 269.9 cm); vertical axis 150 13/16 inches (383 cm)
Credit Line
Solomon R. Guggenheim Museum, New York
Accession
72.1990
Copyright
2016 Artists Rights Society (ARS), New York / ADAGP, Paris
Artwork Type
Movement
In 1928, after abandoning his studies in medicine, Victor Vasarely studied art at Mühely, widely referred to as the Hungarian Bauhaus. The school's founder, Sándor Bortnyik, a former student at the Bauhaus in Germany, focused the curriculum on graphic design influenced by Constructivism and Concrete art. Under Bortnyik's tutelage, Vasarely turned from making nearly photorealistic depictions of objects to exploring the formal possibilities inherent in geometric forms and the representation of depth in two dimensions.
Vasarely was also influenced by his teacher's mantra that commercial artists were more honorable and socially relevant than the individual artist seeking self-expression. When the young artist moved to Paris in 1930, he earned a successful living in advertising and design. During World War II he produced a set of drawings in an effort to systematize his advertising graphics with the goal of establishing a school similar to Bortnyik's. Vasarely never realised this plan, but in 1944 he displayed these graphic studies in the inaugural exhibition at the Galerie Denise René—founded by René with Vasarely's input and encouragement—and marked his transition from commercial to fine artist.
In the early 1950s Vasarely made several series of abstract paintings filled with large geometric and curvilinear forms loosely based on tiles, natural forms, and landscape elements. But by the middle of that decade he had rejected natural prototypes in favor of pure abstractions that drew on geometry, color contrasts, mathematical systems, and Gestalt psychology. In the mid-1950s he resumed the "movement studies" of his youth, which stressed form-to-ground relationships and infused his art with the optical impression of depth and dynamism. Vasarely exhibited some of his photographismes (photograph-isms), objects made of layered acrylic glass panes with black geometric patterns that seemed to vibrate and change as the viewer shifted his or her vantage point, in the historic 1955 exhibition Le mouvement (The Movement) at Galerie Denise René. On that occasion he also published his Manifeste jaune (Yellow Manifesto), in which he proposed the creation of what he called "kinetic art." Vasarely did not intend the term to be interpreted literally (his work did not actually move); rather, he sought to solve the problem of movement within plastic art through the use of optical illusions that generated a virtual sensation of a moving image. (For this reason, he came to be known as the leading representative of Op art.)
By the early 1960s Vasarely had developed a lexicon of shapes and colors—which he called "Folklore Planétaire" (Planetary Folklore)—that could be used over and over again in various combinations. He drew on this visual language in his series Homage to the Hexagon (Hommage à la hexagone, 1965–71), though here he also revisited the three-dimensional trompe l'oeil effects of his earliest works. In a 1972 letter to then-Guggenheim director Thomas M. Messer, Vasarely asserted that Cheyt-M (1970), was "a fundamental canvas" of this series and described it as consisting of "a cellular structure which sustains six equilateral triangles, which gives us three identical lozenges, and finally a hexagon forming a cube called 'Kepler'."¹ These various geometries emerge from a series of axonometric cubes that fill the picture plane and have distorted curved lines and diagonals that generate visual instability and the illusion of depth and volume. In varying the size of the cubes that fill the surface and in contrasting various colors, Vasarely created a swelling at the center that assumes the form of a sphere; however, it is not clear if that form is emerging from the picture plane, is contained within it, or is pushed back beyond the surface. Such optical games, which physically affect the viewer, even in some cases causing the sensation of vertigo, form the core of Vasarely's oeuvre.
1. Victor Vasarely, letter to Thomas M. Messer, April 4, 1972. Box 4125, Series III, Artist Correspondence, Thomas M. Messer records A0007, Solomon R. Guggenheim Museum Archives, New York. In French.