Artist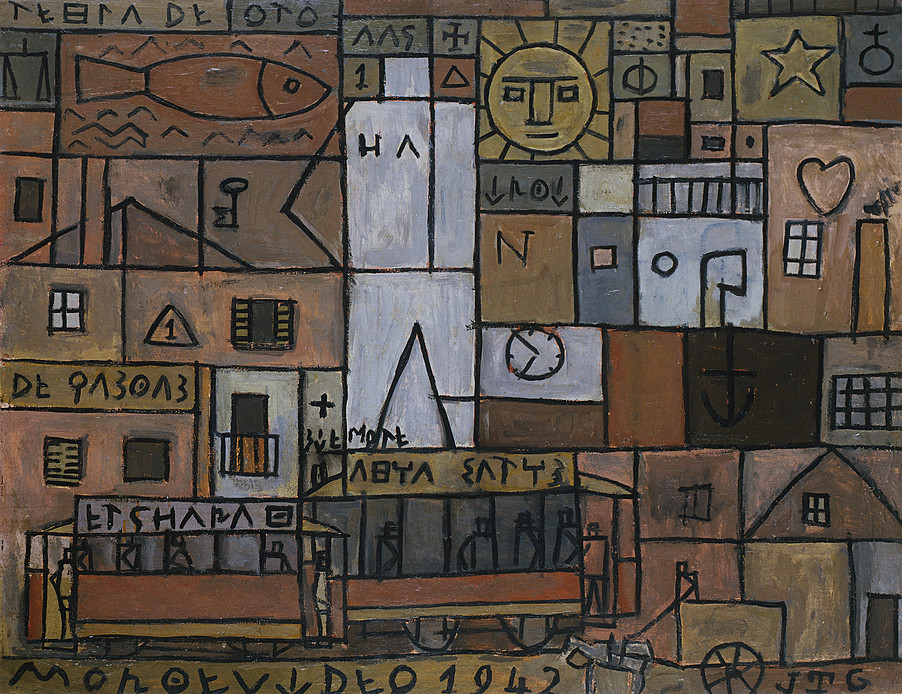 Joaquín Torres-García
Constructive City with Universal Man (Ciudad constructiva con hombre universal)
Artist
Joaquín Torres-García b. 1874, Montevideo, Uruguay; d. 1949, Montevideo
Title
Constructive City with Universal Man (Ciudad constructiva con hombre universal)
Date
Medium
Oil on board
Dimensions
31 7/16 x 40 inches (79.9 x 101.5 cm)
Credit Line
Solomon R. Guggenheim Museum, New York Partial gift, Mr. and Mrs. James Rudel, 1984
Accession
84.3167
Copyright
Joaquín Torres-García
Artwork Type
Movement
Joaquín Torres-García moved with his family to Spain as a teenager and in 1893 began art studies at both the Academia de belles artes de Barcelona, and the Academia Baixas. Within a few years he became affiliated with Noucentisme, the name of a movement cleverly calling to mind classicism while invoking the start of a new century. Initiated by artists and writers, Noucentisme opposed modernism, particularly its focus on individualism. Its members called for the development of a Catalan cultural identity by reviving Mediterranean classicism rooted in such ideals as the connection to the land. While Torres-García expounded on the Greco-Roman tradition in his 1913 book Notes sobre Art (Notes on Art), by 1916 he sought to fuse classicism with an exploration of the modern, mechanized world, a topic au courant among the French artists living in exile in Barcelona during World War I, including Robert and Sonia Delaunay, Albert Gleizes, and Francis Picabia. In tandem with the Uruguayan artist Rafael Pérez Barradas, Torres-García developed an approach to art called vibracionisme (Vibrationism), which combined formal elements of Cubism and Futurism and focused on scenes drawn from urban life. His Vibrationist works often included symbols that would recur throughout his oeuvre—for example, the clock—and were divided into loose, gridlike structures containing fragments of images of people, places, and objects.
After living in New York, Italy, and the south of France, in 1926 Torres-García settled in Paris, where he would formulate the key principles of what he called universalismo constructivo (Universal Constructivism). He turned his attention to Neoplasticism, especially as developed by Theo van Doesburg, and adopted the latter's frequent use of the golden section, a ratio applied to painting since the Renaissance to achieve aesthetically pleasing proportions. Torres-García also embraced Neoplasticism's emphasis on the orthogonal line by employing the grid as his principal compositional structure. However, he chose to fill the resulting nonperspectival spaces with symbols including numbers and signs such as stars and clocks rather than purely geometric forms. Torres-García culled these graphic figures—such as those in Constructive City with Universal Man (Ciudad constructiva con hombre universal, 1942)—from a variety of sources, including Egyptian, Greek, medieval, African, Aztec, Incan, and Oceanic art. He believed that given forms recurring throughout the history of art—albeit with different, often imprecise meanings—were concrete manifestations of some kind of omnipresent spirit. Thus, like the Surrealists, he outlined a role for the unconscious in the creative process and, like Carl Jung, believed in the existence of archetypal images that connected the individual to collective cultural traditions and universal truths.
Torres-García's beliefs about art conflicted with many of the then-dominant strands of European progressive art. His insistence on a spiritual, metaphysical aspect to art and on a connection to the past ran counter to Russian Constructivism's emphasis on standardization, utilitarianism, and the future. And his claim that one could synthesize the rational structure of the grid with forms conjured from inner intuition was incomprehensible within the context of the French avant-garde of the late 1920s, where the battle between geometric abstraction and Surrealism took center stage.
In works made after his return to Uruguay in 1934, among them Constructive City with Universal Man, Torres-García actively sought to differentiate Universal Constructivism from the European tradition, borrowing earth colors, masklike figures, and geometric patterns from the visual idioms of Pre-Columbian art. His teachings, writings, and art established Constructivism as a key movement in Latin America and provided a model for the next generation of artists who did not merely follow European precedents but rather continued to build a School of the South (or El Taller Torres-Garcia).