Artist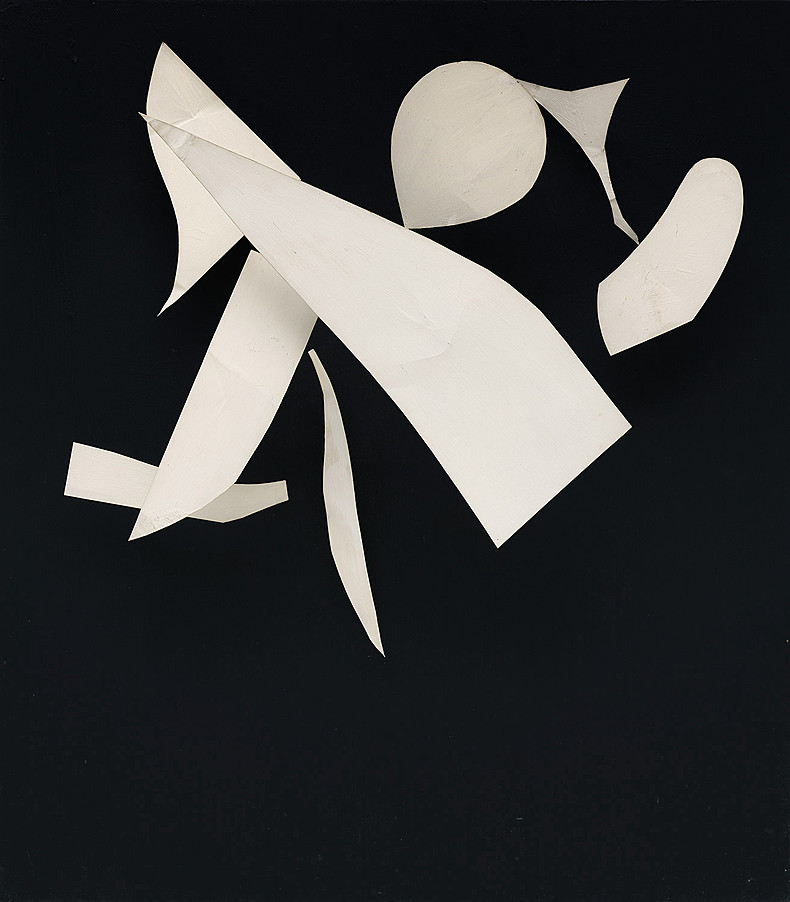 Jean Tinguely
White Moving Forms on Black Background (TNT)
Artist
Jean Tinguely b. 1925, Fribourg, Switzerland; d. 1991, Bern
Title
White Moving Forms on Black Background (TNT)
Date
Medium
Painted wood and metal with electric motor
Dimensions
72.1 x 63.5 x 24.1 cm
Credit Line
Solomon R. Guggenheim Museum, New York
Accession
83.3122
Copyright
2016 Artists Rights Society (ARS), New York / ADAGP, Paris
Artwork Type
Movement
Growing up in the 1930s, Jean Tinguely began building machines with hydraulic wheels that generated sound effects. At the Allgemeine Gewerbeschule Basel, Switzerland, where he intermittently attended art classes from 1941 to 1945, he especially valued his studies with Julia Ris, who helped him discover modern art. Through her course on material studies, based on the methods of the German artist Kurt Schwitters, Ris also opened the young artist's eyes to the potential of nonart materials and encouraged both a sense of play and an exploration of movement that proved central to his mature work.
Tinguely moved to Paris in 1953 and in May 1954 he had his first solo show in the book department of Galerie Arnaud Lefebvre. He exhibited a group of relief works, similar to White Moving Forms on Black Background (TNT), (1957), which looked like black boxes with white geometric shapes spread across their surfaces; they bore a striking resemblance to the paintings of Russian artist Kazimir Malevich and many were retroactively retitled Meta-Malevich (Méta-Malevitch). Upon closer inspection, viewers discovered that not only were the white shapes made from sheet metal and therefore three-dimensional, but they were also set in slow, almost indiscernible motion through a system of wooden wheels linked with a rubber belt and activated by a small motor affixed to the back of the works. In these pieces, described by the Swedish art historian Pontus Hultén as "meta-mechanical," Tinguely engaged mechanical means to move beyond the stasis and permanence of standard paintings, thereby creating works that transformed over the course of time. Tinguely said: "[I] began to use movement simply to make a re-creation. It was a way of redoing a painting so that it would become infinite—it would go on making new compositions with the help of the physical and mechanical movements I gave it."¹
In 1955 Tinguely, along with Hultén and the American filmmaker Robert Breer, persuaded the prominent Parisian gallerist Denise René to mount the historic exhibition Le mouvement (The movement), which included both established (Alexander Calder, Marcel Duchamp, Victor Vasarely) and emerging (Tinguely, Yaacov Agam, Pol Bury, and Jesús Rafael Soto) artists whose work engaged movement as a key element and as a metaphor for change. However, unlike most of his colleagues associated with Kinetic art, Tinguely placed emphasis on making "anti-machines" that intentionally failed to function, their self-destruction producing sometimes humorous, sometimes frightening, and always unpredictable results. For him, the machine allowed him to engage the dynamism and poetry of life itself.