Artist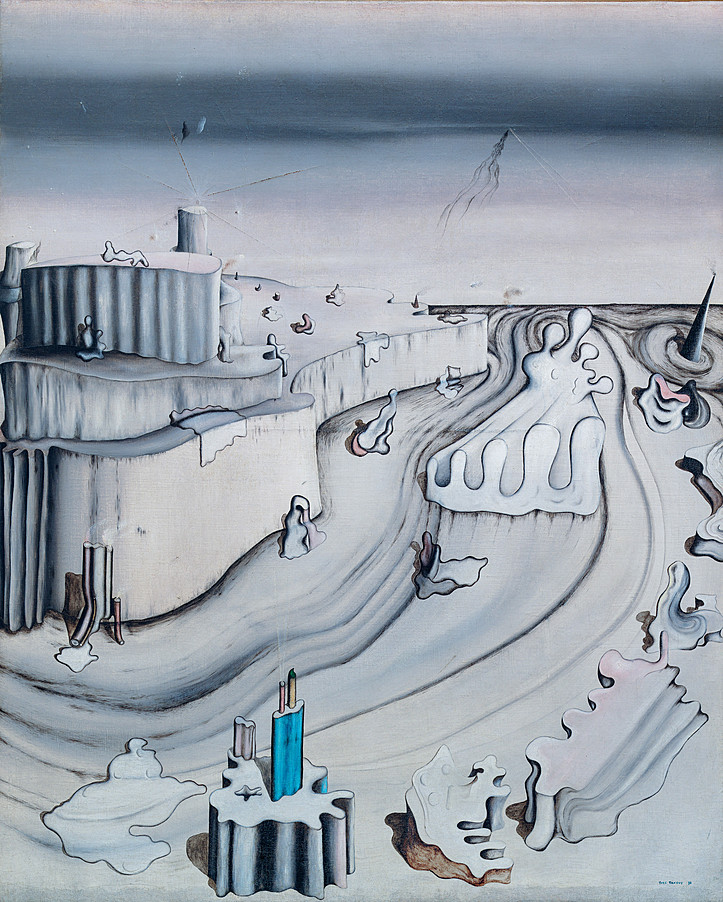 Yves Tanguy
Promontory Palace (Palais promontoire)
Artist
Yves Tanguy b. 1900, Paris; d. 1955, Woodbury, Connecticut
Title
Promontory Palace (Palais promontoire)
Date
Medium
Oil on canvas
Dimensions
28 3/4 x 23 3/8 inches (73 x 60 cm)
Credit Line
The Solomon R. Guggenheim Foundation Peggy Guggenheim Collection, Venice, 1976
Accession
76.2553.94
Copyright
2016 Estate of Yves Tanguy/Artists Rights Society (ARS), New York
Artwork Type
Movement
Following his trip to Africa in 1930, Yves Tanguy produced a group of landscapes that have been termed les coulées (or flowing forms) for their molten character. Other paintings in this sequence include Neither Legends nor Figures, ca. 1930 (Private Collection, United States), and The Armoire of Proteus, 1931 (Private Collection, Paris).¹ Perhaps the most striking of the series is Promontory Palace, in which a rigid multitiered mass dominates a broad, flat plain. This corrugated mesa and other buttes in the center foreground stand firm as the surrounding viscous landscape succumbs to some persistent melting force. The small abstract shapes that inhabit the scene are in various stages of metamorphosis: some appear to melt or ooze, others seem to collapse or deflate, and still others secrete or sputter white liquids or gases. Some of these shapes are disturbingly anthropomorphic. A line of globular forms marches down the incline of the promontory to the edge of a cliff, where two forms have already surrendered and begun to melt over the precipice to join the sea of flowing matter below. A five-fingered, bulbous white mass glides over the ground as if on water. Elsewhere steam emerges, both from the pipe-shaped form at the base of the promontory and from the distant horizon. On the highest peak, or the palace, mysterious sparks emanate from a thornlike tower. To the right a hairlike apparition disappears into the thin atmosphere of an empty sky.
In the natural world such geologic metamorphosis would require intense heat and volcanic activity. Yet Tanguy's restrained grays and muted pinks, accented with cool blue and pale green and yellow, deny the presence of fire and earth. Instead, Tanguy creates a Surrealist terrain where molten and frozen, figurative and abstract, literal and suggestive elements exist in perfect harmony. Tanguy's use of a specific horizon line, his naturalistic modeling of forms, and his depiction of landscape evocative of an actual coastline, permit us a conceptual foothold in known experience. Yet our foothold gives way as Tanguy's abstract shapes transform known experience into a familiar but irrational fantasy. The power of Tanguy's imagery derives from the delicate tension he creates between the logic of sensation and the freedom of imagination.
Elizabeth C. Childs
1. For further discussion of this sequence, see Yves Tanguy: Retrospective (1925–1955), exh. cat., Paris, 1982, pp. 50–52, 103–05.