Artist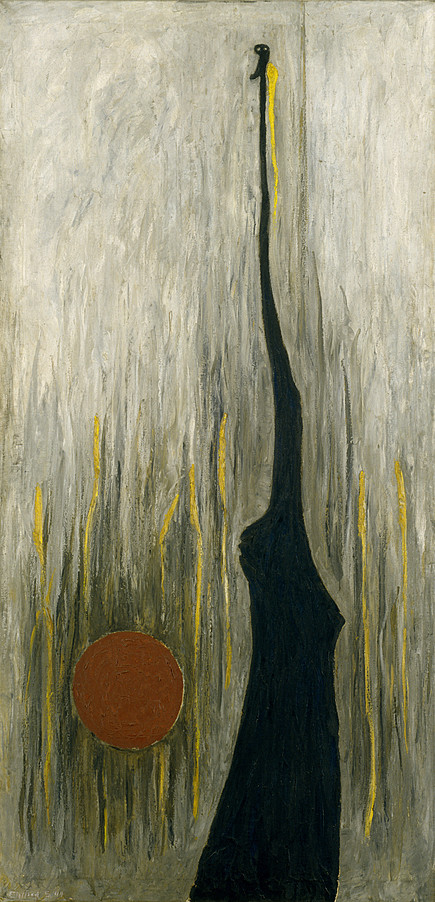 Clyfford Still
Jamais
Artist
Clyfford Still b. 1904, Grandin, North Dakota; d. 1980, Baltimore, Maryland
Title
Jamais
Date
Medium
Oil on canvas
Dimensions
65 1/16 x 32 1/4 inches (165.2 x 82 cm)
Credit Line
The Solomon R. Guggenheim Foundation Peggy Guggenheim Collection, Venice, 1976
Accession
76.2553.153
Copyright
Clyfford Still Estate
Artwork Type
Movement
Like the examples of William Baziotes, Robert Motherwell, and Mark Rothko in the Peggy Guggenheim Collection, Jamais dates from the formative, exploratory period of Abstract Expressionism. Although the influence of Surrealism pervaded the work of these artists in the early forties, they were moving toward distinctive independent styles.
Until 1946–47 the single upright figure dominated Clyfford Still's painting. In its elongation and expressionistic distortion, this element is reminiscent of figures painted by Joan Miró and Pablo Picasso in the 1930s. Here the figure is barely particularized, appearing as a black flame or cleft in the blazing environment that surrounds it. Later it was to disappear entirely within the craggy, tenebrous abstractions for which Still is best known. The sphere, which interrupts the thrusting verticality of his tense lines in several of these early works, was also to vanish. Concern with the contrast of light and dark was to become increasingly important and was emphasized by jarring color juxtapositions. The canvas, already large in this example, was to reach monumental proportions and create an impact rivaling that of the viewer's own environment.
The present painting is one of the few by Still bearing its original title. He disdained titles, and discarded those he had given to early works because he considered that they too strongly influenced the observer's experience of the painting. Indeed, Jamais (French for "never") lends an air of finality and melancholy to this scene and encourages one to read the figure as howling in protest or despair above a setting sun.
Lucy Flint