Artist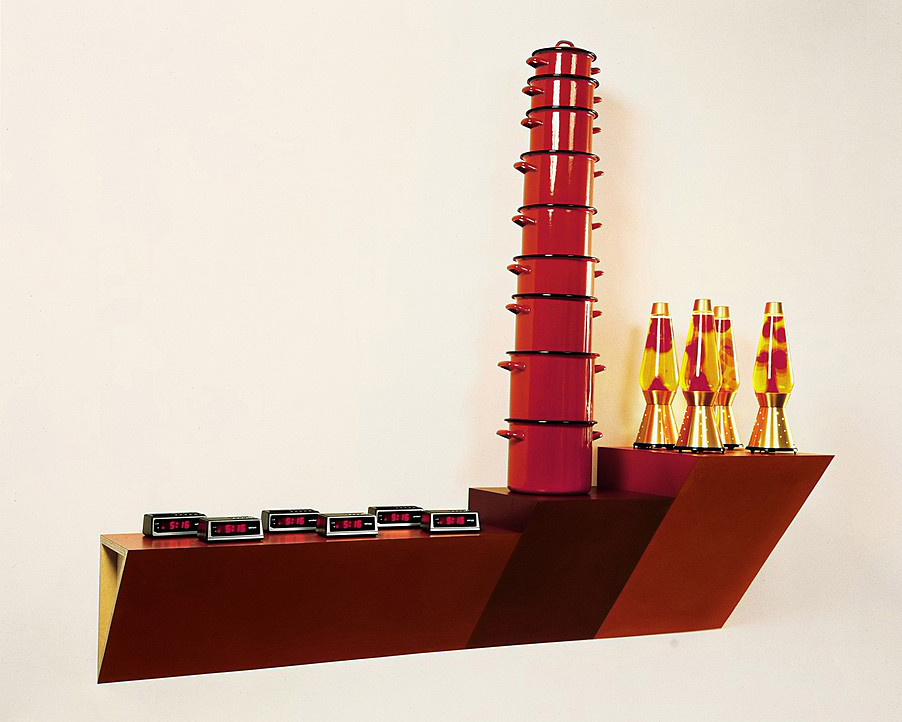 Haim Steinbach
ultra red #2
Artist
Haim Steinbach b. 1944, Rechovot, Israel
Title
ultra red #2
Date
Medium
Wood, plastic laminates, four lava lamps, nine enamel pots, and six digital clocks
Dimensions
67 x 76 x 19 inches (170.2 x 193 x 48.3 cm)
Credit Line
Solomon R. Guggenheim Museum, New York Gift, Barbara and Eugene Schwartz, 1988
Accession
88.3619
Copyright
Haim Steinbach. Photo: David Heald © SRGF
Artwork Type
Movement
Haim Steinbach's shelf sculptures are devices of endless variety, but their parameters are fixed. Typically, Steinbach chose banal objects from everyday life and arranged them on plastic-laminated triangular-wedge shelving units. The interior angles of the triangular units are constant—90, 50, and 40 degrees—and they always relate to the objects on top through volume and color. Steinbach has proposed parallels between the structure of his works and game boards, the sequence of pitches in musical scales, and the arrangement of goods on department-store shelves.
Ultra red #2, a typical Steinbach shelf sculpture, features four ruby-golden lava lamps, nine russet cooking pots, and six digital alarm clocks with blinking scarlet readouts. Just as the lava lamps and clocks continuously mutate, so too ultra red #2 resists any fixed meaning. A fundamental issue it raises is one of language. The title, perhaps citing the names given to paint colors, focuses attention on an element that is common to the objects and the shelves—they are all some shade of red. Steinbach's approach to "red" is similar to that of the linguist remarking on the many words for "snow" used by the Eskimos. It is an anthropological perspective. Steinbach is fascinated by the way physical reality invariably shapes local linguistic or cultural customs. Because "red" exists as an idea above and beyond its infinite physical variations, we can refer to the cooking pots and lava lamps as red, and thereby find a link between them.
Steinbach's work has often been understood in terms of its implied commentary on consumer culture and on the hidden aesthetic in consumer products. Ultra red #2 bears this out with its reference to design from the 1960s through the 1980s. But this accounts for only one aspect of the work. Steinbach highlights the contiguous illogic of the placement of objects in the world, arranging the elements of his sculptures to reflect their original accidental juxtapositions. He has also explored other kinds of juxtapositions, using objects as metaphors for race, age, and culture.
By using items that are readily available and easily replaceable, Steinbach tried to undermine the fetishization of the art object. This monumental triptych made of household wares suggests that the artistic stacking of forms is as relative a construction as the development of different dialects.
Cornelia Lauf