Artist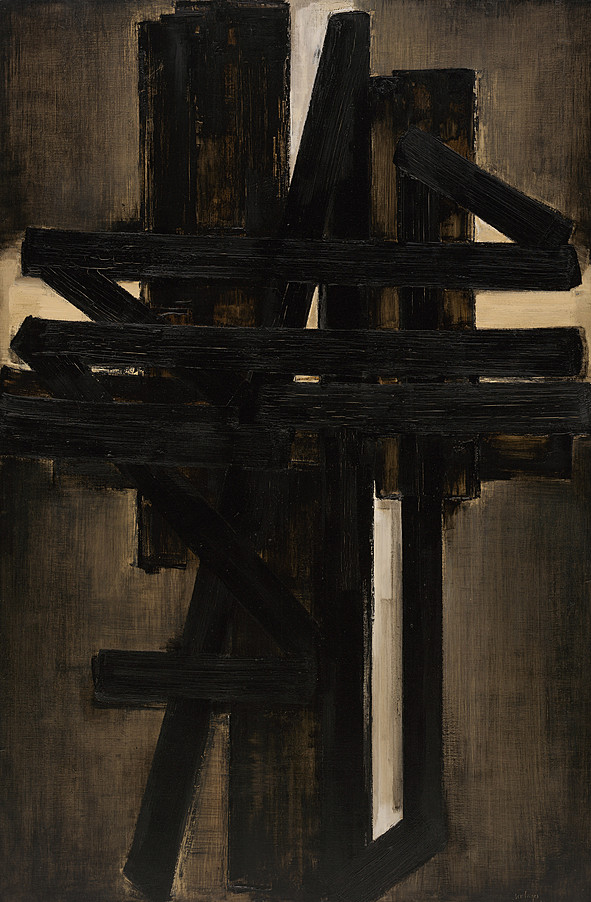 Pierre Soulages
Painting, 195 x 130 cm, May 1953 (Peinture, 195 x 130 cm, mai 1953)
Artist
Pierre Soulages b. 1919, Rodez, France
Title
Painting, 195 x 130 cm, May 1953 (Peinture, 195 x 130 cm, mai 1953)
Date
Medium
Oil on canvas
Dimensions
77 3/8 x 51 1/4 inches (196.5 x 129.9 cm)
Credit Line
Solomon R. Guggenheim Museum, New York
Accession
53.1381
Copyright
2016 Artists Rights Society (ARS), New York / ADAGP, Paris
Artwork Type
Movement
From his youth, Pierre Soulages was deeply influenced by Romanesque sculpture and architecture—in particular the "live" blackness he first encountered during a visit at the age of 12 to the church of Sainte-Foy de Conques, France, which he identified as the source of his decision to become a painter—as well as the ancient Gallic stone dolmens that punctuated the land around his childhood home in southern France. Early on he was also drawn to the work of Claude Lorraine and Rembrandt van Rijn, whose rendering of light had an impact on his development. In 1938 he moved to Paris to prepare for the entrance exam to the École nationale supérieure des beaux-arts, but he soon abandoned his traditional studies at the school as a result of seeing exhibitions of the work Pablo Picasso and Paul Cézanne and visiting the Louvre.
In his earliest work Soulages took leafless winter trees as his point of departure. Their essential, reduced network of branches—which Soulages regarded as abstract sculpture—provided him with an ideal vehicle for the exploration of structure and variation. During the German occupation of France he had occasion to meet Sonia Delaunay who introduced him to abstract art and set him on a new path. By the mid 1950s, Soulages had switched from a small brush, with which he had painted abstract calligraphic patterns, to palette knives, straightedges, and large house-painting brushes. These tools afforded him a greater range of motion in his wrist, allowing him to produce bold, dynamic strokes that resulted in a more gestural surface. He roughly applied volumes of predominantly black paint on a white ground in broad, slablike strokes, thereby imparting to his paintings both an architectonic and a sculptural quality.
The few oblique lines that link the main vertical and horizontal brushstrokes in works such as Painting, 195 x 130 cm, May 1953 (Peinture, 195 x 130 cm, mai 1953, 1953) unite in a composition that reads as a cross. However, Soulages does not intend for his painting to be understood as either a referential object or a religious symbol; rather, it is to be seen as a geometrical figure, whose structural qualities suggest stability and ascetic spirituality. To accentuate this effect Soulages highlights the cruciform shape of the composition, with rectangular windows of light sharply cut into the white background. By illuminating the painting from behind, he creates an effect similar to the one produced in the dim interiors of large old churches when a ray of light filters through a narrow window and the black hues are deepened, creating a pillar of solidity. Light has always been a central concern in Soulages's art, and his layered, glowing swashes of black paint—formally evocative of Rembrandt's approach to chiaroscuro—provide him an effective means of investigating it.
Though often associated with Art Informel, a term coined by the French critic Michel Tapié in 1952 to describe postwar European art that emphasized improvisation and gesture, Soulages has always opposed this label because he feels that his use of geometry and disdain for intimate emotions in painting run counter to the works by such Art Informel artists as Jean Dubuffet and Henri Michaux. Nonetheless, Soulages repeatedly exhibited with the group. Similarly, while his use of large formats and his belief that the more limited the means the stronger the expression led critics to compare his work with the American Action painters, the comparison falls flat as soon as one considers that his exploration pursues architectonic permanence rather than gestural transience.