Artist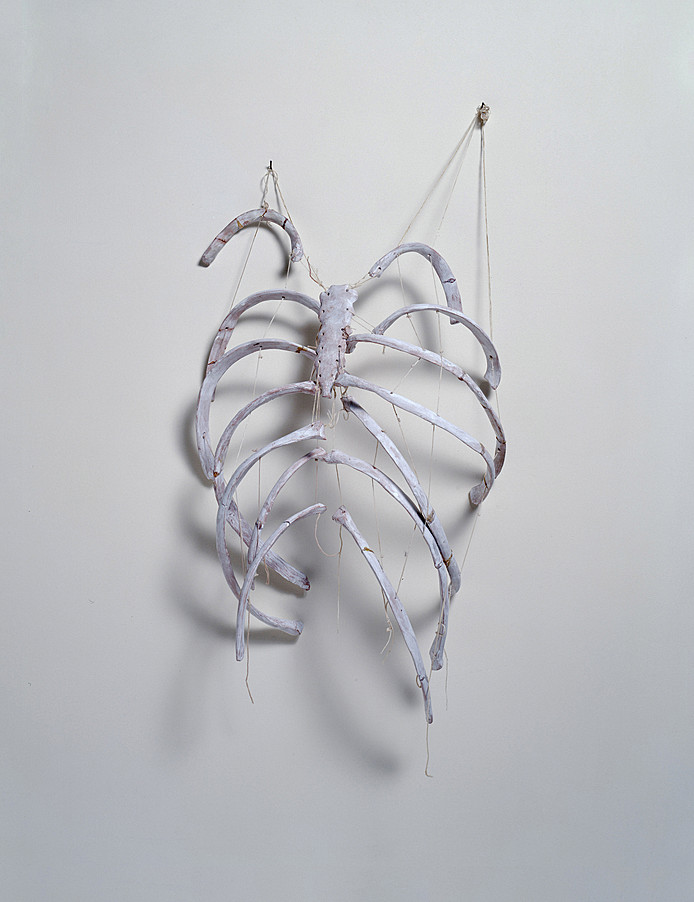 Kiki Smith
Ribs
Artist
Kiki Smith b. 1954, Nürnberg, Germany
Title
Ribs
Date
Medium
Terracotta, ink, and thread
Dimensions
22 x 17 x 10 inches (55.9 x 43.2 x 25.4 cm)
Credit Line
Solomon R. Guggenheim Museum, New York Purchased with funds contributed by The Peter Norton Family Foundation, 1993
Accession
93.4241
Copyright
Kiki Smith. Photo: Kathryn Carr
Artwork Type
The oft-proclaimed "return to the body" in artistic practice and critical discourse in the late 1980s was partly a response to the high rationality of Minimalism and Conceptual art, in which references to the human form were at most oblique, as well as to the theoretical feminist prohibition of representations of the female body, which was deigned hopelessly subject to patriarchal desire. The work of contemporary artists such as Robert Gober, Charles Ray, Cindy Sherman, and Kiki Smith concentrates on the body, fragmented and whole, depicted relatively realistically yet always suggestively altered. These artists are concerned with the connections and disruptions between private sensations of corporeality and socially constructed public identities, and the human form as a vessel for the expression of affect, rather than with traditional figurative representation.
In 1979 Smith turned to Gray's Anatomy as a source for drawings that depict aspects of the human body in cross-section and on a microscopic level. A few years later she produced sculptures of body parts and internal organs made of paper, plaster, resin, and various metals. Representations of human circulatory and nervous systems, among others, followed. In her transition from exploring the body's interior to its exterior, Smith began to investigate the skin as a system and subsequently to create visceral, life-size figures (usually female). Smith's limbs, heads, organs, and flayed bodies might suggest the tools of medical education, except for the evocative materials from which they are made and the tender, homemade quality of their production. Like earlier feminist artists, she pointedly rehabilitates mediums and processes, such as clay and paper, glassmaking and embroidery, that were previously disdained as craft techniques unsuitable for high art.
Smith's delicate sculpture Ribs represents in terra-cotta the components of a rib cage, strung together and held up like a marionette suspended from the wall. The pink rib bones, disconnected from the sternum, some revealing repaired breaks, imply forensic evidence of trauma. The apparent fragility of Smith's piece evokes the transience of life itself. Ribs registers the passage of time both in the way that the unique rendering of the bones suggests that they might have belonged to a specific individual, and the manner in which its display evokes the natural-history museum and its fascination with the organic specimen as a link to a collective past.
Jennifer Blessing