Artist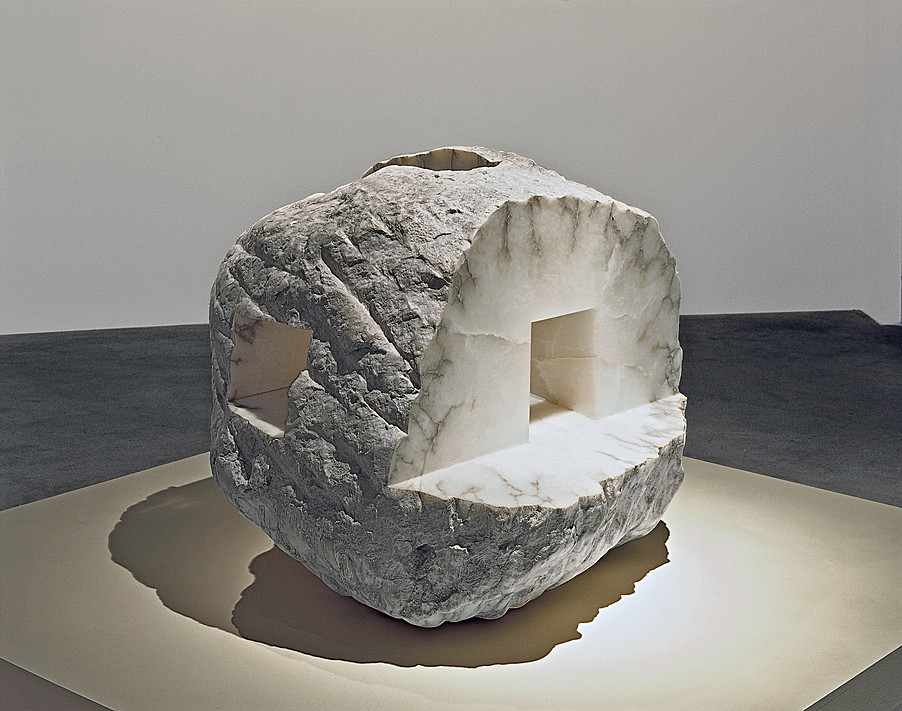 Eduardo Chillida
How profound is the Air (Lo profundo es el aire)
Artist
Eduardo Chillida b. 1924, San Sebastián, Spain; d. 2002, San Sebastián, Spain
Title
How profound is the Air (Lo profundo es el aire)
Date
Medium
Alabaster
Dimensions
37 x 48 1/16 x 48 13/16 inches (94 x 122 x 124 cm)
Credit Line
Guggenheim Bilbao Museoa
Accession
GBM1997.20
Copyright
2012 Artists Rights Society (ARS), New York / VEGAP, Madrid. Photo: Erika Barahona-Ede
Artwork Type
A sculptor versed in multiple materials, including iron, steel, wood, plaster, and stone, Eduardo Chillida investigates how the solid relates to the void, time to space, and the interior to the exterior. His oeuvre is threaded with these commonalities in intention and theme, the use of material often directing the aesthetic dimensions of the work. Chillida's choice of material was fundamentally informed by his surroundings as well as his travels in the 1960s to Greece; Rome, Umbria, and Tuscany, all in Italy; and Provence, France, ignited what would be a lifelong interest in the relationship between light and architecture. Chillida sought to capture a quality of light he had initially encountered in artworks at the Louvre in Paris. He began using alabaster for its illuminated yet veiled appearance, its ability to simultaneously reveal and conceal, not unlike the atmospheric, dark, and foggy glow of the Basque countryside, Chillida's homeland. Though not traditional to his roots, alabaster has a weighted presence in the history of sculpture.
How profound is the Air (1996) combines the roughly hewn, natural exterior of the stone with a highly finished, interior architectural space. The title is a reference to writer Jorge Guillén and reveals the sculptor's attitude toward space, or air, which to him is a material as essential as stone or wood. In the words of the artist, "Space must be conceived in terms of plastic volume. . . . Form springs spontaneously from the needs of the space that builds its dwelling like an animal its shell. Just like this animal I am also an architect of the void."1
Chillida's focus on the void is perhaps most apparent in his alabaster works, solid forms with carved "windows" through which shafts of light enter. The diffused light calls attention to the carved space as it passes through the void, illuminating the air and creating a pointed contrast with the solidity of the surrounding form.
1. Eduardo Chillida, quoted in Ina Busch, "Eduardo Chillida, arquitecto del vacío sobre le síntesis entre arquitectura y escultura/Eduardo Chillida, Architect of the Void on the Synthesis of Architecture and Sculpture," in Chillida, 1948–1998, ed. Kosme María de Barañano Letamendía, exh. cat. (Bilbao: Guggenheim Museoa Bilbao, 1999), p. 62.