Artist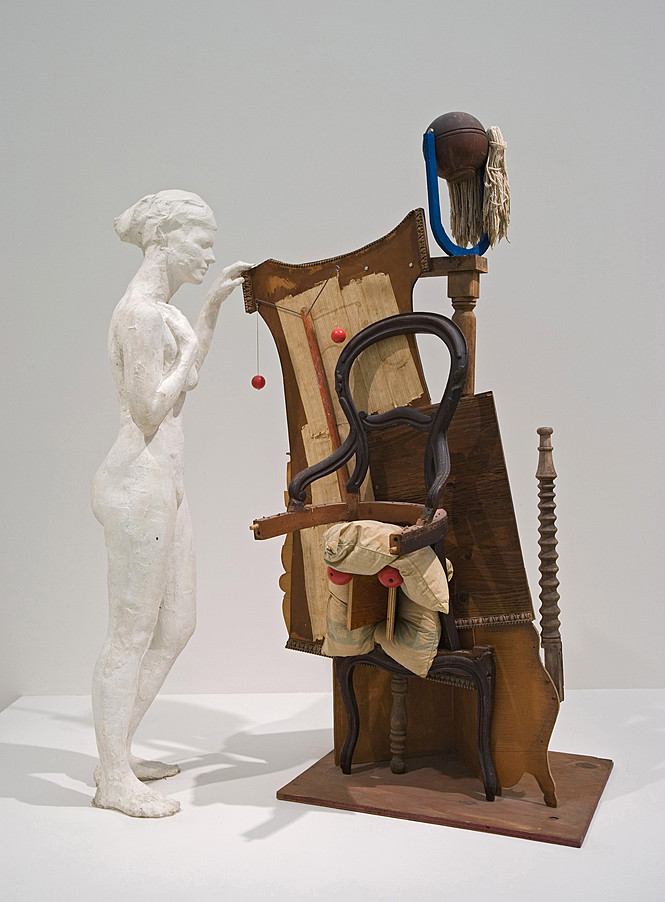 George Segal
Picasso's Chair
Artist
George Segal b. 1924, New York City; d. 2000, South Brunswick, New Jersey
Title
Picasso's Chair
Date
Medium
Plaster, wood, cloth, rubber, and string
Dimensions
73 1/2 x 60 x 36 1/2 inches (186.7 x 152.4 x 92.7 cm)
Credit Line
Solomon R. Guggenheim Museum, New York Gift, Dr. Milton D. Ratner, 1976
Accession
76.2279
Copyright
The George and Helen Segal Foundation/Licensed by VAGA, New York, N.Y.
Artwork Type
Movement
George Segal was initially drawn to an expressive mode of figurative painting, but he ultimately developed a distinctive signature style that cleverly fused aspects of art and real life into large-scale sculptural tableaux. Segal studied at New York University with the painter William Baziotes and the sculptor Tony Smith. They encouraged Segal's interest in Abstract Expressionism, but he found it impossible to paint pure abstractions.
Segal's friend Allan Kaprow, who famously initiated Happenings (performances, events, or situations that were often multidisciplinary), took him to one of the composer John Cage's classes at the New School for Social Research, New York. Segal credits Cage with calling his attention to the idea of connecting art with tangible reality. While Kaprow did just that in his Happenings, Segal decided not to participate in them, preferring permanent objects to ephemeral actions.
Around 1958 Segal began to make sculpture that was "off the pedestal" and located in the space of life itself. In order to achieve his goals, he created plaster figures with an interior armature of chicken wire that he fleshed out with burlap dipped in plaster. He often stood these crude figures, whose heavily articulated surfaces almost seemed to be an analogue of Abstract Expressionist paintings, in proximity to paintings. In 1961 he was introduced to a new type of medical bandage being developed by Johnson & Johnson. Using this new material, which was filled with plaster, Segal was able to make casts in pieces from live models. White and life-size, the resulting figures seem like ghostly presences despite their rough surfaces. Segal believed they have the impression of being real people in space, and he placed them within settings consisting of objects culled from a variety of sources. His subjects typically came from familiar, particularly American, surroundings. For example, in The Diner (1964–66), a waitress standing behind a counter pours coffee into a real cup for the male customer seated on an actual barstool.
By the 1970s Segal had transformed his means of producing figures yet again by using body casts as moulds into which he poured plaster or bronze to attain a smoother finish. Picasso's Chair (1973) belongs to this period, and it is part of a series of work from the early 1970s in which Segal paid homage to Pablo Picasso's Cubism.
Picasso's Chair was inspired by a Picasso etching in the Solomon R. Guggenheim Museum's collection: Model and Surrealist Figure (Modèle et sculpture surrealiste, 1933) (no. 74 from the Vollard Suite, [Suite Vollard]). According to Segal, the process of creating the work was illuminating:
I was attracted to an etching as a blueprint from which I could build a genuine cubist sculpture. I cut out a piece of plywood and that was the wall, except that it was standing in pure space. I added one element on top of and in front of that the back plane, another element in front of that. . . . I discovered something extraordinary after I finished doing it. Using this pure Cubist technique to make an absolutely orthodox cubist work, I had replicated a proscenium stage and the precise method of seeing perspective in planes in receding space.¹
The combination of an actual chair (discovered in a New Jersey antique shop) with found objects, including a household mop and musical notation paper (a stand-in for Picasso's shading), invites reflection on the intersections between various modes of representing depth in both two and three dimensions. As in Segal's other works, the cast of the nude woman, who in real life worked as a go-go dancer, serves as a bridge between "real space" and the artist's "proscenium stage." While Picasso's original etching is not an integral part of the sculpture, Segal expressed a willingness to exhibit the work in conjunction with his piece, with the stipulation that the Picasso be hung on a different wall.
1. George Segal, quoted in Martin Friedman and Graham W. J. Beal, George Segal: Sculptures, exh. cat. (Minneapolis: Walker Art Center, 1978), p. 49.