Artist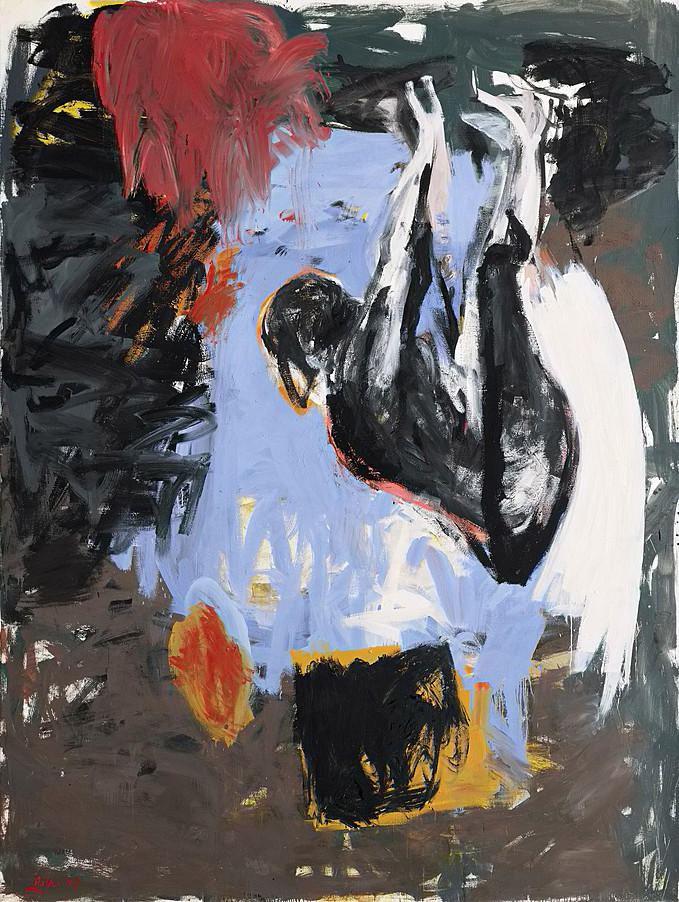 Georg Baselitz
The Gleaner (Die Ährenleserin)
Artist
Georg Baselitz b. 1938, Deutschbaselitz, Germany
Title
The Gleaner (Die Ährenleserin)
Date
Medium
Oil and tempera on canvas
Dimensions
129 7/8 x 98 3/8 inches (330.1 x 249.9 cm)
Credit Line
Solomon R. Guggenheim Museum, New York Purchased with funds contributed by Robert and Meryl Meltzer, 1987
Accession
87.3508
Copyright
George Baselitz
Artwork Type
Movement
The dark of night laps at the edges of The Gleaner (1978), a fire burns on the upper left, and a sunlike shape hovers beneath the lone figure. Yet Georg Baselitz's monumental, somber work was painted during a decade of well-being in Germany, when the generation of the wirtschaftswunder—the economic miracle—was interrupted in its relentless quest for stable prosperity only by the occasional political scandal or terrorist attack. How does this image, so clearly a representation of an existentialist condition, address the complex issues facing postwar German art and society?
The key lies in the orientation of the gleaner, searching for sustenance in a barren landscape: the figure is depicted upside down. Baselitz has used this device consistently since 1969–70, his intention being, in part, to subvert the criteria for viewing paintings. To this end, Baselitz inverts, and thus negates, the subjects of his work. He cites but does not pay homage to the mythic protagonists that, as in Wagner's epic operas, have so often been the focus of German art and culture. For Baselitz, the individual is the locus of redemption and the cause for despair. He has painted a great number of his antiheroes in guises ranging from military costumes to stark nudity.
Baselitz once termed his technique a nonstyle. The upside-down figure, brutality of gesture, and emotive yet distanced strokes have, however, long since become highly recognizable trademarks. Ironically, Baselitz, who initially sought to replace the congealed Expressionism sweeping Europe with a fresh, aggressive style, and comparably controversial subjects, is now regarded as one of the foremost German artists and has been accorded retrospective exhibitions internationally. His work strongly influenced the generation of painters that came of age during the early 1980s. But unlike the Neo-Expressionists he inspired, Baselitz does not rehash past styles, nor is his milieu truly international. Baselitz's painting remains a deeply felt and authentic engagement with the spiritual depletion of the postwar period in Germany.
Cornelia Lauf