Artist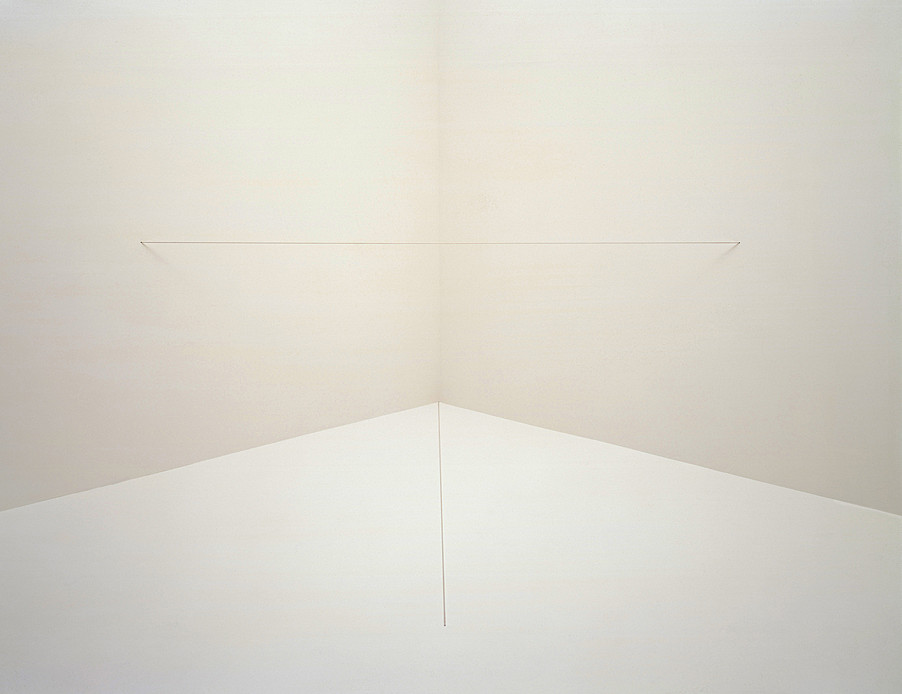 Fred Sandback
Pink Corner Piece
Artist
Fred Sandback b. 1943, Bronxville, New York; d. 2003, New York City
Title
Pink Corner Piece
Date
Medium
Elastic cord
Dimensions
48 x 84 x 84 inches (121.9 x 213.4 x 213.4 cm)
Credit Line
Solomon R. Guggenheim Museum, New York Gift, Virginia Dwan, 1994
Accession
94.4263
Copyright
Fred Sandback Archive
Artwork Type
Movement
In the constructions of Fred Sandback, conventional distinctions among drawing, sculpting, and building begin to break down. Utilizing the most subtle, unobtrusive means possible, Sandback fused several techniques within the one operation that has defined his work after 1966—the use of yarn, cord, or metal rods to shape existing gallery space into forms that, while appearing solid and imposing, are in actuality hollow and immaterial. According to Sandback, the threshold between presence and absence was central to his adoption of yarn and similar materials: "I think my first attraction to this situation was to the way it allowed me to play with something both existing and not existing at the same time."¹
Subtly connected to walls, floors, and ceilings so that their method of attachment is barely visible, Sandback's string works, carefully executed in a variety of colors, suggest geometric forms that extend from or push against existing architecture, inserting themselves into the literal space of the viewer. While his early line works delineate bounded forms, Sandback's later installations appear limitless, enveloping the viewer and making explicit his notion of "pedestrian space"—a term Sandback coined in 1968 along with fellow sculptor Dan Edge.
Although he is commonly associated with American Minimalist sculptors of the 1960s and 1970s, Sandback was slightly younger than his Minimalist colleagues, allowing him to build on and respond to the concerns of such artists as Donald Judd and Robert Morris—two of Sandback's teachers at Yale College and then Yale University School of Art and Architecture in the mid- to late-1960s. While he studied in New Haven, he also became familiar with the work of Bauhaus master and former Yale professor Josef Albers as well as with the constructions of Naum Gabo, who resided in Middlebury, Connecticut. According to Sandback, Gabo's work influenced him considerably. This influence is reflected in Sandback's fondness for geometric abstraction and unorthodox materials (in particular, Gabo's use of wire and nylon monofilament to outline space most likely left an impression).
Sandback's Pink Corner Piece (1970) is a deceptively simple investigation of the intersection between the sculptural object and its architectural framework. Constructed from two equal lengths of pink elastic cord—one stretched horizontally in order to straddle the corner, the other drawn across the floor directly into the point where the two walls meet the ground—Sandback's work intimates a multiplicity of forms, including a series of triangles or a pair of intersecting rectangles. Unlike industrially fabricated Minimalist objects such as Morris's now iconic Untitled (Corner Piece) (1964)—a triangular plywood form inserted into a gallery corner to transform and destabilize the pre-existing architecture of the space—Sandback's piece cooperates with the shape and converging lines of its corner. In the work the distinction between Sandback's cord and the structural line created by the meeting of architectural surfaces is barely discernible. The solidity of architecture is absorbed into the invisible sculpture, merging the two disciplines in a construction that is at once sculpture, architecture, and drawing.
1. Fred Sandback, quoted in Fred Sandback: Sculpture, 1966–1986, exh. cat. (Mannheim, Germany: Städtische Kunsthalle Mannheim, 1986), pp. 12–19.
2. Fred Sandback, interview with Stephen Prokopoff, in The Art of Fred Sandback: A Survey, exh. cat. (Urbana-Champaign, Illinois: Krannert Art Museum, University of Illinois, 1985).