Artist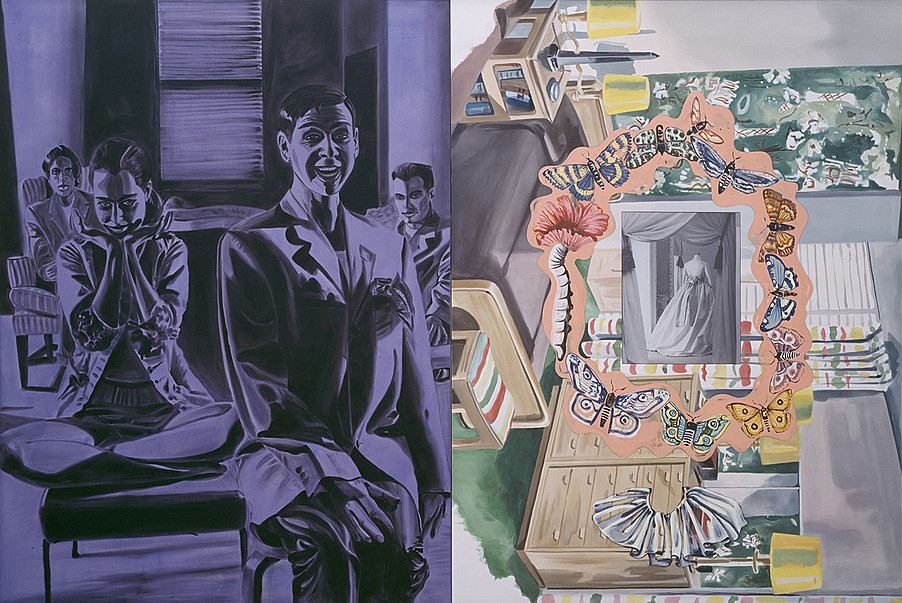 David Salle
Comedy
Artist
David Salle b. 1952, Norman, Oklahoma
Title
Comedy
Date
Medium
Oil and acrylic on canvas
Dimensions
two panels, 96 1/4 x 144 1/8 inches (244.5 x 366 cm) overall
Credit Line
Solomon R. Guggenheim Museum, New York Purchased with funds contributed by the International Director's Council, Mr. and Mrs. Edward G. Shufro, The Eli Broad Family Foundation, and Rachel Lehmann, 1996
Accession
96.4505
Copyright
Art David Salle/Licensed by VAGA, New York, NY
Artwork Type
Movement
When David Salle emerged on the art scene in the early 1980s, his often oblique work was set squarely within the critical definition of postmodernism by virtue of its art-historical references and ambiguous combinations of original and appropriated imagery from both high and low traditions. Subverting the recognizable and allowing the familiar to become strange through odd juxtapositions, details, and illogical compositions, Salle's pictures leave the viewer to develop meaning out of layered images and surrealistic disjunctions. His repertoire has included erotically charged representations of nude women borrowed from pornographic magazines, quotations from Théodore Géricault's paintings of corpses, and actual pieces of furniture affixed to the canvas.
The left half of the diptych Comedy is executed in grisaille, a technique that has been historically used to render figures. In the right panel, a domestic scene derived from a 1950s advertisement for a bedroom set is turned on its side and, as in much of the artist's early work, layered with additional painted imagery: a black-and-white fashion photograph in which the female figure is, disconcertingly, a headless mannequin; a garland of butterflies surrounding the "photo"; a ruffled harlequin collar of translucent cloth. The appearance of the harlequin costume in Salle's paintings of the early 1990s alludes to his own involvement with cinema and the performing arts, in particular, his collaborations with choreographer Karole Armitage.
Salle also created a pendent for the diptych entitled Tragedy (1995) with the same four grisaille figures in a similar arrangement but with different expressions and gestures; for example, the man who grins in an exaggerated fashion in Comedy likewise frowns in Tragedy. The paired titles may similarly refer to Salle's set and costume designs for theater and dance, as well as his venture into directing in the film Search and Destroy (1995). A cinematic influence can also be detected in Salle's juxtapositions of vignettes that evoke filmic montage in which visual elements are arranged to produce meaning not otherwise present in the individual images.
Joan Young