Artist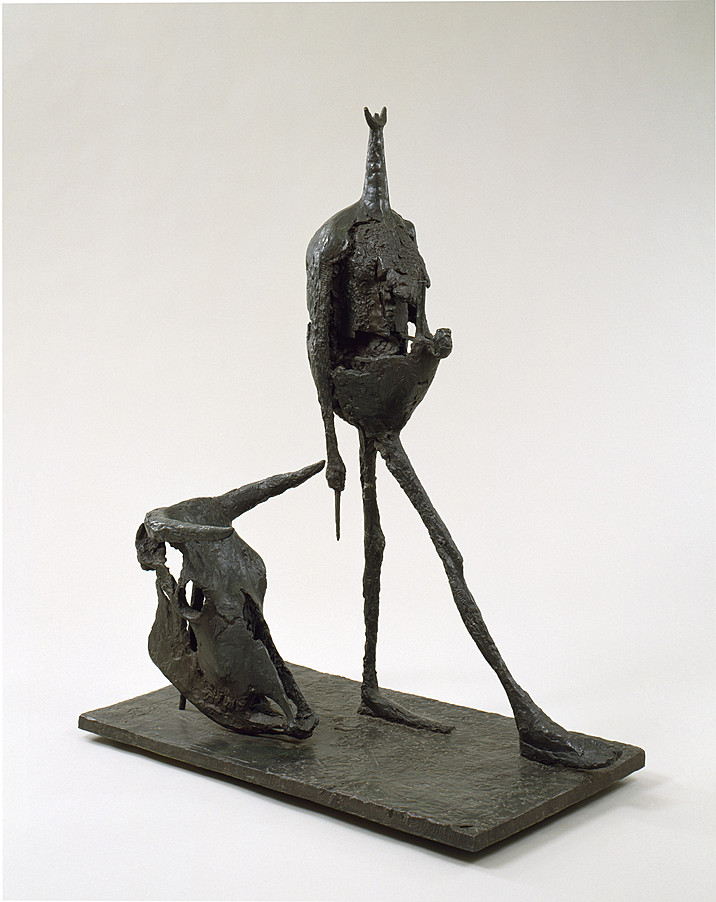 Germaine Richier
Tauromachy (Tauromachie)
Artist
Germaine Richier b. 1904, Grans, France; d. 1959, Montpellier, France
Title
Tauromachy (Tauromachie)
Date
Medium
Bronze
Dimensions
43 7/8 inches (111.5 cm) high; base: 37 11/16 x 20 5/8 1 3/16 inches (95.7 x 52.5 x 3 cm)
Credit Line
The Solomon R. Guggenheim Foundation Peggy Guggenheim Collection, Venice, 1976
Accession
76.2553.205
Copyright
2016 Artists Rights Society (ARS), New York/ADAGP, Paris. Photo: David Heald
Artwork Type
Germaine Richier's investigation of the composition and decomposition of organic materials situates her work in the vitalist current of twentieth-century sculpture, which concerns itself with natural processes. In an assault on closed form, she breaks through her heavily worked surfaces to expose the structural armature and hollow spaces within the bodies they describe.
In subject matter and style this sculpture recalls both Pablo Picasso's Surrealist bullfight imagery of the 1930s and his sculptures of the early 1950s. Richier, who was herself familiar with the bullfight, shared with Picasso an interest in its mythic, archaic implications. In addition, the robust three-dimensionality, raw surfaces, and incorporation of found objects in Tauromachy may constitute a response to works such as Picasso's She-Goat of 1950 and Goat Skull and Bottle of 1951–52. Like Henry Moore during the same year, Richier places her forms in situational relationships. As she wrote: "Finally, the sculpture is a place, an entity, a synthesis of movements. I don't know if the Tauromachy evokes the sand, but no form, it seems to me, can be separated from the universe, the elements. It is therefore something more than an image."¹
This bronze was produced in an edition of ten.
Lucy Flint
1. Quoted in Art du XXe siècle: Fondation Peggy Guggenheim, Venise, exh. cat., Paris, 1974, p. 106. Author's translation.