Artist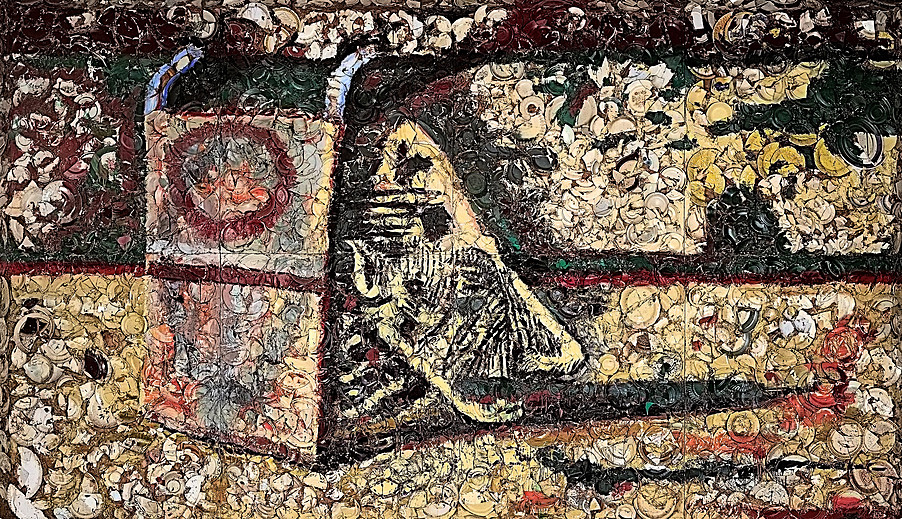 Julian Schnabel
Spain (Espainia)
Artist
Julian Schnabel b. 1951, Brooklyn, New York
Title
Spain (Espainia)
Date
Medium
Oil, plates, and Bondo on wood
Dimensions
10 feet 11 1/2 inches x 19 feet 3/8 inches (333 x 513 cm)
Credit Line
Guggenheim Bilbao Museoa
Accession
GBM1997.18
Copyright
2012 Julian Schnabel / Artists Rights Society (ARS), New York
Artwork Type
Movement
The 1960s and 1970s witnessed what has been termed the "dematerialization" of the art object. The prevailing movements of the period favored austere expression; works with an economy of means often focused on the idea or concept rather than the object itself. By contrast, the 1980s were characterized by a return to the traditions of painting and sculpture. Amid this celebration of conservative values, Julian Schnabel played a critical role in the emergence of Neo-Expressionist painting in the U.S. After two decades dominated by the aesthetics of Minimalist and Conceptual art, Schnabel's heroic scale, gestural brushstrokes, and figurative subject matter marked a radical shift in painting.
Schnabel came to prominence with his signature plate paintings, such as Spain. The surface of this monumental work is strewn with shards of broken crockery and covered with thick layers of pigment. The series, notable for its heroic scale, flamboyant texture, and distorted subjects, was conceived in the 1970s after Schnabel visited Barcelona, where he saw mosaic benches by Catalan architect Antonio Gaudí. Transforming the traditional surface of the mosaic, the broken plates and cups project from the canvas like jagged, sculptural brushstrokes. The swirling colors of this series often depict legendary figures, and the disembodied head in the center of Spain is an important and recurrent image in the artist's work. Some such figures recall the work of Picasso, but the artist draws from many sources, including El Greco and cultural artifacts from Mexico. The earthy tones of red and ocher and the elongated black shadows that stretch across the canvas clearly evoke the Spanish landscape.
In 1987 Schnabel began making paintings in which written words and proper names serve as subject matter. The early works in this series marked a change in imagery from one of excess to one of deliberate austerity and from pictorial narrative to oblique, linguistic reference. In this series, Fakires signals a return to a richer palette and a more layered and expressionistic surface than in his earlier word paintings.