Artist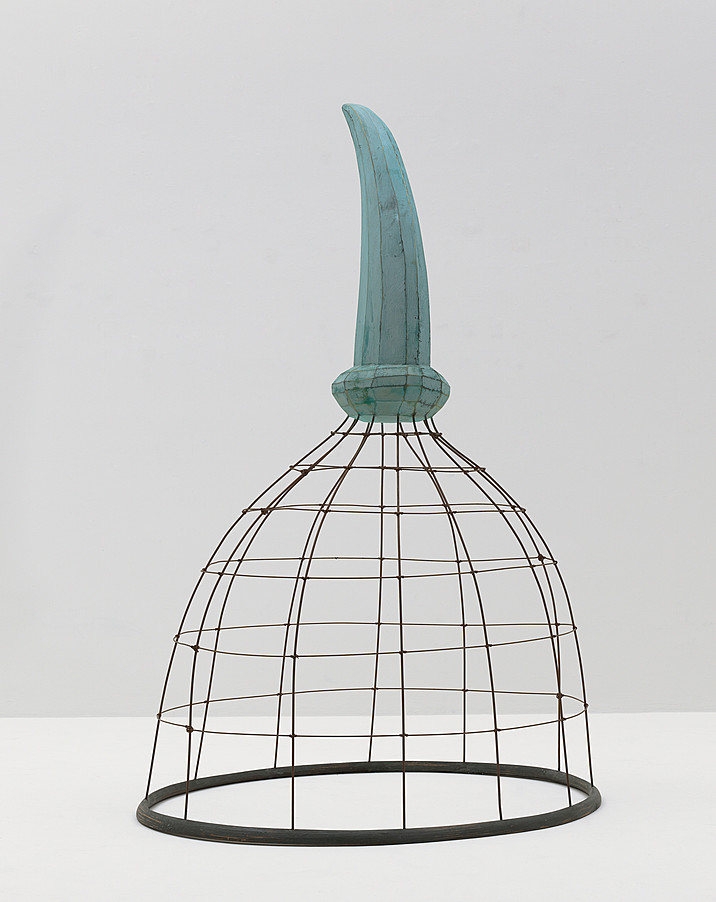 Martin Puryear
Seer
Artist
Martin Puryear b. 1941, Washington, DC
Title
Seer
Date
Medium
Water-based paint on wood and wire
Dimensions
78 x 51 x 45 inches (198.1 x 129.5 x 114.3 cm)
Credit Line
Solomon R. Guggenheim Museum, New York Purchased with funds contributed by the Louis and Bessie Adler Foundation, Inc., Seymour M. Klein, President, 1985
Accession
85.3276
Copyright
Martin Puryear. Photo: David Heald
Artwork Type
Martin Puryear raises, then resolves, contrary formal issues in the making of his abstract wooden sculptures, creating a dynamic equilibrium of antithetical forces. In works such as Seer he strives to balance the opposition of a volumetric, closed form with one that is open yet inaccessible. There is also a linear element to this sculpture: the wire is a kind of drawing in space, reminiscent of a Renaissance exercise in perspective, while the wooden circle on the floor outlines a base from which the wire chassis appears to have been extruded. Puryear's virtuoso ability to control wood stems from his knowledge of craft traditions. Though originally trained as a painter, in the mid-1960s the artist learned about indigenous carpentry in Africa and began to make wooden sculptures while in Sweden, where he observed Scandinavian woodworking techniques.
The clarity of Puryear's forms, along with his interest in the physical response of the viewer to his objects, allies the artist to the Minimalist sculptors of the late 1960s. But the Minimalists' espousal of industrial materials and fabrication and their denial of metaphor were anathema to Puryear, who is committed to organic materials, handcraftsmanship, and poetic evocation through form. His work is more akin to that of the Post-Minimalists, such as Eva Hesse, whose constructions have organic connotations, even though they are often assembled from man-made elements.
The variety of sculptural methods and materials Puryear employs—he opposes bent wood with woven wire, for example, and integrates found objects into handmade structures—leads to myriad metaphorical interpretations. Seer evokes associations with architecture; the wire base of the object suggests both a yurt (the temporary home of nomadic Mongols) and the hull of a boat. It also incorporates the idea of a cage. Critics have noted intimations of violence and sexuality and a sense of frustrated energy in Puryear's work. Applying such a reading to Seer, one could interpret the lower section of the sculpture as a trap for invisible gases that are metaphorically funneled into the cone in a Duchampian play on sexual energy. The horn atop the cage might be seen as a portent of divinity, adding another layer of meaning. Looked at straight on, it reads as a spire, becoming a divining rod directed toward a celestial mark.
Jennifer Blessing