Artist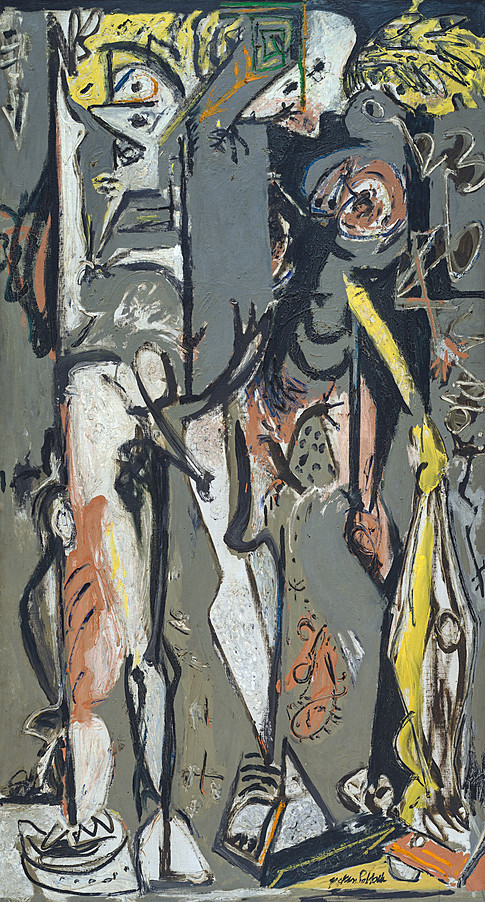 Jackson Pollock
Two
Artist
Jackson Pollock b. 1912, Cody, Wyoming; d. 1956, East Hampton, New York
Title
Two
Date
Medium
Oil on canvas
Dimensions
76 x 43 1/4 inches (193 x 110 cm)
Credit Line
The Solomon R. Guggenheim Foundation Peggy Guggenheim Collection, Venice, 1976
Accession
76.2553.143
Copyright
2016 The Pollock-Krasner Foundation/Artists Rights Society (ARS), New York
Artwork Type
Movement
In the decades following World War II, a new artistic vanguard emerged, particularly in New York, which introduced radical new directions in art. The war and its aftermath were at the underpinnings of the movement that became known as Abstract Expressionism. These artists, anxiously aware of human irrationality and vulnerability, expressed their concerns in an abstract art that chronicled the ardor and exigencies of modern life. Their heroic aspirations are most evident in Jackson Pollock's innovative "drip" paintings that forever altered the course of American art.
Arriving in New York in 1930 from the West Coast, Pollock began working with figuration of both human and imaginary beings. Most of this imagery was connected to that of American Indian sand painting and the Mexican muralists he saw as a youth and that reemerged through psychoanalysis to treat his lifelong alcoholism. His first fully mature works—dating between 1942 and 1947—use an idiosyncratic iconography he developed in part as a response to Surrealism, popular in New York with its numerous European exiles from World War II. Employing mythical subject matter, calligraphic markings, and a vibrant and distinctive color palette, Pollock produced emotionally charged works that retain figurative subject matter yet emphasize abstract qualities.
The year 1943 proved to be a watershed year for Pollock, principally due to his introduction to Peggy Guggenheim, who had opened her New York gallery Art of This Century the year before. Encouraged by Marcel Duchamp and Matta, among others, Guggenheim offered Pollock a monthly stipend, which allowed him to devote all his time to painting. In this same year he had his first solo show at the gallery. Among the works from this period, Two (1943–45), depicts a figurative subject in emblematic, abstract terms derived from various sources, among them tribal painting and Pablo Picasso's Cubist works. Rapidly applied strokes of thick black paint harshly delimit the two totemic figures. A columnar figure on the left, probably male, faces the center. Black contours only partially delineate the white and flesh colored areas that signify his body, as Pollock separates and liberates line from a descriptive function. The figure on the right, possibly female, bends and thrusts as it approaches the static figure on the left—a sexual union of the two is implied at the juncture of their bodies in the center of the canvas. Brought together in agitated union, the two figures suggest the primacy of the male and the female in the genesis of human life.