Artist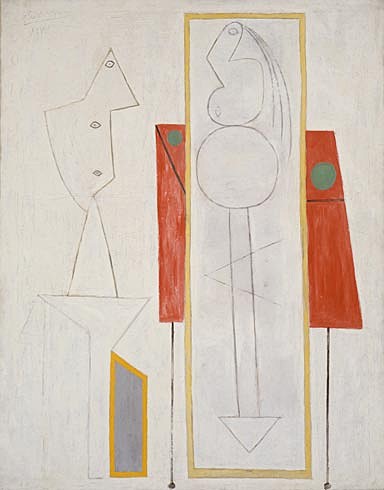 Pablo Picasso
The Studio (L'atelier)
Artist
Pablo Picasso b. 1881, Málaga, Spain; d. 1973, Mougins, France
Title
The Studio (L'atelier)
Date
Medium
Oil and black crayon on canvas
Dimensions
63 5/8 x 51 1/8 inches (161 x 129.9 cm)
Credit Line
The Solomon R. Guggenheim Foundation Peggy Guggenheim Collection, Venice, 1976
Accession
76.2553.3
Copyright
2016 Estate of Pablo Picasso/Artists Rights Society (ARS), New York
Artwork Type
Movement
From 1927 to 1929 Pablo Picasso elaborated a complex discourse on the activity of the artist through the theme of the studio. Among the variations in the series, the closest to the present example is The Studio of 1927–28 (Collection The Museum of Modern Art, New York). Both works share the vivid palette of Synthetic Cubism, limited to draw attention to a conspicuous and authoritative execution in planar areas. This painterliness contrasts with the geometrized, wirelike contours that define the figures in the manner of Picasso's contemporaneous wire sculpture.
The figures in the Guggenheim The Studio can be identified as a sculptured bust (at the left) and a full-length painted portrait (to the right). By depicting artistic representations of humans in a highly schematized form, Picasso places the figures at several removes from the world of living beings. He relies on the viewer's willingness to believe in the reality of depicted objects, however abstract, and to imagine a human exchange or relationship between the male and female forms. Like the artist in the Museum of Modern Art version, the bust has three eyes; this may reflect Picasso's personal identification with the work of art.
Picasso's development of the theme of the artist's perception of himself and his subjects can be traced from his etching of 1927 Painter with a Model Knitting, in which a realistically drawn artist paints a fantastic and abstract portrait of a very ordinary woman. The artist becomes an abstract sign in The Studio at the Museum of Modern Art and disappears, or is at least submerged, in The Studio in the Peggy Guggenheim Collection. He reappears in Painter and Model, also of 1928 (Collection The Museum of Modern Art, New York), as a figure that is even more difficult to detect, yet nonetheless is engaged in painting a relatively realistic profile. The theme of the interaction of reality and illusion explored here was a central concern for Picasso throughout his life.
Lucy Flint