Artist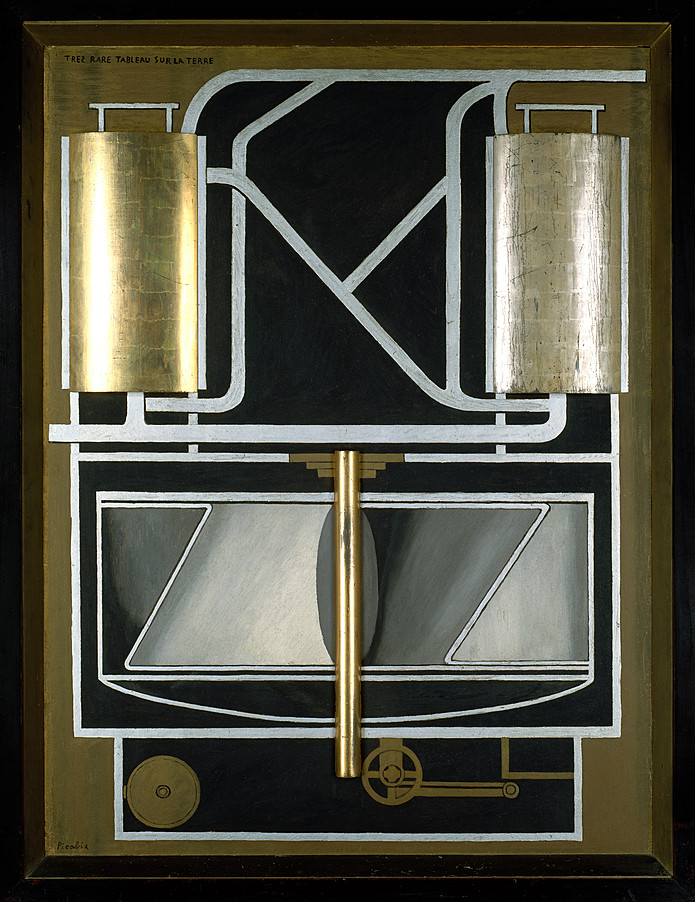 Francis Picabia
Very Rare Picture on the Earth (Très rare tableau sur la terre)
Artist
Francis Picabia b. 1879, Paris; d. 1953, Paris
Title
Very Rare Picture on the Earth (Très rare tableau sur la terre)
Date
Medium
Oil and metallic paint on board, and silver and gold leaf on wood, with artist's painted frame
Dimensions
frame: 49 1/2 x 38 1/2 inches (125.7 x 97.8 cm)
Credit Line
The Solomon R. Guggenheim Foundation Peggy Guggenheim Collection, Venice, 1976
Accession
76.2553.67
Copyright
2016 Artists Rights Society (ARS), New York/ADAGP, Paris
Artwork Type
Movement
In 1915 Francis Picabia abandoned his exploration of abstract form and color to adopt a new machinist idiom that he used until about 1923. Unlike Robert Delaunay or Fernand Léger, who saw the machine as an emblem of a new age, he was attracted to machine shapes for their intrinsic visual and functional qualities. He often used mechanomorphic images humorously as substitutes for human beings; for example, in Here, This is Stieglitz, 1915, the photographer Alfred Stieglitz is portrayed as a camera. In Very Rare Picture on the Earth a self-generating, almost symmetrical machine is presented frontally, clearly silhouetted against a flat, impassive background. Like Picabia's own Amorous Parade of 1917 or Marcel Duchamp's The Bride Stripped Bare by Her Bachelors, Even of 1915–23, the present work might be read as the evocation of a sexual event in mechanical terms. This dispassionate view of sex is consonant with the antisentimental attitudes that were to characterize Dada. The work has also been interpreted as representing an alchemical processor, in part because of the coating of the two upper cylinders with gold and silver leaf respectively.¹
Not only is Very Rare Picture on the Earth one of Picabia's earliest mechanomorphic works, but it has been identified as his first collage.² Its mounted wooden forms and integral frame draw attention to the work as object—the picture is not really a picture, making it "very rare" indeed. Thus, an ironic note is added to the humorous pomposity of the inscription at upper left.
Lucy Flint
1. Ulf Linde, et al. Francis Picabia, exh. cat. (Paris: Centre national d'art et de culture Georges Pompidou, 1976), p. 24.
2. William A. Camfield, Francis Picabia: His Art, Life and Times (Princeton: Princeton University Press, 1979), p. 88.