Artist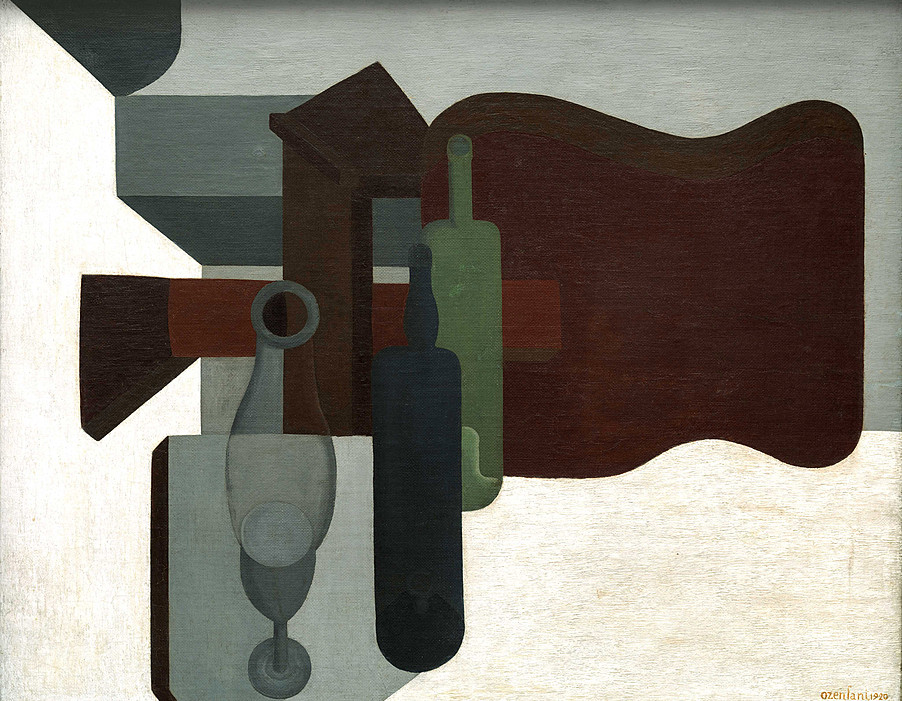 Amédée Ozenfant
Guitar and Bottles (Guitare et bouteilles)
Artist
Amédée Ozenfant b. 1886, Saint-Quentin, France; d. 1966, Cannes, France
Title
Guitar and Bottles (Guitare et bouteilles)
Date
Medium
Oil on canvas
Dimensions
31 11/16 x 39 5/16 inches (80.5 x 99.8 cm)
Credit Line
The Solomon R. Guggenheim Foundation Peggy Guggenheim Collection, Venice, 1976
Accession
76.2553.24
Copyright
2016 Artists Rights Society (ARS), New York/ADAGP, Paris
Artwork Type
Movement
Two other versions of this work exist. One of these, Still Life, is in the collection of the Solomon R. Guggenheim Museum, New York; the whereabouts of the other is presently unknown. The composition is informed by the Purist aesthetic as developed by Amédée Ozenfant and Le Corbusier in 1918. Drawing on pre-1914 Cubism, particularly the coolly rational interpretation of Juan Gris, they dismissed its subsequent evolution as too decorative and unordered. They felt that the chaos of the natural world should be dispelled by the organizing mechanisms of the human mind. This conviction became a moral imperative that Ozenfant and Le Corbusier attempted to uphold in their work.
Ozenfant used the following metaphor to describe the function of rational thought: "A lens concentrates the diffuse rays of the sun and creates fire by converging those rays. To converge is to refine something in nature, so as to render it more concentrated, compact, penetrative, intense: it helps to facilitate the manifestations of that phenomenon and to render it effective and useful for humanity."¹ Ozenfant's application of this principle to paintings such as Guitar and Bottles resulted in compositions that are lucid and geometric but somewhat dry.
Lucy Flint
1. Am'd'e Ozenfant, Foundations of Modern Art, trans. John Rodker (New York: Dover Publications, 1952), p. 191.