Artist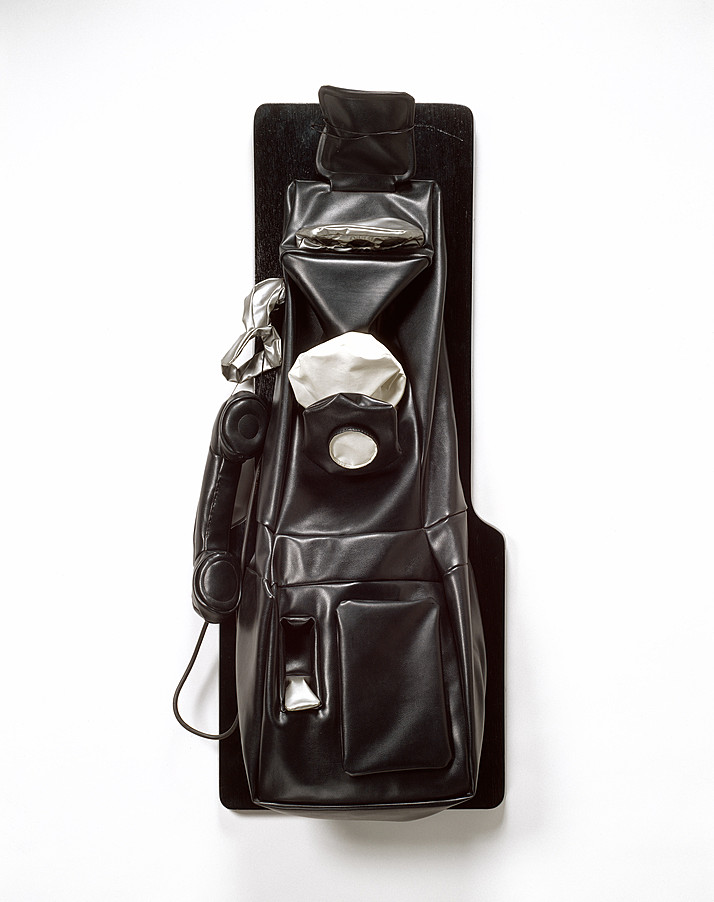 Claes Oldenburg
Soft Pay-Telephone
Artist
Claes Oldenburg b. 1929, Stockholm, Sweden
Title
Soft Pay-Telephone
Date
Medium
Vinyl filled with kapok, mounted on painted wood panel
Dimensions
46 1/2 x 19 x 9 inches (118.2 x 48.3 x 22.8 cm)
Credit Line
Solomon R. Guggenheim Museum, New York Gift, Ruth and Philip Zierler in memory of their dear departed son, William S. Zierler, 1980
Accession
80.2747
Copyright
Claes Oldenburg. Photo: David Heald © SRGF
Artwork Type
Movement
Claes Oldenburg's absorption with the commonplace was first manifested in his personal collection of toys, plastic food, and knickknacks. These objects served as prototypes for the pieces the artist included in his early Happenings and installations. The burlesque Freighter and Sailboat—one of the first soft sculptures—originated as a playfully sagging prop in his 1962 series of ten performances Ray Gun Theater. Such sculptural articles played a more central role in Oldenburg's fabricated environment The Store (1961–62), in one version of which he filled a Manhattan storefront with colorfully painted plaster simulations of ordinary items—including articles of clothing and sundry food products—which he sold as merchandise. Because of its conflation of creativity with commerce, The Store is often cited as a quintessential moment in the emergence of Pop art.
Oldenburg's enterprise, however, suggests many interpretations. The lumpy wares sold at The Store and their later incarnations as large-scale, stuffed vinyl sculptures—including a light switch, a toaster, and the pay telephone shown here—may be seen as substitutions for and references to the human body. Through their malleable forms and susceptibility to the effects of gravity, these supple sculptures often suggest specific anatomical parts: hamburgers are breasts, a tube of toothpaste is a phallus. Passive and limp, but potentially arousable, the pieces allude to the sexual, a realm that has been repressed in much Modern, abstract art. By asserting the sensual through the mundane, Oldenburg explores the ways in which everyday objects are so much an extension of ourselves. Anyone familiar with Freud's interpret-ation of dreams, in which domestic items are surrogates for human anatomy, will find a similar equation in Oldenburg's art.
After 1964 the artist expanded the range of his work to include monumental public projects while continuing to maintain his engagement with the ordinary and to demonstrate his remarkable sense of humor. The proposed projects (which generally exist only as drawings, prints, and maquettes) include an enormous, buttered baked potato for Brooklyn's Grand Army Plaza. When actually constructed—such as the 24-foot-high lipstick set on an army tank at Yale University—the monuments activate their surrounding environments through a subversive mix of political provocation and entertainment.
Nancy Spector