Artist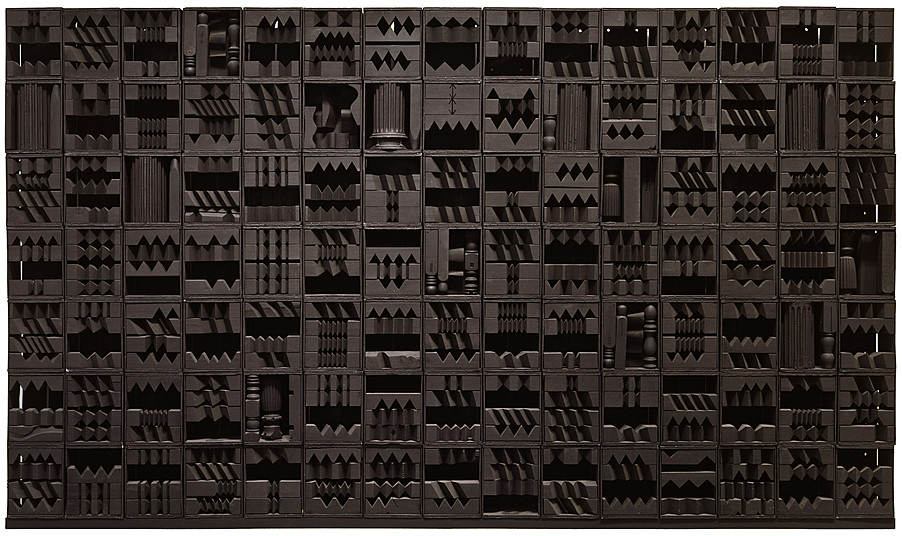 Louise Nevelson
Luminous Zag: Night
Artist
Louise Nevelson b. 1899, Kiev; d. 1988, New York
Title
Luminous Zag: Night
Date
Medium
Painted wood, 105 boxes
Dimensions
10 feet x 16 feet 1 inch x 10 3/4 inches (304.8 x 490.2 x 27.3 cm) overall
Credit Line
Solomon R. Guggenheim Museum, New York Gift, Mr. and Mrs. Sidney Singer, 1977
Accession
77.2325
Copyright
2016 Estate of Louise Nevelson/Artists Rights Society (ARS), New York. Photo: David Heald © SRGF
Artwork Type
Movement
Louise Nevelson's mature work emerged in the mid-1950s, when she began to assemble found wooden objects into constructions, most of which she painted uniformly black. In so doing she aligned herself with many contemporary artists who embraced found objects to create what has become known as Junk art, an aesthetic that stems from Pablo Picasso's invention, early in this century, of a sculpture of accumulation. Nevelson's large-scale wall constructions reflect her interest in pre-Columbian stelae as well. The scale and formal purity of the all-black and all-white sculptures, in which the frontal relief surface and uniform coloration focus the viewer on the play of light and shadow, also suggest the solemnity and grandeur of altar paintings.
In Luminous Zag: Night (1971), 105 units are filled with rows of saw-toothed wooden beams or, in approximately a dozen cases, with column fragments or jumbles of finials. A complicated rhythmic pattern, suggesting a fuguelike musical composition, is created by the play of vertical and horizontal zigzags. Like Piet Mondrian's Broadway Boogie Woogie (1942–43), Nevelson's Luminous Zag: Night appears to be inspired by jazz music and its emphasis on improvisation within an established structure. The emphatic chiaroscuro of the zigzag blocks suggests the dynamism of Broadway at night. In an interview, Nevelson addressed the prominent use of the color black in her work, saying that "it's only an assumption of the western world that it means death, for me it may mean finished, completeness, maybe eternity."¹
White Vertical Water (1972) is the opposite of Luminous Zag: Night in terms of tension and tone. While the geometric regularity of the latter recalls urban architecture, the spontaneous irregularity of White Vertical Water evokes images of nature. The long undulating curves of the forms in the work's narrow vertical boxes mimic the cascading streams of a waterfall or the froth of white water, while the biomorphic cutout layers in the upper-right squares, which recall the work of Jean Arp, suggest squirming fish. The materials and wall-like structure of Nevelson's monumental sculptures are akin to the fundamental elements of architecture, through which she created metaphorical analogies to urban and natural environments.
Jennifer Blessing
1. Louise Nevelson, quoted in Erika Kuhlman, "Louise Nevelson," in A to Z of Women in World History (New York: Facts on File, 2002), p. 344.