Artist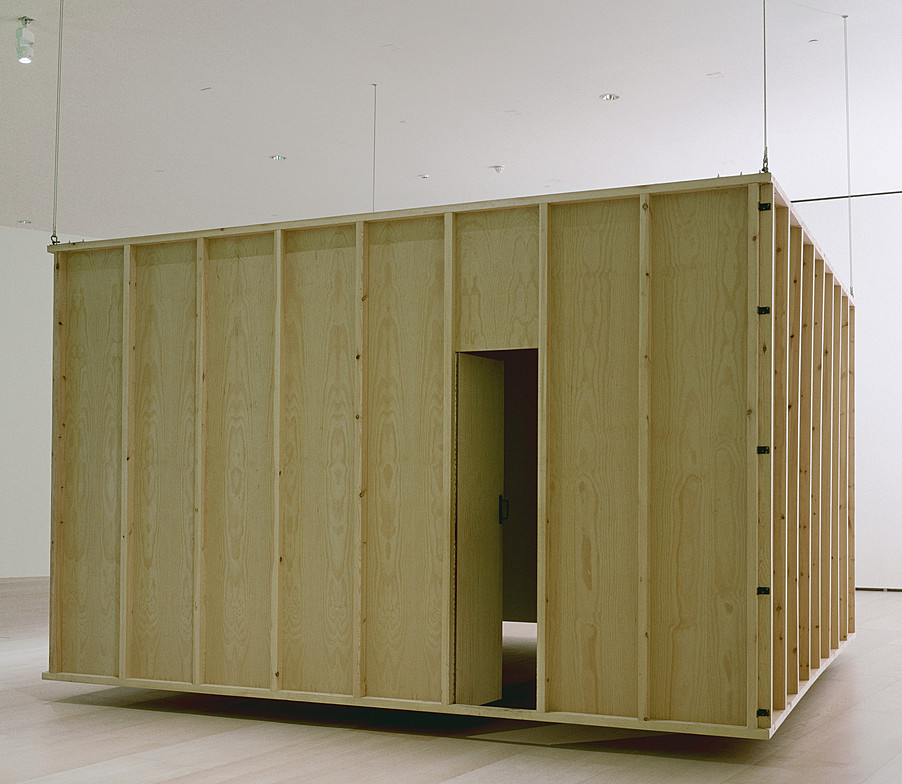 Bruce Nauman
Floating Room (Light Outside, Dark Inside)
Artist
Bruce Nauman b. 1941, Fort Wayne, Indiana
Title
Floating Room (Light Outside, Dark Inside)
Date
Medium
Painted wallboard, wood, and fluorescent light fixtures
Dimensions
10 x 16 x 16 feet (304.8 x 487.7 x 487.7 cm); suspended 6 inches (15.2 cm) above the floor
Credit Line
Solomon R. Guggenheim Museum, New York Panza Collection, 1991
Accession
91.3832
Copyright
2016 Bruce Nauman/Artists Rights Society (ARS), New York. Installation view: Changing Perceptions: The Panza Collection at the Guggenheim Museum, Guggenheim Museum Bilbao, Spain, October 10, 2000–April 22, 2001. Photo © Erika Barahona Ede
Artwork Type
Movement
Bruce Nauman defies the traditional notion that an artist should have one signature style and a visually unified oeuvre. Since the mid-1960s the artist has created an open-ended body of work that includes fiberglass sculptures, abstract body casts, performances, films, neon wall reliefs, interactive environments, videos, and motorized carousels displaying cast-aluminum animal carcasses. If anything links such diverse endeavors, it is Nauman's insistence that aesthetic experience supersedes the actual object in importance. Perception itself—the viewer's encounter with his or her body and mind in relation to the art object—can be interpreted as the subject matter of Nauman's work. Using puns, claustrophobic passageways with surveillance cameras, and videotaped recitations of bad jokes, he has created situations that are physically or intellectually disorienting, forcing viewers to confront their own experiential thresholds.
In the early 1970s Nauman began producing roughly hewn architectural environments, including corridors and rooms made out of unpainted, industrial plywood, as a means of investigating the work of art as a performative arena or "tension situation"¹ in which the space occupied by the viewer is not physically distinct from that of the art. These works, carefully planned and constructed according to Nauman's instructions, force the viewer to interact with and confront various unsettling spaces, which generate a heightened awareness of both the senses and the psychophysical limitations imposed by the built environment.
Composed of plasterboard and wood, Floating Room (Light Outside, Dark Inside) (1972) is suspended from the ceiling so that its walls seem to float 15 centimeters above the gallery floor. The work implicates both the unlit interior of the floating room and the brightly lit space of the gallery in a play between the binaries of interior and exterior, light and darkness, safety and fear. The darkness of the floating room's interior suggests the possibility of unknown dangers. At the same time, its separation from the public gallery proffers a private, protected space to the visitor. Floating Room (Light Outside, Dark Inside) embodies Nauman's belief that "both what's inside and what's outside determine our physical, physiological and psychological responses—how we look at an object."

1. Bruce Nauman, quoted in Jan Butterfield, "Bruce Nauman: The Center of Yourself" (1975), in Nauman, Please Pay Attention Please: Bruce Nauman's Words; Writings and Interviews, ed. Janet Kraynak (Cambridge, Mass.: MIT Press, 2003), p. 182. First published in Arts Magazine 49 (February 1975).
2. Bruce Nauman in Joan Simon, "Breaking the Silence: An Interview with Bruce Nauman" (1988) in Nauman, Please Pay Attention Please, p. 324. First published in Art in America 76 (September 1988).