Artist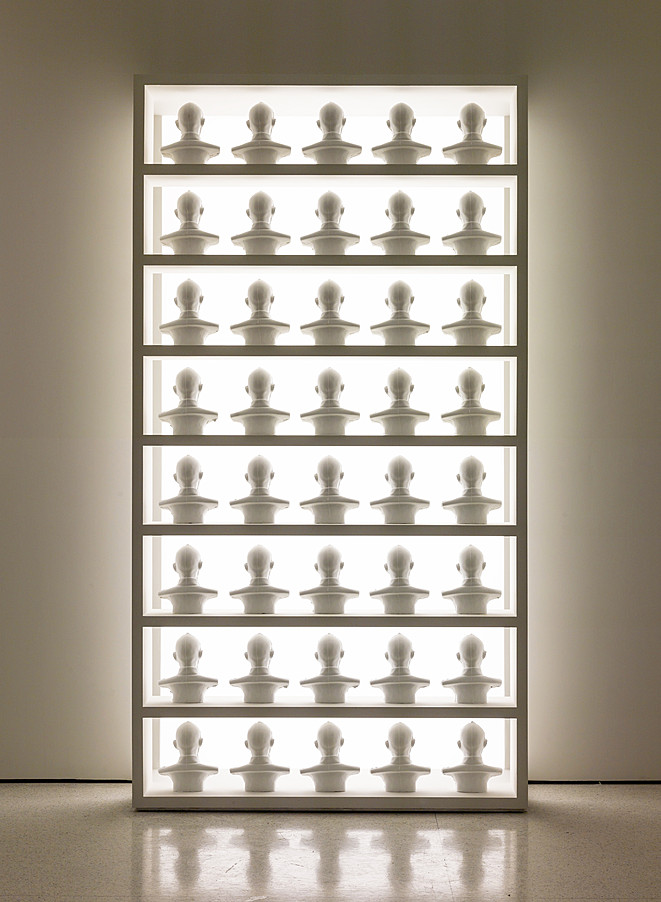 Wah Nu and Tun Win Aung
Four Pieces (of White)
Artist
Wah Nu and Tun Win Aung Wah Nu, b. 1977, Yangon, Myanmar; Tun Win Aung, b. 1975, Ywalut, Myanmar
Title
Four Pieces (of White)
Date
Medium
Installation of acrylic and newspaper on canvas; plaster; black-and-white video, silent, 31 min. loop; black-and-white video, with sound, 31 min.
Dimensions
dimensions variable
Credit Line
Solomon R. Guggenheim Museum, New York Guggenheim UBS MAP Purchase Fund, 2012
Accession
2012.157.1-4
Copyright
Wah Nu and Tun Win Aung.
Pictured: White Piece #0132: Forbidden Hero (Heads), 2012. Plaster, Forty parts, 9 1/8 x 8 1/4 inches (23.2 x 21 cm) each.
Artwork Type
Wah Nu and Tun Win Aung's expansive multi-component work Thousand Pieces of White (2009– ) reflects on 30 years of personal experience; the collaborating artists have established an archive of objects, images, printed matter, and film footage, all on the subject of memory, with each artifact displayed partially concealed beneath a layer of white. Underscoring the way in which memory's ephemerality works, paradoxically, to enhance its significance, this equalizing veneer also conveys the gradual decay and erasure of links to the past. The fragments that remain visible offer glimpses of public and personal histories, revealing elements of Myanmar's social, political, and cultural narrative. Yet these partial views are also ambiguous, at once manifesting and obscuring in a manner that is both familiar within contemporary art practice and appropriate to the navigation of a complex national situation. Every element in the artists' collection of evidence is intimately associated with them, reflecting their having lived through the changes associated with post-independence socialism and military governance, and their current lives in the context of still-evolving political circumstances.
Some Pieces of White assembles four components of the couple's more politically inflected experiences. White Piece #0131: Forbidden Hero (Breeze Before Storm), White Piece #0132: Forbidden Hero (Heads), and White Piece #0134: His Last Speech We Heard from Myanmar Radio on 19 July of Some Years Ago, all from 2012, reference the figure of Bogyoke (General) Aung San, who played an instrumental role in the nation's achievement of autonomy from colonial rule and occupation (though he was assassinated before independence was officially attained). While he received popular support in his time, restrictions were placed on representations of the General once martial law was imposed in 1989. In this installation, 40 replica busts of the General face a lightbox, their features thus both illuminated and half-concealed. Juxtaposed with these are a page from a local newspaper and a three-second video loop with an audio recording of Aung San's titular half-hour speech, in which the "forbidden hero" articulates his hopes for the nation. Yet these attempts at piecing together the memory of the figure also reveal its incompleteness, emphasizing that which has been lost. Similarly, it is but a fragment of history that is recovered in the installation's second video, White Piece #0133: Thakin Pe Than's Long March (2012). Here, Wah Nu's grandfather is shown taking part in a revolutionary march against the British colonizers in October 1938. In these subtle interventions, the ephemeral nature of historic specificity positions objects and images as the starting points of vital narratives.
June Yap