Artist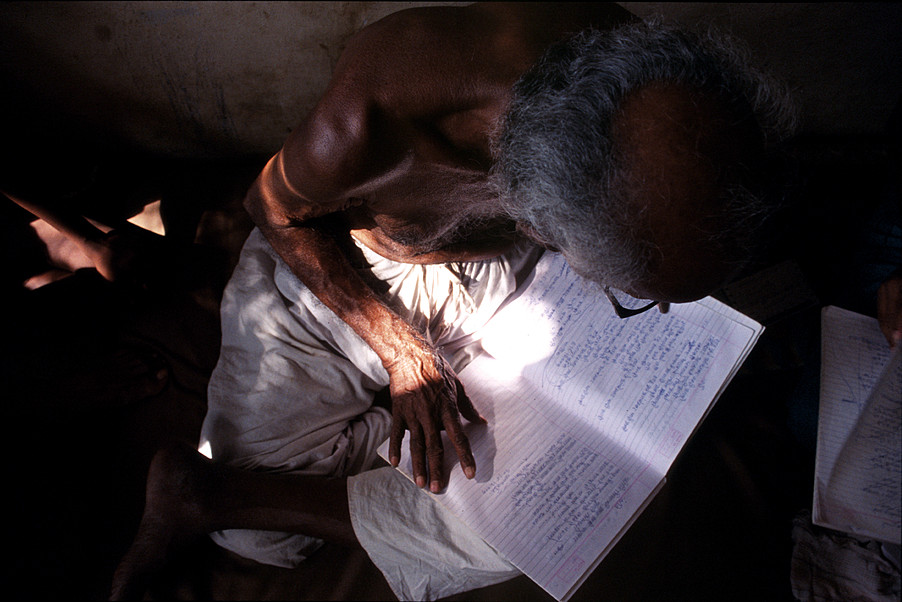 Amar Kanwar
The Trilogy: A Season Outside (1997), To Remember (2003), A Night of Prophecy (2002)
Artist
Amar Kanwar b. 1964, New Delhi, India
Title
The Trilogy: A Season Outside (1997), To Remember (2003), A Night of Prophecy (2002)
Date
Medium
Three color videos, two with sound, one silent; 30 min., 8 min., and 77 min., respectively
Edition
edition of 6
Credit Line
Solomon R. Guggenheim Museum, New York Guggenheim UBS MAP Purchase Fund, 2012
Accession
2012.150.1-3
Copyright
Amar Kanwar
Artwork Type
Amar Kanwar's trilogy of films focuses on the relationship between India and Pakistan, nations that were established through postcolonial independence and their separation from each other at the stroke of midnight on August 14, 1947 (Pakistan celebrates its independence on the earlier day, India on the later). The sectarian division that continues in the fraught relationship between them is detailed vividly in Kanwar's A Season Outside (1997), which examines the "12-inch mythical line" marking the border between the two nations at the Punjabi village of Wagah. Ritualized displays of military bravado are performed daily at this site of standoff, and made more poignant by the onerous physical labor of transferring goods from Indian to Pakistani hands across the same divide. Kanwar recalls the history of this unstable relationship in To Remember (2003), a meditation on the religiously motivated massacres of 2002 in Gujarat, the birthplace of Mahatma Gandhi. The film juxtaposes this violence with the memorial to Gandhi's life and his assassination by a militant Hindu nationalist at Birla House, Delhi, in 1948. Together, these two contemplative works reflect on human aggression, and on a hostility that, as Gandhi believed, segregation does nothing to resolve.
The strife suffered by ruptured communities is brought closer to home in A Night of Prophecy (2002), in which social and cultural differences threaten to tear the nation of India apart. Featuring a series of poems and songs recorded in eleven languages across the states of Maharashtra, Andhra Pradesh, Nagaland, and Kashmir, the work portrays a people caught in a struggle around caste, poverty, and disenfranchisement. In one of the poems, "Under Dadar Bridge," written in the 1970s by Prakash Jadhav in the voice of the historically discriminated-against Dalit caste, a son recalls having asked his deceased mother whether he was born Hindu or Muslim, to which she had replied, "You are an abandoned spark of the world's lusty fires," alluding to inherited division. With a poetic rhythm that accentuates their sense of anger and grief, these laments and elegies form a chorus that appears to portend change.
Concerns with the brutality of human action and with the dilemmas that can result from historic events and the machinations of cultural and sociopolitical systems are apparent too in other artworks by Kanwar such as The Lightning Testimonies (2007), which deals with the history of sexual violence in the South Asian subcontinent dating back to the period of the partition of India and Pakistan; The Sovereign Forest: The Scene of Crime (2012), which traces devastating industrial encroachment in the southeast-Indian state of Orissa; and The Torn First Pages (2004–08), which reflects on politics and resistance in Myanmar. Giving voice to suppressed communities, almost-forgotten histories, and current political and social issues, Kanwar infuses these stark realities with visual richness, inspiring philosophical and ethical reflection.
June Yap