Artist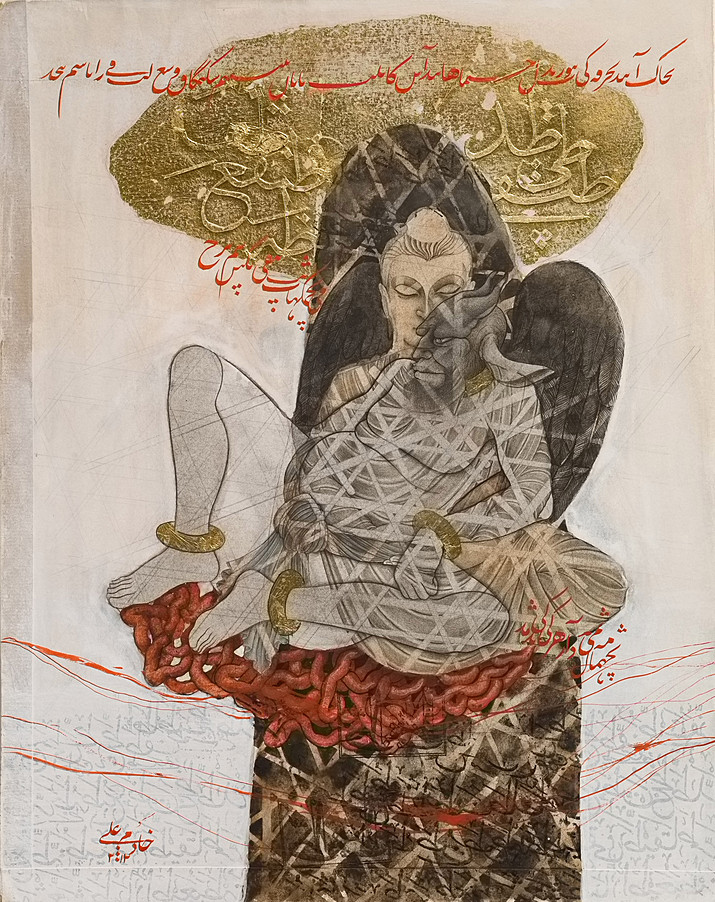 Khadim Ali
Untitled 3, Rustam Series
Artist
Khadim Ali b. 1978, Quetta, Pakistan
Title
Untitled 3, Rustam Series
Date
Medium
Watercolor, gouache, and ink on paper
Dimensions
19 7/8 x 16 15/16 inches (50.5 x 43 cm)
Credit Line
Solomon R. Guggenheim Museum, New York Guggenheim UBS MAP Purchase Fund, 2012
Accession
2012.145
Copyright
Khadim Ali
Artwork Type
The title of Khadim Ali's Rustam Series (2011–12) references the hero of the Persian Shahnameh (Book of kings). The protagonist of Ferdowsi's 11th-century epic poem is recognized for his valor and strength, but Ali's work recalls only his name; the paintings allude to the persecution of the Hazara minority in Afghanistan and Pakistan, a community that finds itself displaced on both sides of the border. The work depicts demons, and suggests that the legendary character of the Rustam has been usurped in contemporary times as justification for hostility and bloodshed, his heroism now ascribed to those who perpetrate violence and domination. In a broader sense, the work reflects on the upheavals and crises that emerge from lingering difference.
Successive cycles of violence and aggression are not limited to this particular minority community, but recur in oppressive circumstances elsewhere. In its reference to the narrative and lyrical traditions of the Persian people and the region, Ali's work recollects both the triumph of civilizations past and the turmoil and aftermath of conquest. Yet in spite of loss, there linger traces of individual and cultural memory, of which the return of the Rustam is one. Layered in these works are excerpts from epic poems and literary references to Persian and Afghan history and culture, keys to meaning that the violence of contemporary conflict cannot efface. Also depicted in the series of paintings are the silent and empty alcoves in cliffs that were once occupied by the Bamiyan Buddhas in Afghanistan. Though these 6th-century statues were destroyed in 2001, their physical absence, like that of the Rustam, has a haunting aura of its own.
Following the style of miniature painting, and in particular the technique of neem rang (half-color), the artist uses traditional methods of production including pigmentation with gold and silver leaf. This traditional South Asian aesthetic, now also marked by Persian influences, is a form of Mughal painting that was once used in illustrated texts, primarily to represent royalty, battles, and legends. The rich and sensitive detailing of these historical portraits is, like the literary epic, revived in Ali's work, which accords the traditional practice a contemporary relevance by aligning its cultural significance with the circumstances of today.
June Yap