Artist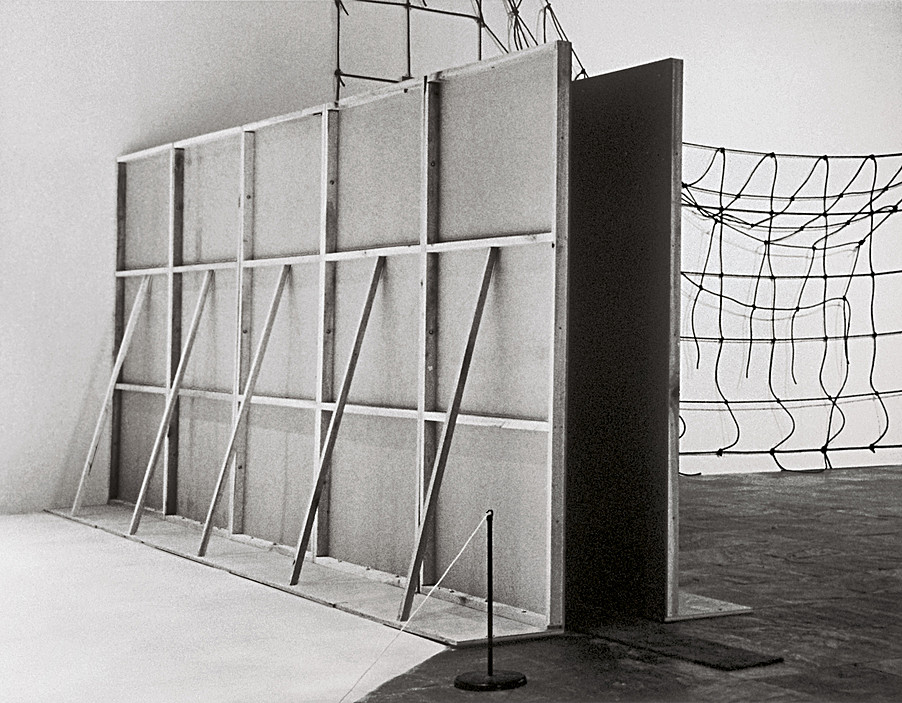 Bruce Nauman
Performance Corridor
Artist
Bruce Nauman b. 1941, Fort Wayne, Indiana
Title
Performance Corridor
Date
Medium
Wallboard and wood
Dimensions
96 x 240 x 20 inches (243.8 x 609.6 x 50.8 cm)
Credit Line
Solomon R. Guggenheim Museum, New York Panza Collection, Gift, 1992
Accession
92.4162
Copyright
2016 Bruce Nauman/Artists Rights Society (ARS), New York. Installation view: Anti-illusion: Procedures/Materials, Whitney Museum of American Art, New York, May 19–July 6, 1969
Movement
In 1967 and 1968, Bruce Nauman produced a number of films and videos in which he captured himself performing various repetitive, tasklike exercises within the privacy of his studio—from bouncing against a corner of the room to slowly and deliberately walking around the perimeter of a delineated square. By the early 1970s, with his corridors and other large-scale rooms and environments, Nauman had withdrawn his own presence, shifting the focus of his work to manipulating the movement and experience of the beholder. Performance Corridor (1969) marks the pivotal moment of this transition. The work originated as a prop for a solitary, videotaped performance, Walk with Contrapposto (1968), in which Nauman is seen walking up and down a narrow passageway, shifting his hips back and forth with each step in an exaggerated imitation of the conventional pose of classical sculpture. The corridor itself was a makeshift structure: two parallel wallboards form a 20-inch-wide passage that is blocked at one end; the narrow space could just contain the movement of the artist's body. For the Whitney Museum in New York's seminal 1969 show, Anti-Illusion: Procedures/Materials, Nauman transferred this prop to a public exhibition space, where it was left to the individual beholder, deprived of instructions, to decide whether or not to enter the structure and how to move through it.
Performance Corridor imposed certain physical limits on its audience, but Nauman nevertheless recalled feeling some frustration at not being able to more fully "control the situation."1 In subsequent corridors, he developed a number of devices to accomplish just this, from mirrors and intense, colored fluorescent light (see, for example, Green Light Corridor, made in 1970) to the closed-circuit video technology of contemporary surveillance systems. Related to part of a multi-corridor installation that Nauman constructed earlier in 1970 at the Nicholas Wilder Gallery in Los Angeles, Live-Taped Video Corridor features two stacked television monitors at its far end, both linked to a camera mounted at the corridor's entrance: the top monitor plays live feed from the camera, while the bottom monitor plays pretaped footage of the empty passageway from the identical angle. Walking down the corridor, one views oneself from behind in the top monitor, diminishing in size as one gets closer to it. The camera's wide-angle lens heightens one's disorientation by making the rate of one's movement appear somewhat sped up. Meanwhile, the participant is entirely, and uncannily, absent from the lower monitor. The overall result is an unsettling self-conscious experience of doubling and displacement.
Ted Mann
1. Bruce Nauman, interview with Michele de Angelus (May 27 and 30, 1980), in Please Pay Attention Please: Bruce Nauman's Words; Writings and Interviews, ed. Janet Kraynak (Cambridge, Mass.: MIT Press, 2003), p. 258.