Artist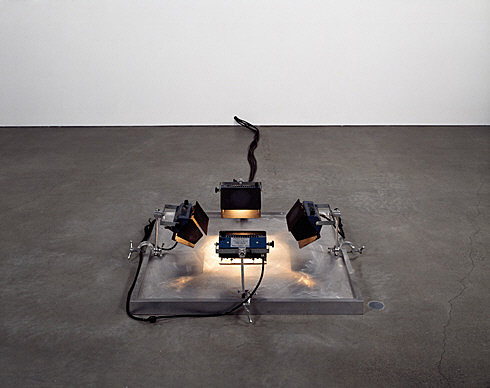 Bruce Nauman
Lighted Center Piece
Artist
Bruce Nauman b. 1941, Fort Wayne, Indiana
Title
Lighted Center Piece
Date
Medium
Aluminum plate and four 1,000-watt halogen lamps
Dimensions
plate: 2 1/2 x 36 x 36 inches (6.4 x 91.4 x 91.4 cm)
Credit Line
Solomon R. Guggenheim Museum, New York Panza Collection, Gift, 1992
Accession
92.4161
Copyright
2016 Bruce Nauman/Artists Rights Society (ARS), New York. Photo: David Heald © SRGF
While the floor-bound square aluminum plate of Bruce Nauman's Lighted Center Piece (1967–68) may loosely evoke the metal floor works of Carl Andre, any such comparison is negated by the four high-wattage halogen lamps that blindingly illuminate its slightly recessed surface. In this regard, the work is closely related to Nauman's "slabs" (1967–68), a sequence of works, each of which takes the form of a metal plate or block similarly set directly on the ground and bearing a secret—an inscription, for example—on the underside. In all these works, Nauman engages yet undermines the literalism of Minimalist sculpture by introducing extrinsic content.
Lighted Center Piece also incorporates elements that anticipate Nauman's larger installations. It has been observed, for example, that the work resembles a miniature, lighted stage set, and as such anticipates the way viewers are enlisted to "perform" in Nauman's large-scale rooms and corridors.1 More specifically, the blinding intensity of the light in Lighted Center Piece presages several constructed rooms, including Yellow Room (Triangular) (1973) in the Guggenheim Museum's collection, in which Nauman asks the viewer to enter a space of intense, highly discomforting yellow fluorescent light. Thwarted vision is a common theme in Nauman's works, one that is further engaged by Lighted Performance Box (1969, also in the collection), where the source of an intense, projected light is concealed inside a tall aluminum box.
Ted Mann
1. See, for example, Bruce Nauman: Theaters of Experience, exh. cat. (New York: Solomon R. Guggenheim Foundation, 2003), p. 13.