Artist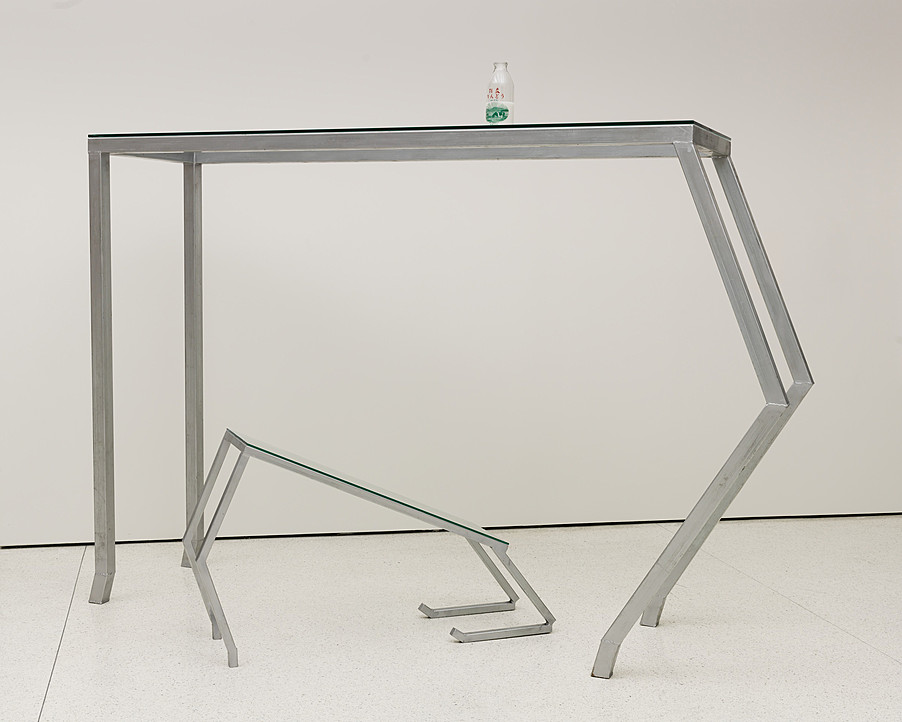 Tang Da Wu
Our Children
Artist
Tang Da Wu b. 1943, Singapore
Title
Our Children
Date
Medium
Galvanized steel, glass, and milk
Dimensions
three parts: 62 x 89 1/2 x 23 1/2, 26 1/4 x 44 1/2 x 12, and 8 1/2 x 3 1/8 inches (157.5 x 227.3 x 59.7 cm, 66.7 x 113 x 30.5 cm, and 21.6 x 7.9 x 7.9 cm), overall dimensions vary with installation
Credit Line
Solomon R. Guggenheim Museum, New York Guggenheim UBS MAP Purchase Fund, 2012
Accession
2012.147
Copyright
Tang Da Wu. Installation view: No Country: Contemporary Art for South and Southeast Asia, Solomon R. Guggenheim Museum, New York, February 22–May 22, 2013. Photo: Kristopher McKay
Artwork Type
Tang Da Wu is credited as the founder of the Artists Village, a collective that has since its inception in 1988 become synonymous with experimental art in Singapore. Tang's practice, which spans painting, drawing, sculpture, installation, and performance art, is notable for its subtly poetic deconstruction of historical and cultural conditions. His three-part sculpture Our Children (2012) references a story from Teochew opera (a variant of the form distinct to the southern Chinese region from which the artist's family hails), in which a young boy experiences illumination at the humbling sight of a baby goat genuflecting while suckling at its mother. This image is intended as a parable of the timeless virtues of respect and filial piety, and of the importance of cultural values.
In Tang's stylized tableau, the goats are wrought in galvanized steel and glass, the act of receiving nourishment represented by a bottle of milk that sits atop the structure. The ensemble calls to mind the Chinese domestic ancestral altar, at which offerings, prayers, and entreaties to one's forebears are performed in recognition of history, ancestry, and veneration of age-old wisdom. Inscribed on the bottle, which also represents the necessity of nourishment to future generations, are the characters 林道. This refers to a forest pathway or trail, and in the sculpture is a metaphoric allusion to the theme of insight.
Our Children also demonstrates Tang's skillful distillation of concept and commentary into a visual message and a prompt to reflection. In this work, the two figures appear in dynamic tension and resemble Chinese characters, bringing to life the narrative theme in spare lines and forms. (The parable itself is less smoothly concluded, the boy tragically failing to reconcile with his mother after his revelation.) Recalling Tang's seminal early work Tiger's Whip (1991), a commentary on the exploitation of tigers for their organs' supposed aphrodisiac powers, the work sees Tang explore the interaction of nature and culture. Investigative, rather than simply didactic, his works are intended to inspire rather than merely instruct.
June Yap