Artist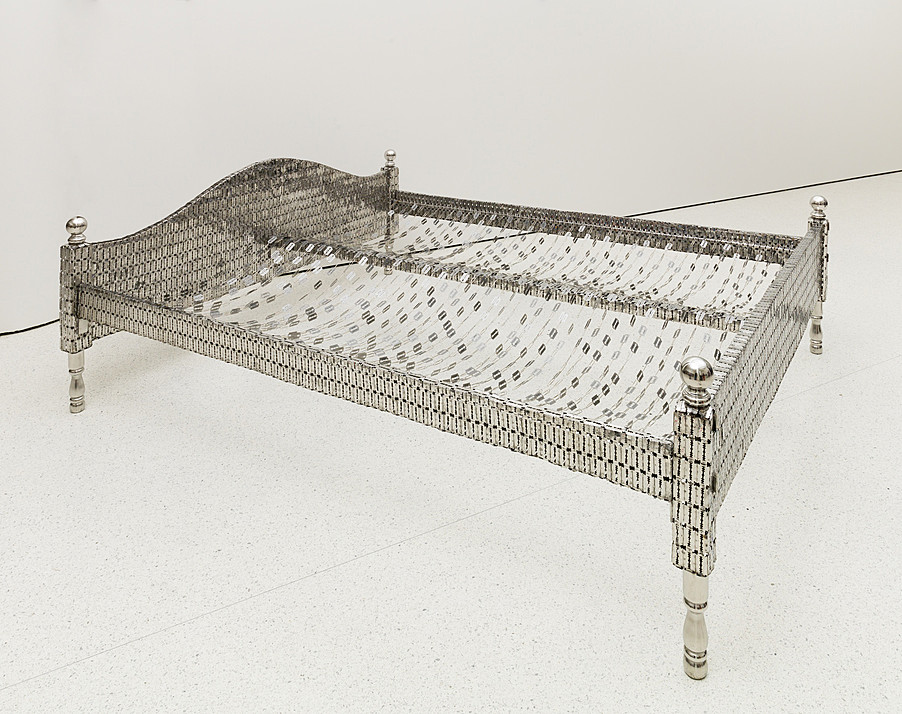 Tayeba Begum Lipi
Love Bed
Artist
Tayeba Begum Lipi b. 1969, Gaibandha, Bangladesh
Title
Love Bed
Date
Medium
Stainless steel
Dimensions
31 1/4 x 72 3/4 x 87 inches (79.4 x 184.8 x 221 cm)
Credit Line
Solomon R. Guggenheim Museum, New York Guggenheim UBS MAP Purchase Fund, 2012
Accession
2012.153
Copyright
Tayeba Begum Lipi. Installation view: No Country: Contemporary Art for South and Southeast Asia, Solomon R. Guggenheim Museum, New York, February 22–May 22, 2013. Photo: Kristopher McKay
Artwork Type
Bangladesh was partitioned in 1947 from India and again in 1971 from Pakistan, making it one of the youngest nations in South and Southeast Asia. The wars that resulted in its independence, and the unsettled aftermath thereof, ruptured not only the land and the lives of its people, but also the history and representation of the nation. In a context of conflicting and contested historical accounts, and in the face of ongoing scarcity of resources and development, artists including Tayeba Begum Lipi attempt to formulate aesthetic responses. In 2002, having studied drawing and painting at the University of Dhaka, the artist cofounded the Britto International Artists' Workshop with her partner, artist Mahbubur Rahman. Later established as Britto Arts Trust, and augmented by the communal Britto Space in Dhaka, the organization extended its reach beyond Bangladesh through exhibitions, residencies, talks, collaborations, and exchanges.
For the artist, the nation's political state forms the backdrop to another critical political concern: the gendered violence that was rife during both partitions. Her works reflect on both the double bind of the personal and the political, expressing and accentuating a sense of unease through a public form of gendered expression that also speaks to challenges faced by the artist and her contemporaries. In Bizarre and Beautiful (2011), exhibited at the inaugural Bangladesh Pavilion at the 54th Venice Biennale, she transformed mock stainless-steel razor blades into the fabric of a feminine undergarment. Attractive yet threatening, the article is converted into a hard, gritty form, possessing the qualities of armor or a shield.
Razor blades return in Love Bed (2012), in which the shared space of domesticity, affection, and bliss glints with both threat and invitation. The blade here represents not merely the violence implied by its sharp edge, but also the object's function as a basic tool to aid in childbirth in the absence of other medical support, a circumstance that the artist recalls from childhood. Printed on the blades is the Bengali name Balaka, a well-known Bangladeshi brand. Coming from a large family, the artist associates the strength of steel with the tenacity of the women who surrounded her as she grew up, individuals who defied the odds to keep their families and communities together. Yet these works resist interpretation according to simple binary opposition along historical, religious, social, or gendered lines. As much as the skeins of razors draped across the bed frame warn against our approach, they also, paradoxically, join together into a productive space for connection and dialogue.
June Yap