Artist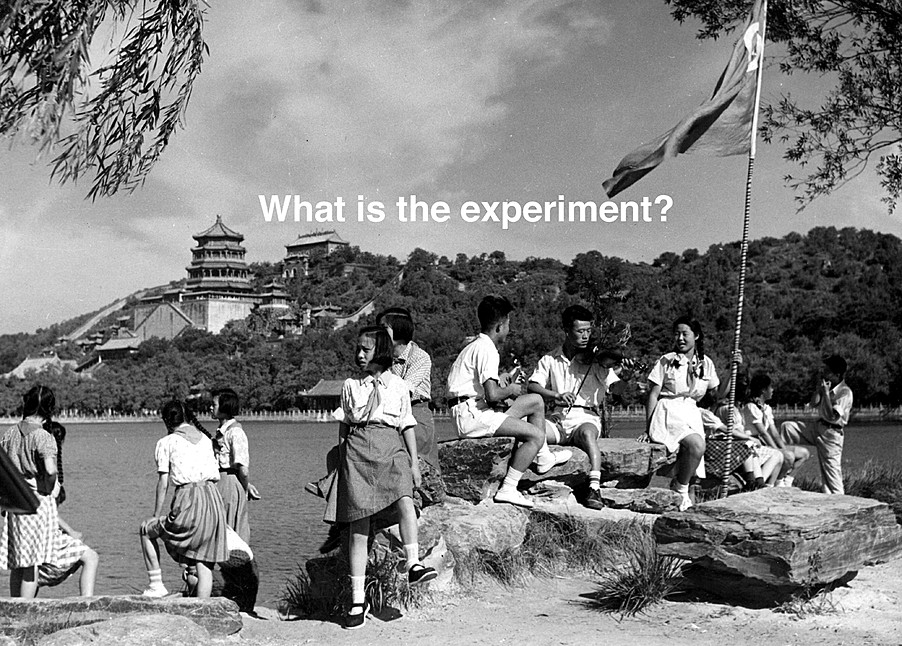 The Otolith Group
Communists Like Us
Artist
The Otolith Group est. 2002; Anjalika Sagar, b. 1968, London; Kodwo Eshun, b. 1966, London
Title
Communists Like Us
Date
Medium
Black-and-white video, with sound, 23 min., 5 sec.
Edition
edition 2/5
Credit Line
Solomon R. Guggenheim Museum, New York Guggenheim UBS MAP Purchase Fund, 2012
Accession
2012.163
Copyright
The Otolith Group
Artwork Type
Founded by Anjalika Sagar and Kodwo Eshun, the Otolith Group produces multiform projects that elaborate on theoretical, conceptual, aural, and visual trajectories. Their research-based practice lends itself to curatorial and publishing experiments as much as it does to works in installation and film. Based in London, the group's work is characterized by a transnationality that defies the exclusionary strategies of global geopolitics while engaging with its problems and implications.
In Communists Like Us (2006–10), the group selects and sequences photographic images from two archives bequeathed by the educationalist Dr. Anasuya Gyan-Chand to her daughter Chitra Gyan-Chand, who in 2006 passed them on to Anjalika Sagar. Titled Daughter Products I and II, the archives consist of photographic documentation of encounters between politicians and activists in India with their counterparts in Japan, Mao's China, and other Asian countries from the mid 1950s to the early '60s, as well as visits by delegations of female activists from India to the Soviet Union throughout the same period. The term daughter products is derived from atomic physics and is used here to allude to the generational aspect of radioactive decay. Communists Like Us interleaves a visual narrative composed from these images of socialist friendship with a textual narrative extracted from the subtitled conversation between revolutionary activist Francis Jeanson and Veronique, a Maoist student played by Anne Wiazemsky, in Jean Luc Godard's 1967 film La Chinoise.
In the sequence selected from La Chinoise, which is set on a train, Veronique and Jeanson debate the efficacy of revolutionary violence. Jeanson's side of the dialogue is assigned to the back of the archival photographs and Veronique's the front, while the nature of the conversation influences the display of the image, its absence, or its original annotation. The conjunction of conversation and photographic image is further framed by two musical sequences from Cornelius Cardew and the Scratch Orchestra's The Great Learning (1969) and Ennio Morricone's soundtrack to Dario Argento's film Il Gatto a nove code (The Cat O' Nine Tails) (1971). The photographic archive attests to an intimate and extensive postwar exchange in Asia, which is contrasted with the generational debate over revolutionary desire in La Chinoise. Communists Like Us thus plots two interlinked orbits around questions of representation and manifestation. Titled after Communists Like Us: New Spaces Of Alliance, New Lines (1990), in which philosophers Felix Guattari and Antonio Negri discuss the political project of autonomy in the era prior to the collapse of communism, Communists Like Us began in 2006 as a performance at Huis a/d Werf in Utrecht, and exemplifies the experimental and enquiring nature of the Otolith Group's practice.
June Yap