Artist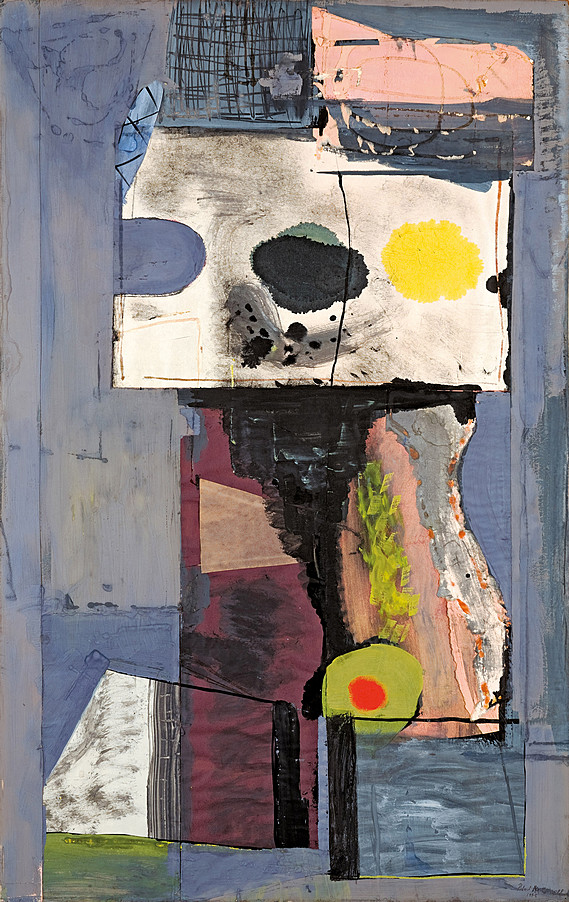 Robert Motherwell
Personage (Autoportrait)
Artist
Robert Motherwell b. 1915, Aberdeen, Washington; d. 1991, Provincetown, Massachusetts
Title
Personage (Autoportrait)
Date
Medium
Gouache, ink, and pasted colored paper and Japanese paper on paperboard
Dimensions
40 7/8 x 26 inches (103.8 x 65.9 cm)
Credit Line
The Solomon R. Guggenheim Foundation Peggy Guggenheim Collection, Venice, 1976
Accession
76.2553.155
Copyright
Dedalus Foundation, Inc./Licensed by VAGA, New York, NY
Artwork Type
Movement
In 1943 Robert Motherwell and Jackson Pollock experimented with collage in response to Peggy Guggenheim's initial preparations for a show of works in the medium at Art of This Century. The exhibition was to include examples by the foremost European practitioners, such as Henri Matisse, Pablo Picasso, and Kurt Schwitters. Though Pollock's interest in the technique soon waned, Motherwell's concern with it endured. Personage (Autoportrait) (which has previously been known as Surprise and Inspiration, a title assigned by Guggenheim or someone in her circle¹) was one of several important examples Motherwell produced in 1943–44.
Motherwell acknowledged that the work might, in a sense, evoke an embodiment of self-image. Although a blocky, somewhat mournful figure can be imagined, Personage (Autoportrait) is more readily perceived as a nonreferential coloristic and spatial construction. A jagged horizontal-vertical mesh organizes the composition. The alignment of the edges of the cut, torn, and glued paper provides the grid, which has a physical, planar dimension. Not only does the paper structure the work architectonically, but it serves as a support for vigorously applied paint. The energy of handling and the uneven oval shapes separated by a black line in this early collage foreshadow the powerful facture and recurrent motifs of Motherwell's later work.
Lucy Flint
1. See H. H. Arnason, Robert Motherwell, rev. ed., New York, 1982, n. p.