Artist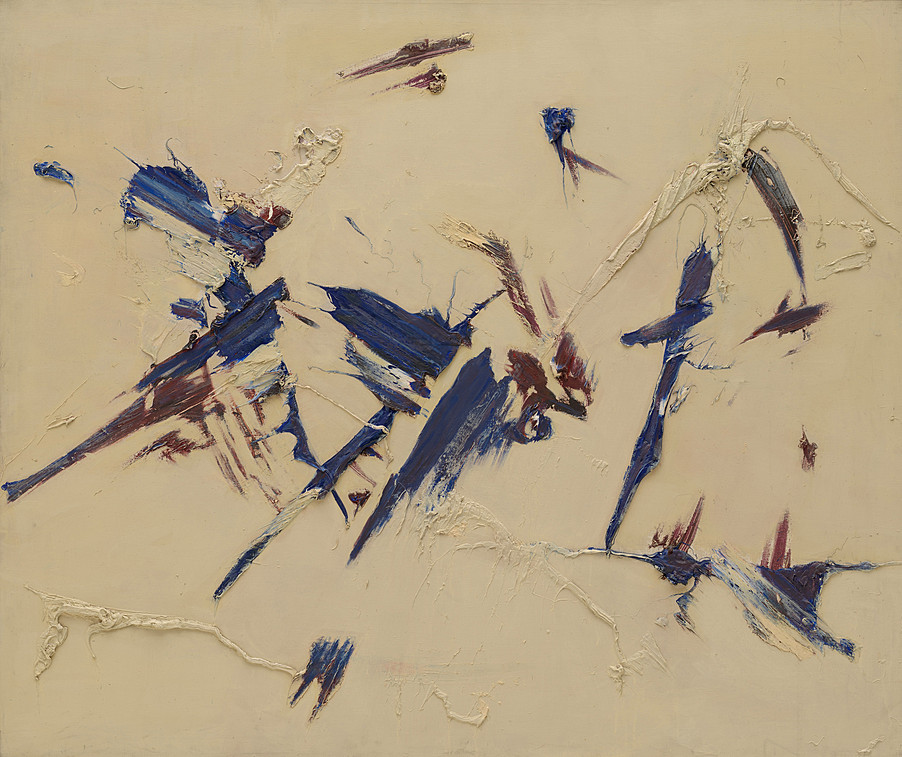 Judit Reigl
Outburst (Éclatement)
Artist
Judit Reigl b. 1923, Kapuvár, Hungary
Title
Outburst (Éclatement)
Date
Medium
Oil on canvas
Dimensions
53 9/16 x 63 inches (136 x 160 cm)
Credit Line
Solomon R. Guggenheim Museum, New York Gift of the artist in honor of Kálmán Makláry, 2012
Accession
2012.1
Copyright
Judit Reigl
Artwork Type
Movement
In 1955, five years after leaving Hungary for Paris where she had been briefly associated with André Breton's Surrealist group, Judit Reigl began a new series to explore the process of painting as a dynamic and corporeal activity. The resulting works, collectively titled Outburst (Éclatement, 1955–57), feature masses of exploded paint that traverse the surface of the canvas tracing the movements of the artist's body in action. Painted at the beginning of 1956, Outburst, as the rest of the series, was realized in a single session. Using a stretched canvas, which she tilted against the wall, Reigl worked by hurling a mixture of industrial pigment and linseed oil onto the surface by hand, added a few slabs of extra paint with a long and flexible knife, then broke down the mounds by spreading and flattening them into diagonal bands with a bent curtain rod. The lumps of blue, purple, and white pigment thus transformed into gestural streaks refute the gravitational weight of the material and transcribe the spatial-temporal dimensions of the moving body onto the pictorial plane.
First shown in December 1956 at the Galerie Kléber during Reigl's second Parisian solo exhibition, the series expanded on the Surrealist methods of automatism and employed what the artist calls "automatic writing lived in its plenitude."¹ Departing from the purely interior, psychic model of automatism proposed by Breton, Reigl relied on the immediacy of the gesture and made the pictorial process and the body mutually dependent. Her violent, ephemeral, and amorphous marks substitute the mastery of the painter's hand with the contingency of the body, and together with their spacing and chromatic austerity appear to contaminate the radiance of the empty canvas. Although Outburst shares some of the characteristics of the gestural and calligraphic tendencies of 1950s French abstraction, the vehement physicality of Reigl's practice suggests closer connections with the works of her American contemporaries, especially with Willem de Kooning and Joan Mitchell. Created by dismantling and reorganizing "the shock of the hurled mass of paint" as Hubert Damisch put it, Outburst is an aggressive and erotic confrontation between body and canvas, movement and space.
1. Judit Reigl, "Entretien avec Yves Michel Bernard," Kanal (Paris), no. 6 (March 1990), in Judit Reigl (Bourg-en-Bresse, France: Musée de Brou; Paris: Galerie de France, 1992), p. 57. Author's translation.
2. Hubert Damisch, "Cinq oeuvres nouvelles," Tensions: Mathieu, Viseux, Reigl, Hantaï, Degottex (Paris: Galerie René Drouin, 1956), in Judit Reigl, p. 61. Author's translation.
Ágnes Berecz