Artist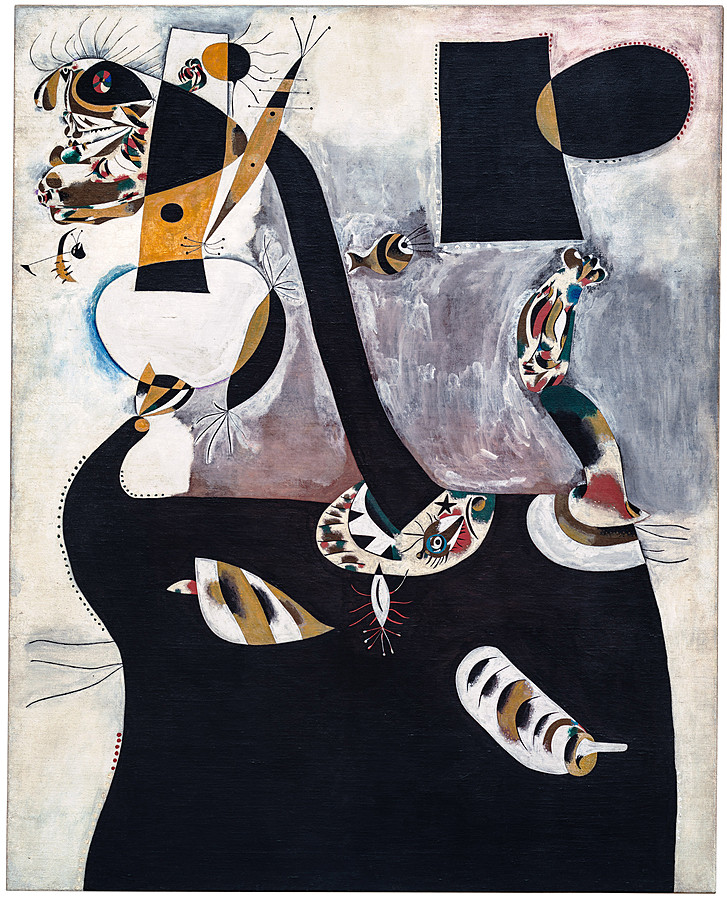 Joan Miró
Seated Woman II (Femme assise II)
Artist
Joan Miró b. 1893, Barcelona; d. 1983, Palma de Mallorca, Spain
Title
Seated Woman II (Femme assise II)
Date
Medium
Oil on canvas
Dimensions
63 3/4 x 51 3/16 inches (162 x 130 cm)
Credit Line
The Solomon R. Guggenheim Foundation Peggy Guggenheim Collection, Venice, 1976
Accession
76.2553.93
Copyright
2016 Successió Miró/Artists Rights Society (ARS), New York/ADAGP, Paris
Artwork Type
Movement
The expressionistic Seated Woman II can be seen as a final manifestation of Joan Miró's peintures sauvages, works characterized by violence of execution and imagery. It was painted at a time when Miró, like Pablo Picasso and Julio González, was responding acutely to the events of the Spanish Civil War.
The human figure has been transmogrified here into a grotesque and bestial creature. However, the aggressiveness of imagery and formal elements coexists with fanciful details and cosmic implications. Though the open, saw-toothed mouth imparts a sense of the woman's voraciousness or anguish, her bottle-breast implies her generative force. Her expansive torso constitutes an impenetrable ground, its horizon line described by her squared shoulders, out of which grow the vegetative stems of arms and neck. The bird and fish forms floating through the atmosphere become insignias for air and water, while the moon, star, and planet emblems on the woman's collar broaden the associations to encompass the astral plane. The remaining abstract shapes seem to course slowly in mysterious orbits, passing through and beyond one another, changing color where they intersect. A cohesive universe is created despite the dichotomies of light and dark, nurture and destruction, life and nonexistence. Integration is provided by the repetition of shapes, such as the leaf and oval, which suggests analogies: the woman's pendant becomes a moon or vagina, her hair resembles lines of sight, like those of the fish, or rays of light, and her teeth are equated with the decorative motifs or mountains in the miniature landscape of her collar.
This work postdates by about two months the more generalized Seated Woman I (Collection The Museum of Modern Art, New York).
Lucy Flint