Artist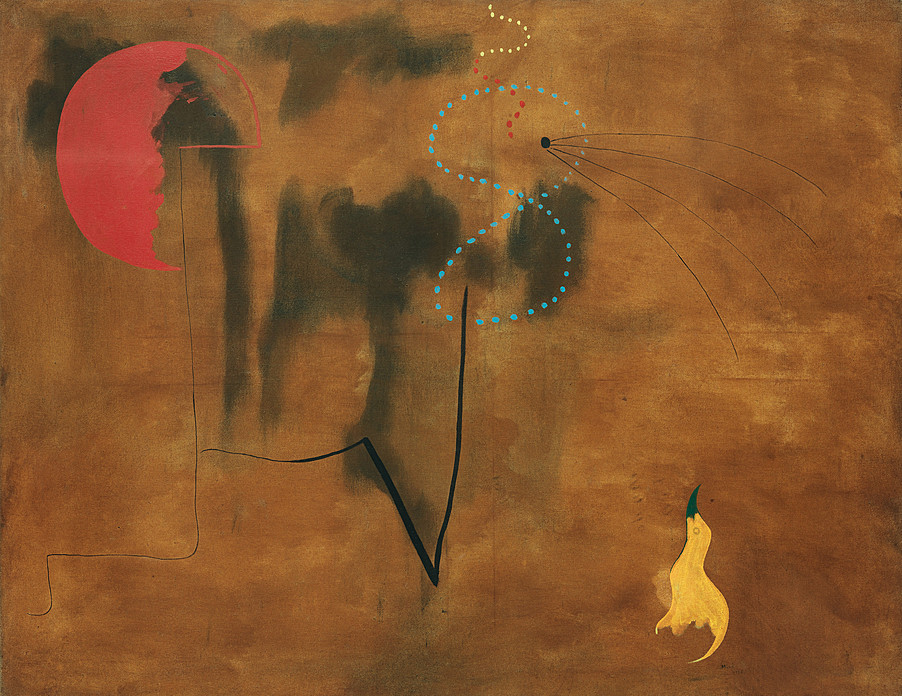 Joan Miró
Painting (Peinture)
Artist
Joan Miró b. 1893, Barcelona; d. 1983, Palma de Mallorca, Spain
Title
Painting (Peinture)
Date
Medium
Oil on canvas
Dimensions
45 1/8 x 57 3/8 inches (114.5 x 145.7 cm)
Credit Line
The Solomon R. Guggenheim Foundation Peggy Guggenheim Collection, Venice, 1976
Accession
76.2553.91
Copyright
2016 Successió Miró/Artists Rights Society (ARS), New York/ADAGP, Paris
Artwork Type
Movement
During the mid- to late 1920s Joan Miró developed a private system of imagery in which the motifs have symbolic meanings that vary according to their context. By studying the constellations of these motifs, one is encouraged to infer meanings appropriate to a particular painting.
In Painting two "personages" (the designation Miró used for his abstract figures) and a flame have been identified. The personage on the right can perhaps be read as a female because of the curvaceous nature of the eight-shape, and by analogy with forms in other paintings that are specifically identified by the artist as women. The black dot with radiating lines can be interpreted as the figure's eye receiving rays of light, or as a bodily or verbal emission. The same motif appears in Personage, also of 1925, in the collection of the Solomon R. Guggenheim Museum, New York. Moons, stars, suns, or planets float at the upper left of several canvases of the mid-1920s. In the present work the semicircular orange-red image not only carries a cosmic implication, but also possibly doubles as the head of the second personage, probably a male. This head is presented in a combined full-face and profile view, in the manner of Pablo Picasso's Cubist portraits.
The flame, used repeatedly by Miró in this period, may signify sexual excitation in this context. The erotic content that prevails in much of his work in 1925 is particularly explicit in the Lovers series, in which two figures approach each other or are united in sexual embrace. The two figures in Painting are less clearly conjoined. The submersion of legible subject matter and the ambiguity of the painting's meaning transfer the emphasis to the purely abstract qualities of the work. Line and color articulate a language as complex and poetic as the hieroglyphic signs that constitute the imagery. The generalized ground, rich in texture from the uneven thinning of paint and the use of shadowy black, provides a warm and earthy support for the expressive black lines, the areas of red and yellow, and the staccato rhythm of dots.
Lucy Flint