Artist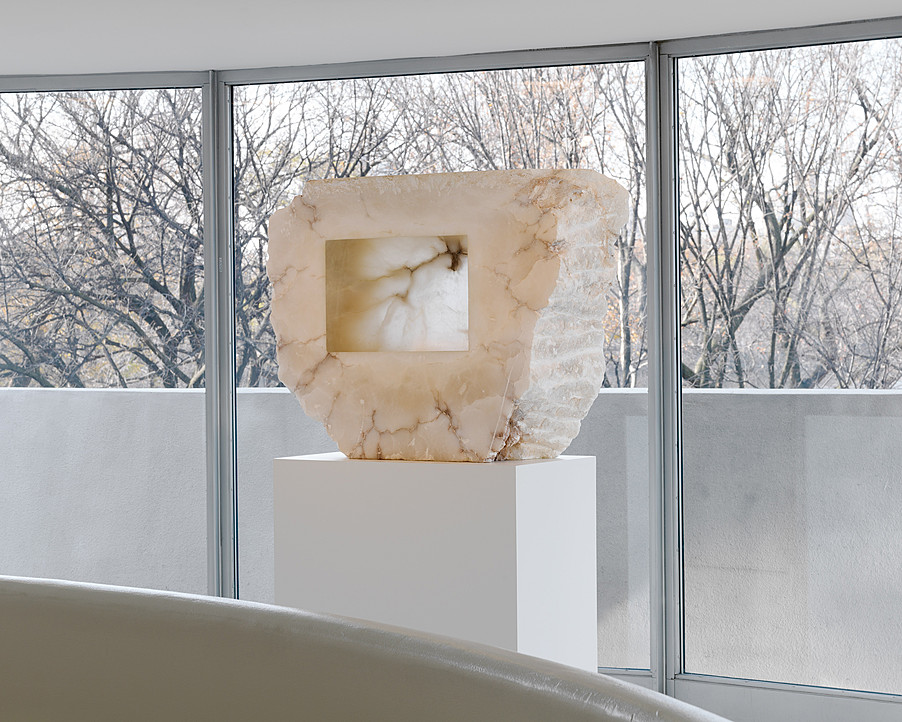 Anish Kapoor
Untitled
Artist
Anish Kapoor b. 1954, Bombay
Title
Untitled
Date
Medium
Alabaster
Dimensions
31 1/2 x 44 1/8 x 11 inches (80 x 112 x 28 cm)
Credit Line
Solomon R. Guggenheim Museum, New York Gift, Toni and Martin Sosnoff, 2010
Accession
2010.17
Copyright
2016 Artists Rights Society (ARS), New York / DACS, London. Installation view: Now's the Time: Recent Acquisitions, Solomon R. Guggenheim Museum, New York, November 3, 2012–January 2, 2013. Photo: David Heald © SRGF
Artwork Type
Pioneering thought-provoking possibilities in the range and scope of contemporary sculpture, Anish Kapoor investigates the limits of mass, form, structure, and space. Whether working with Cor-Ten steel, stainless steel, or fiberglass to create monumental and technically sophisticated public sculptures, or showcasing intimate, terrene works that appear to be biomorphic mounds or geometric shapes variously emerging from floors, hanging from ceilings, or sprouting from walls, he has created a body of work that questions the universe's polarities.
Eastern-inspired metaphysics, in which ideas and forms are often pared down to their simplest expression, is a thread throughout Kapoor's oeuvre. This impulse toward minimalism results in an uncluttered space in which viewers can contemplate and meditate on his work. Kapoor manipulates natural and man-made materials in order to alter and complicate the surrounding space and distort viewers' overall perspective on light, darkness, balance, mood, and visual perception.
Untitled is part of Kapoor's experiments with freestanding spatial voids carved from natural materials, an ongoing series that he began in 1987 by working with stone. With this work, the artist deploys his iconic use of elemental matter, in this case a massive slab of Italian alabaster, to address signature themes of duality—such as absence versus presence, spirit versus body, invisible versus visible, and illusory versus tangible—as well as the physical opposition between the convex and the concave. With the void in particular, Kapoor returns to one of the oldest and most universal artistic subjects: the womb as the nexus of creation and regeneration.
Kapoor leaves the piece's outer surface roughly hewn while the front-facing area is flat and highly polished. At its center is a deeply carved cavity that hollows out toward the back and disappears from full view. With earlier voids, Kapoor saturated the sculptures' cavities with colorful powder-based pigments. In contrast, Untitled leaves the alabaster in its natural state, allowing natural light to filter through and dance off the mineral's iridescent surface. The dynamism of Untitled is engendered by Kapoor's ability to create incredible physical geometry out of a sizeable stonework while still preserving the alabaster's innate beauty, delicacy, and organic quality.
Miesha Shih