Artist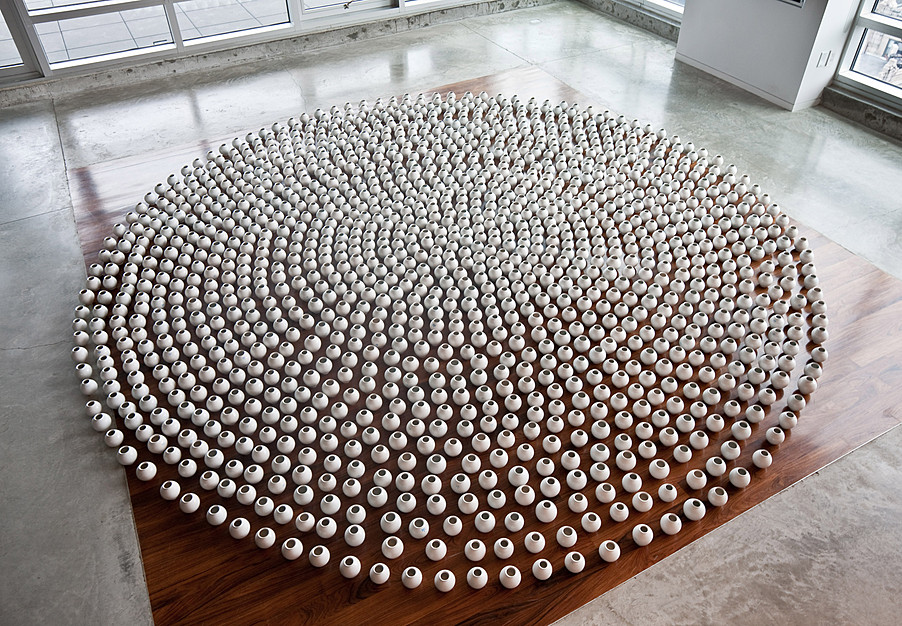 Ik-Joong Kang
1392 Moon Jars (Wind)
Artist
Ik-Joong Kang b. 1960, Cheongju, South Korea
Title
1392 Moon Jars (Wind)
Date
Medium
1392 glazed porcelain jars and enamel paint
Dimensions
diameter: 13 feet 3 inches (403.9 cm)
Credit Line
Solomon R. Guggenheim Museum, New York Gift of the artist in honor of Jennifer Blei Stockman, 2010
Accession
2010.6
Copyright
2010 Ik-Joong Kang
Artwork Type
Movement
1392 Moon Jars (Wind) (2008–10), is a large-scale installation that embodies seemingly disparate, even oppositional ideas, such as totality and individuality, irregularity and order, and singularity and conformity. It is composed of more than a thousand ceramic jars, each about 8 cm tall, which are arranged on the floor in concentric circles, making up a large circle just over 400 cm in diameter. The original moon jar was made during the Chosun Dynasty (1392–1910), and is so named for its milky glaze and "full moon" shape. The jars in Kang's work were hand thrown and fired in a Korean kiln that is known for making moon jars. Each vessel is deliberately imperfect, revealing the touch of its maker, and is formed from two parts of clay, the bottom half and the top. The two semi-spheres are connected by hand, often resulting in a visible joint mark near the middle and slight irregularities in the overall form. Thus each jar is different, although when viewed together with the other jars in the installation, it becomes one component of a larger whole.
The tension between wholeness and separation is integral to the work's meaning, since 1392 Moon Jars (Wind) is informed by spiritual and political concerns. The work's mysterious nature is enhanced by its phenomenological impact: When viewers speak to one another across the installation, the jars cause the sound of their voices to vibrate and amplify, and the natural force of the wind becomes linked to breath. The two halves of each jar also serve as a metaphor for Korea, which was forced to divide into two countries after World War II, when the Soviet Union and the United States assumed control of the country but backed different leaders, resulting in the formation of two different states. Throughout Ik-Joong Kang's oeuvre, the jar functions as an eloquent articulation of his desire for the reunification of Korea. About a similar piece, entitled Moon Jar (2006), which Kang made for the Korean Mission to the United Nations, he wrote: "It becomes one body and it starts breathing air into the sky. The Moon Jar exemplifies oneness from this connection."¹ Indeed, although the jars are empty, the parenthetical in the title, "wind," suggests that viewers should think of them as holding immaterial and elusive concepts, such as time, memory, dreams, and hope, namely the hope that a divided country will one day be unified.
Claire Barliant
1. Ik-joong Kang, "Artist's note for the 32 Moon Jar Installation for the Korean Mission to the United Nations, NY," www.ikjoongkang.com, accessed November 1, 2010.