Artist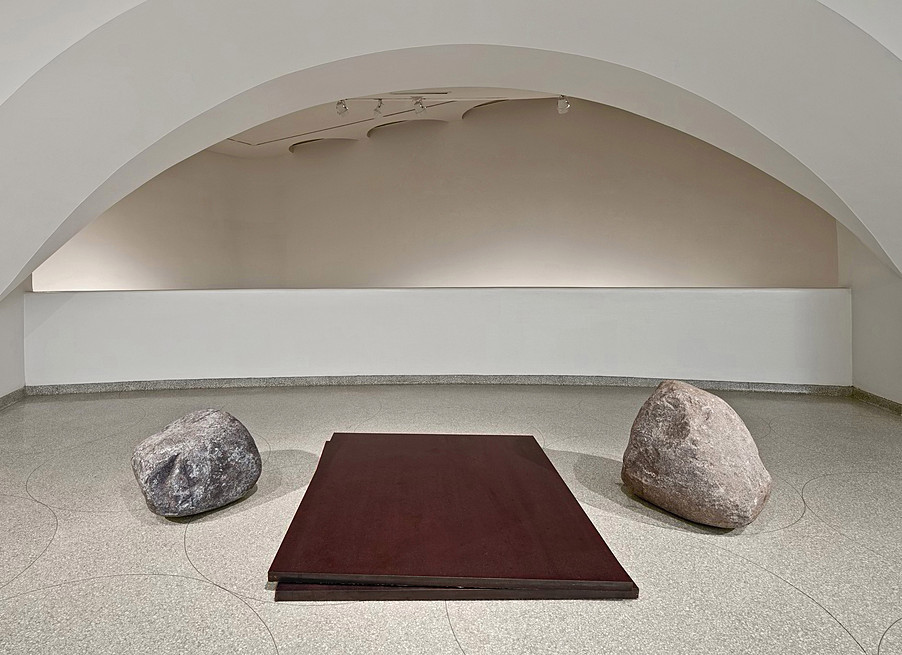 Lee Ufan
Relatum—dialogue
Artist
Lee Ufan b. 1936, Kyongnam, Korea
Title
Relatum—dialogue
Date
Medium
Steel and stones
Dimensions
two plates 1 3/16 x 47 1/4 x 39 3/8 inches (3 x 120 x 100 cm) each; two stones, approximately 19 11/16 inches (50 cm) high each
Credit Line
Solomon R. Guggenheim Museum, New York Gift, Lisson Gallery, in honor of Lee Ufan, 2011
Accession
2011.4
Copyright
Lee Ufan. Installation view: Lee Ufan: Marking Infinity, Solomon R. Guggenheim Museum, New York, June 24–September 28, 2011. Photo: David Heald © SRGF
Artwork Type
Active in Korea, Japan, and France since the 1960s, Lee Ufan has been creating a visual, conceptual, and theoretical terrain that has radically expanded the possibilities for Post-Minimalist painting and sculpture. Lee's innovative body of work revolves around the notion of encounter—seeing the bare existence of what is actually before us and focusing on "the world as it is."
Born in Korea in 1936, Lee studied painting at the College of Fine Arts at Seoul National University and philosophy at Nihon University in Tokyo. He rose to prominence in the late 1960s as the leading theorist and practitioner of Mono-ha (School of Things), a Japanese art movement that developed from the collapse of colonial world orders, antiauthoritarian protests, and the rise of modernity critiques. Lee's sculptures, presenting dispersed arrangements of stones together with industrial materials like steel plates, rubber sheets, and glass panes, recast the discrete object as a network of relations based on parity between the viewer, materials, and site. Lee was also a pivotal figure in the Korean tansaekhwa (monochrome painting) school, which offered a fresh approach to minimalist abstraction by presenting repetitive gestural marks as bodily records of time's perpetual passage. Lee has coupled his artistic practice with a prodigious body of critical and philosophical writings.
For Lee, restraint in creating art—even letting what has been created disappear—shifts the status of his works from that of material objects to fleeting lived experiences, and his nonproduction emerges as a nuanced critique of the Western societal prevalence of surplus and overproduction. Relatum, the title of all Lee's sculptures, is a philosophical term denoting things or events between which a relation exists. This radical approach to the artwork, not as an object but as a network of relationships, shifts artistic experience to an act of encounter, an occasion that unfolds around the viewer in a particular time and space. Since his early Mono-ha period, Lee has restricted his choice of materials to steel plates and stones, focusing on their precise conceptual and spatial juxtaposition. The steel plate—hard, heavy, solid—is used to build things in the modern world; the stone, in its natural, as-is state, "belongs to an unknown world," as the artist puts it, beyond the self and outside modernity, evoking the Other or "externality."
Relatum–dialogue (2002/11) presents two steel sheets laid on top of one another, slightly askew, and flanked by two large rocks suggesting a model of identity and difference. Lee approaches his sculptures with the same attention to resonant space, emptiness, and stillness that is seen in his paintings. The rocks become like brush marks placed in a dynamic interplay with the surrounding space, which is always in flux. Lee does not seek to create permanent monuments, but rather to open up spaces for engagement through minimal intervention in disciplined acts of selecting and arranging.
Alexandra Munroe