Artist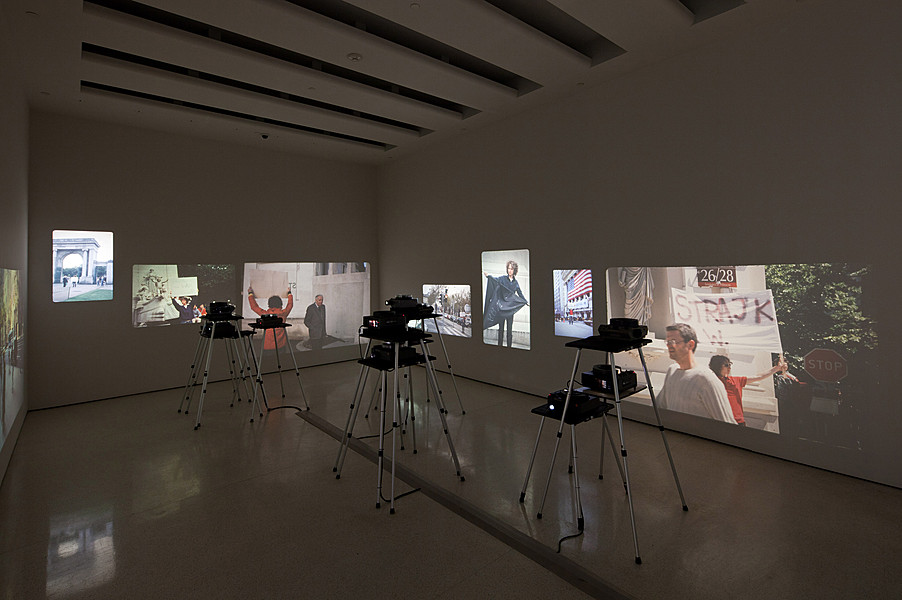 Sharon Hayes
In the Near Future
Artist
Sharon Hayes b. 1970, Baltimore, Maryland
Title
In the Near Future
Date
Medium
Multiple-slide-projection installation: 13 actions, 13 projections, 1,053 slides
Dimensions
overall dimensions variable
Edition
edition 1/3
Credit Line
Solomon R. Guggenheim Museum, New York Purchased with funds contributed by the Photography Committee and Manuel de Santaren, 2010
Accession
2010.12
Copyright
2009 Sharon Hayes. Installation view: The Deutsche Bank Series at the Guggenheim: Found in Translation, Solomon R. Guggenheim Museum, New York, February 11–May 1, 2011. Photo: David Heald
Artwork Type
Movement
In the Near Future began in 2005 as a performance piece jointly presented by Performa 05 and Art in General, New York. Hayes stood in nine locations throughout New York for nine consecutive days holding different protest signs. Many of these signs dated from earlier eras, though continue to be relevant today: on Wall Street, for example, Hayes carried the sign "Ratify E.R.A. Now!," referring to the women's Equal Rights Amendment, which was introduced in 1923, fought for fiercely by feminists during the 1970s, and has yet to be ratified. Other slogans included "Strike Today," "Actions Speak Louder than Words," and "Nothing Will Be as Before," which the artist held in front of City Hall. In what might be one of the most provocative gestures from this work, Hayes held a sign bearing the famous phrase, "I Am a Man." Although the words come from the 1968 Memphis sanitation strike by African-American workers protesting racial discrimination in the workplace, they take on an entirely different meaning when held by a white woman. She later went on to conduct similar performances in Brussels, London, Paris, Vienna, and Warsaw, using signs written in the language native to the country in which the performance was taking place. While executing these performances, or "actions," to use the term preferred by the artist, Hayes invited the audience to document the project. The result is 354 images of Hayes carrying signs on different streets all over the world. This documentation was shot on slides, which make up the installation component of the work. The images from each action are projected on a loop, each on its own slide projector. All of the projections occur simultaneously, allowing the viewer to infer connections among the different slogans.
Hayes has recited, or, to use her chosen term, "re-spoken" speeches from the past, including Patty Hearst's taped messages to her parents when she was kidnapped by the Symbionese Liberation Army in 1974 and Ronald Reagan's presidential addresses to the nation. For Hayes, the photographs of the actions that make up In the Near Future constitute a new way of thinking about revisiting past political acts or speeches. In an interview, Hayes compared the photographs to Robert Smithson's notion of "site" versus "non-site," saying that she views documentation such as photographs, videos, or audio files that capture a politically charged moment as "not-events": "If a photograph or a film or a video or a sound clip lives or carries on into the future, it is usually because it is something other than just a document. It usually has some event-like status of its own. This 'not-event, like Robert Smithson's site and non-site, has a relationship to the event that can never be severed."¹
By considering the documentation, or framing, of political events, Hayes also takes into account the documentation of her performances and undertakes to actively choreograph their recording for posterity. This accounting for future audiences is fundamental to the complex temporal engagement of Hayes's entire oeuvre thus far, which addresses not only pivotal moments in the past, but also how they are viewed in the present, and how they will be presented in the future.
Claire Barliant
1. Sharon Hayes, "Speech Acts," interview by Roger Cook, Frieze, no. 129 (March 2010), p. 96.