Artist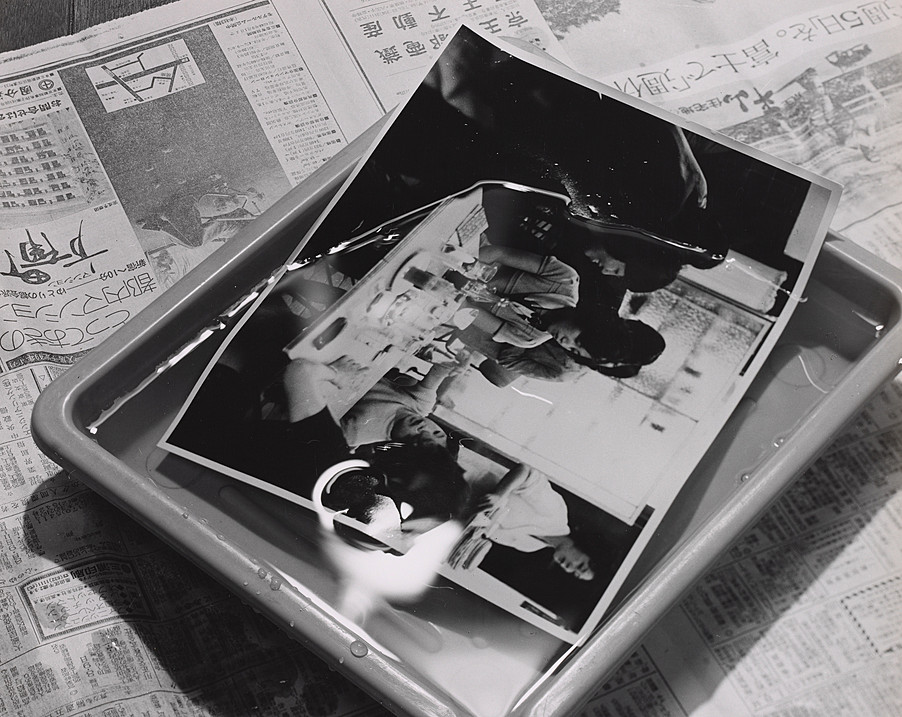 Takamatsu Jiro
Photograph of Photograph
Artist
Takamatsu Jiro b. 1936, Tokyo; d. 1998, Tokyo
Title
Photograph of Photograph
Date
Medium
Gelatin silver print
Dimensions
image: 12 9/16 x 15 11/16 inches (31.9 x 39.8 cm); sheet: 14 1/4 x 16 15/16 inches (36.2 x 43 cm)
Edition
unique
Credit Line
Solomon R. Guggenheim Museum, New York Gift, Tatsumi Sato, 2010
Accession
2010.3
Copyright
Jiro Takamatsu
Artwork Type
For Photograph of Photograph (1972–73), Takamatsu Jirō hired a professional photographer to photograph snapshots from Takamatsu's family albums. In doing so, the artist investigated how photography relates to memory and appropriation. In each image, the restaged photos are obscured in some manner by glare, reflection, or shadow, and further distanced by the inclusion of the hired photographer, leaving their captured narratives incomplete and open to reinterpretation. Though little known in the West at the time this series was taken, Takamatsu's work approaches that of other conceptual artists such as Richard Prince and Sherry Levine, whose photographs deal with comparable themes of appropriation and ready-made, reproducible images.
Takamatsu's work focuses on art as a nonelite activity, an idea reflected in Photograph of Photograph through the internal images' everyday subject matter and position on the floor, in the darkroom chemical bath, or casually held by visible hands. The series also shows the influence of the collective Hi Red Center (1963–64), which sought to collapse the boundaries between art and life (nihijo-sei eno kako or a "descent into the everyday"), and the movement Mono-Ha (School of Things, 1967–79), which similarly sought to reveal the world as it is. Takamatsu formed the former group in Tokyo and was a key member of the latter.
In Photograph of Photograph, the modern world is dissonant, fragmented, and often unable to be apprehended by the viewer as the photograph-within-a-photograph buckles or reflects glare and thus obstructs its subject. The images act as the meeting point of heterogeneous worlds, where the fixed environment depicted in the first photograph joins the equally static world of the second rephotographed image, and the viewer contemplates both in a surreal gaze-within-a-gaze in a physical, third realm. Part ritualistic reenactment of personal history and part blurred recollection, the series reveals the separation between the sign of the photograph and its signifier, the mimetic function of the image and its possible historical and personal reinterpretations.
Michelle Jubin