Artist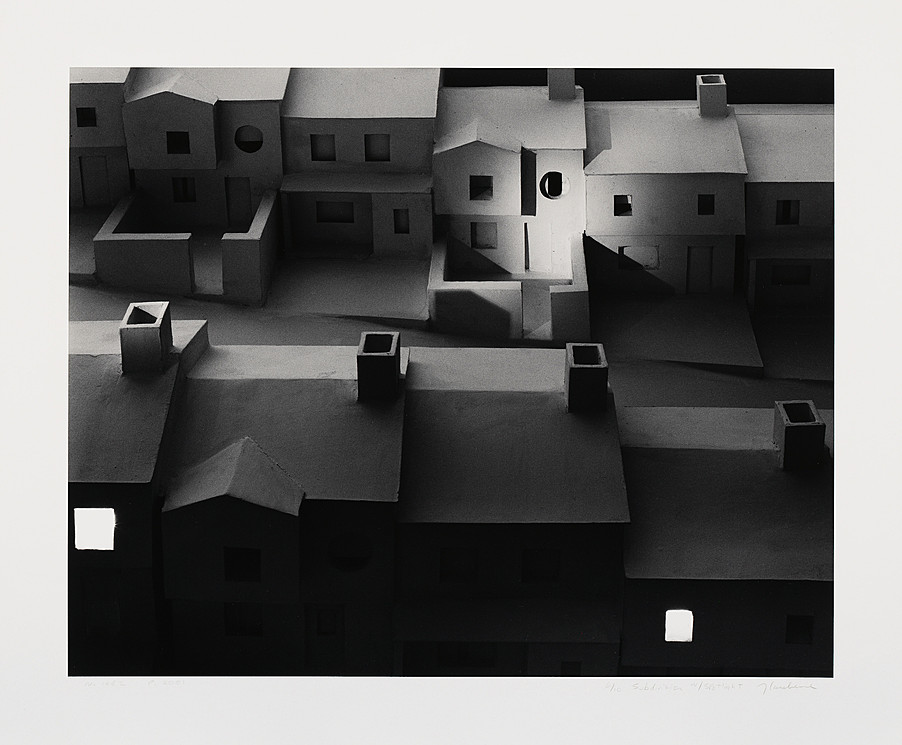 James Casebere
Subdivision with Spotlight
Artist
James Casebere b. 1953, Lansing, Michigan
Title
Subdivision with Spotlight
Date
Medium
Gelatin silver print
Dimensions
image: 15 x 18 7/8 inches (38.1 x 47.9 cm); sheet: 16 x 20 inches (40.6 x 50.8 cm)
Edition
edition 6/7
Credit Line
Solomon R. Guggenheim Museum, New York Gift, Heather and Tony Podesta Collection, 2009
Accession
2009.45
Copyright
James Casebere
Artwork Type
Movement
James Casebere creates enigmatic photographs of architectural spaces and other built environments, including prisons, tunnels, and exurban landscapes. The scenes he photographs are taken not from life, however, but from tabletop models constructed of such materials as Styrofoam, foamcore board, plaster, and white paint. Through dramatic lighting, he creates a convincing sense of volume and expanse. Subdivision with Spotlight (1982) features a suburban street, lit in such a way as to suggest night; indeed, were it not for the ominous "spotlight" referred to in the title, the illumination of the buildings might well be taken for moonlight. The photograph first appeared in Casebere's artist's book titled In the Second Half of the Twentieth Century . . . (1982), facing Casebere's introduction, which reads in full:
In the second half of the twentieth century American children often had toys they played with and learned from. They went to school, did chores, grew up, left home to prove themselves, and sometimes made homes of their own.
(These things try to go on forever.)¹
The text is an implicit critique of a social system that trains its youth to become passive consumers. Casebere also quotes Thomas Paine ("the accumulation of personal property is, in many instances, the effect of paying too little for the labor that produced it") and reproduces a statistical table from the New York Times detailing, for example, the number of city buses that could be constructed for the amount of money it takes to build a certain number of army tanks. By considering Subdivision with Spotlight in relation to the politics of the book, one discerns the themes that have been central to Casebere's work throughout his career: namely, American history, the way in which built space has the power to control and shape one's identity, and a questioning of the photograph's status as a record of the real.
Claire Barliant
1. James Casebere, In the Second Half of the Twentieth Century. . . (Buffalo, N.Y.: CEPA Gallery, 1982), p. 5.